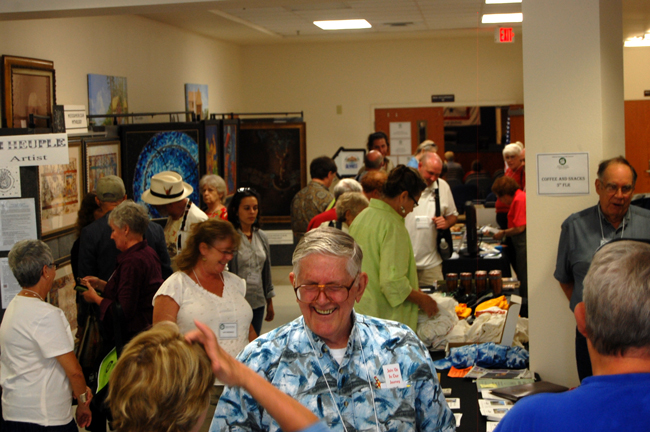 In the chambers where county commissioners, school board members and Bunnell city commissioners usually spend their hours digging through some of the most stunningly dull meetings known to humans and beasts, there was, for a change, Heather McKillop, an anthropologist and archeologist at Louisiana State University, describing her underwater archeological expeditions off the coast of Belize to 45 academic snorkelers.
Outside the chambers, contemporary art, clothing, books, even gifty-type trinkets, all Maya inspired, all Maya colored, sprawled on tables set up like jetties between bathrooms and the tax collector's driver's license bureau. In one room upstairs, Southern Methodist University's David Lee, in a Rob Reiner vein, is lecturing on "The archeology of us: what we can learn of ourselves from the past." (Stay tuned.) Nearby it's Northern Arizona University's Cameron Griffith doing some exploratory art history through Maya caves and carvings. In yet another room Harri Kettunen and Christophe Helmke, one from the University of Helsinki, the other from the University of Copenhagen, are deciphering Maya hieroglyphs—and letting workshop participants attempt their own translations.
Two levels of the usually austere Government Services Building in Bunnell had been turned into something like an offshore version of a scene from Oxford. It was all taking place as part of the four-day Maya at the Playa conference (Sept. 30-Oct. 3), the most important international conference on Maya studies anywhere, gathering some 160 of the leading academics in the field—including this year the Stephen Hawking of Maya studies: Yale University's Michael Coe, who brought his comparative eye to the conference with a presentation linking the Maya to Cambodia's Angkor civilization, and George Stuart, the University of North Carolina-trained anthropologist and founder of the Center for Maya Research and for 40 years National Geographic's archeology editor. (Coe will deliver a free lecture, open to the public, at the Flagler Auditorium, as part of the Maya at the Playa Lifetime Achievement Award ceremony tonight–Saturday–at 7:30.)
It's the work of Mat Saunders, an archeologist who created Flagler County schools' archeological and anthropological studies program and launched the Maya at the Playa Conference four years ago with then-superintendent Bill Delbrugge's backing. Delbrugge's exit to Egypt hasn't dulled the conference's attraction. To the contrary: with Superintendent Janet Valentine, the conference was organized even more crisply
A mile away or so, in the Hilton Garden Inn kitchen, Patricio Balona, a Yukatek Maya and recently naturalized American citizen, has been laboring for three hours with the Hilton's chef, Kris Smith, over a traditional Maya feast that would serve 100 at a sold-out $100-a-plate fundraising dinner later that evening. Get a taste of this Maya-style pibil—which "simply means in Mayan buried, because traditionally this dish is cooked underground," Balona says. He's wrapping the meat in plantain leaves, large-cubed pork loins that have soaked in a sauce worthy of the gods: sour orange, which he describes as "the magic ingredient of Maya cooking," white vinegar, sweet orange juice, cumin, peppercorn, cloves, garlic, allspice and red annatto seed, another magic ingredient of Mexico's Maya communities. It's cooked for six hours in the ground. "We can't dig in the hotel's backyard, so we use an oven," Balona says. It'll be done in four hours at 325 degrees.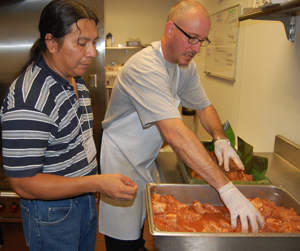 Even uncooked, it's a sublime slosh of yummy, and a culinary cruise for Smith, who usually cooks up the place with traditional American grill fare. Smith made his way down to Maya temples in Belize a couple of times with his wife, but "when I found out two months ago we were going to do this, I was like, yeah. I've eaten this before, but never made it." And that evening. the Hilton's Great American Grill (They have a restaurant there? Yes they do) was naturalized Maya for a few hours.
It's great because we have all levels. We have Mike Coe who's done more work than all of us will ever do. But also it's real important that we bring in the young blood. Max is a grad student at Trent," Saunders says, referring to Trent University's Max Lamoureux St.-Hilaire, who spoke on death and ritual in late Maya history. "We have the younger speakers, we have those who are mid-career, and then we have the heroes. It's sort of a little symbiosis."
"It's great," Lamoureux St.-Hilaire says, "because all the generations meet like that." In more ways than the obvious: there's a crossing of the paths between generational interpretations of Maya civilization, which can generate debate and conflict as heated as any political clash. So the setting in a government building isn't entirely anachronistic. Just get a couple of scholars started on the notion of Maya civilization's proclivity for self-destruction, and see where it leads. "It's a huge question," Saunders says. Several of the papers being presented at this year's conference discuss the collapse. "We have two completely different concepts being presented in the same conference. And I would say most scholarly conferences, there's much debate and it can always be ugly. We create an environment where everybody is open and it's very welcoming. There is debate, there's a lot of conversation, much of the learning probably happens after the workshop when they go and have coffee and they go to dinner. It's a neat little petri dish here."
The conference is sponsored by American Foreign Academic Research and the Archeological Institute of America, along with Flagler County Schools. Flagler County's Tourist Development Council—a subset of county government—also contributed $9,000. The council subsidizes events in the county that draw out-of-county visitors likely to stay in local hotels. There's no question that the Maya at the Playa conference does that. There were less than five people from Flagler County out of 160 or so, with nine countries and 29 states represented. It was impossible to spot locals until Thea Hein-Mathen appeared. She's a member of the Bunnell planning and zoning board—and an art historian who specialized in pre-Columbian and Hindu art in college.
Incidentally, be sure not to mix your Maya and your Mayan. Mayan applies only to the language. Everything else is Maya—the Maya civilization, Maya history, Maya cuisine. So what about that name, Maya at the Playa? Where's that from? "Probably about at two in the morning when we were drinking some beers. I think it sort of maybe rolled out one night. It actually speaks of the conference, because it's a light-hearted Maya at the beach. We have a good time, it's relaxed here, but it's very academic."
We caught up with David Lee, who's been known to discover Maya queens' tombs in his spare time, right after his workshop on the archeology of knowledge—about, as he describes it, the fragility and vulnerability of knowledge: "You know 'the price of freedom is eternal vigilance'? It's not just freedom," Lee says, referring to how, for example, Greek and Roman civilizations' knowledge was lost during the Middle Ages, "it's the price of knowledge. If you want to maintain knowledge, you have to be vigilant about that, because knowledge is fragile, it's so easily lost. So what we were talking about is sort of a lesson to history that we've seen where entire civilizations' worth of knowledge was lost."
Lee added: "One of the things that's interesting about this conference, and Mat Saunders has done this amazing job of pulling all of this together, I think one of the things that's interesting about it is that it's really an opportunity where scholars are intersecting with an enthusiastic public who are interested in knowledge of Maya archeology. So it occurred to me that we certainly, all of us who are working toward professional jobs in this field, don't do nearly enough of it. We have access to and control of a certain kind of knowledge, and this is part of our vigilance. We have to share it. Because if not, knowledge is fragile. It can be lost so easily."
Like wonderful, fascinating conferences in a county hungry for them.

Free event tonight at the Flagler Auditorium: Michael Coe will deliver a lecture, "Angkor and Maya: A Tale of Two Civilizations," at the Flagler Auditorium, as part of the Maya at the Playa Lifetime Achievement Award ceremony tonight–Saturday–at 7:30. The event is free and open to the public.