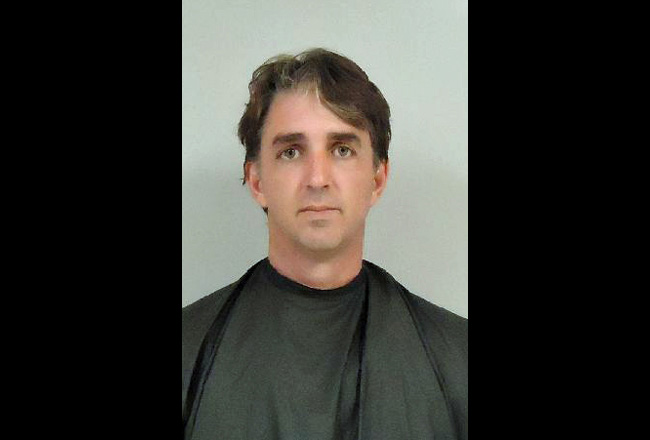 Matthew Degraw has three arrests in the last 15 months in Flagler County, all for battery or domestic violence. On Wednesday, Flagler County Sheriff's deputies had to establish a perimeter around his house at 22 Filbert Lane in Palm Coast in a brief stand-off as he refused to come out, and was known to have weapons in his possession inside.
That part of the incident ended peacefully, and with Degraw yet again under arrest, though what led to it was not peaceful.
Deputies got a call about a physical disturbance at the Filbert Lane address just before 8 a.m. Wednesday. The victim, who lives with Degraw, was outside the house. She told a deputy that she had tried to ask Degraw to use his phone in order to call his mother so the victim could be given a ride: she had a doctor's appointment.
Degraw, according to the victim, became belligerent, pried the phone out of her hand, threw her to the ground and began choking her. (Deputies, hospitals and domestic-assault counselors have seen a rise in attacks involving choking in recent years.) The victim was able to free herself and run to her bedroom. Degraw, according to her, told her that if she called police, he would kill her.
The woman told police that to her knowledge, Degraw had in his possession swords, a machete and a black gun. She said she tried to reason with him, but that he chased her to the front door, "yelling that if she ever told anyone," according to his arrest report, "he would take care of her." The victim was able to get out of the house and wait for deputies to arrive.
Once there, deputies, because of the weapons allegations, established a perimeter around the house. Degraw at first refused to come out. His mother was in the house with him. A corporal and a deputy were able to establish communications with him through his mother's cell phone. After some exchanges, Degraw agreed to come out of the house, following deputies' verbal commands. He was immediately searched and detained, then arrested for domestic battery by strangulation, a third-degree felony, and aggravated assault domestic violence, also a third-degree felony. He also faces a probation violation charge. Bond was set at $11,000 on the first two charges. There is no bond on the third charge.
A corporal, according to the arrest report, conducted a background check and found that Degraw "currently has numerous charges related to battery on file, and he is a respondent to an injunction" requested by someone other than the victim Wednesday.
He remained at the Flagler County jail Thursday.
Last May, a battery charge against Degraw from March 2013 was dropped. At the end of April, a battery charge from last July was dropped. In July 2007, he pleaded no contest to obstructing an officer. He's also been arrested several times for probation violations, going back to 2004, when he also faced a contempt of court charge for violating an injunction for protection against domestic violence.