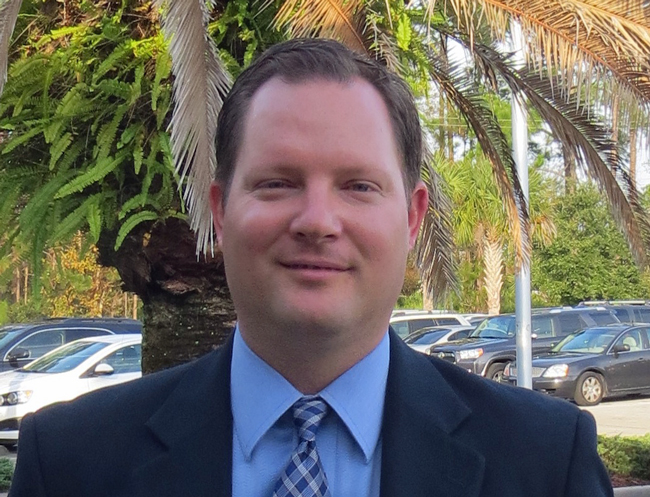 Flagler County's top tourism position was never quite vacant: Georgia Turner put in her last day as the Chamber of Commerce's executive vice president for tourism in the last week of December. Matt Dunn picked up where Turner left off this morning, the last survivor of more than 100 applicants for the $70,000-a-year job, which oversees a $900,000 budget and frames and steers the county's tourism business.
Dunn has considerably high-accomplishing shoes to fill: brief though her tenure was in Flagler, Turner combined a dynamic, unassuming personality that successfully built working coalitions with cultural organizations and local government while establishing the county as a favored destination for so-called niche sports events—lacrosse, soccer, golf, even a horseshoe tournament—that vastly broadened Flagler's base of visitors. Revenue from the county's tourism tax rose as a result. But an unexpected job offer and the desire to be closer to her mother in her native Alabama led Turner to resign at the end of last year.
Dunn isn't a foreigner to the landscape Turner built: the 39-year-old Gainesville native has been an integral part of it. After applying for one of the Tourist Development Council's special events grants to bring a golf tournament to the county in 2012, getting to work with Turner and her staff directly, Turner hired him as a consultant. He helped the council develop its strategic plan. So he's not just familiar with Flagler's approach to tourism. He helped author it.
"I'm surprised we were able to get him, he's a very talented man, very knowledgeable in his industry," Nate McLaughlin, the county commissioner and chairman of the Tourist Development Council, said Monday morning. "I'm very happy they didn't let the grass grow on this one, they got right on top of it."
Rebecca DeLorenzo, president of the Flagler chamber, conducted some 15 interviews with applicants before settling on Dunn, who's worked in Florida his entire career, in the private and public sector, but almost entirely in tourism and promotion. Most recently he owned his own company, the Dunn Agency, a sports management firm in St. Augustine he established in 2009. He's closing that agency as part of his agreement to work in Flagler, where the job requires a full-time commitment. "Part of his acceptance was making that full commitment," DeLorenzo said.
Asked why he'd close his own business to take up the position in Flagler, Dun said: "Really the challenge, and certainly the destination. I've always thought and obviously still do that Flagler County is beautiful." A resident of Ponte Vedra at the moment, Dunn plans on moving to Flagler as soon as he's free from his lease.
His aim here will be to continue the work started by Turner, but also to forge new ground with eco-tourism, heritage tourism and in the so-called "SMERF" market—the world of social, military, educational, religious and fraternal groups, whose annual meetings, reunions and board retreats can be lucrative for any market that attracts them. "We'll be able to bring those in during times of non-traditional peak season," Dunn said, a boon to the local tourism industry.
He's already been at it: Dunn said he is close to announcing over the next couple of weeks a deal that would bring a sizeable event along those lines to the county, one that would bring in somewhere in the range of 1,000 overnight visitors to the county. "We've had a success before I was even able to start on day one,"  Dunn said.
According to a chamber news release, Dunn's professional experience includes positions as Associate Executive Director of the Gainesville Sports Commission, Executive Director of the Ocala/Marion County Visitors and Convention Bureau and the Ocala/Marion County Sports Commission> He's also been an Adjunct Lecturer at the University of Florida's College of Health and Human Performance. Along the way, he's been an event director for more than 1,000 sports and entertainment events and has provided consulting services on hundreds more. His clients have included Red Bull, ESPN's X Games, USA Cycling, USA Synchronized Swimming and the Florida High School Athletic Association.
Dunn holds a bachelor's and master's degree in Athletic Administration from Florida State University.
Flagler County government contracts the chamber to run the five-person tourism office (including a part-timer), whose focus is on marketing and promotion. The Flagler County Commission in December approved a three-year contract renewing that arrangement, with $210,000 going to personnel and the rest to promotion and advertising, including the awarding of $100,000 in grants to organizations that bring cultural and sporting events to the county. The money is drawn from the county's 4 percent surtax on motel, hotel and other short-term rentals. While it is public money, it is largely drawn from visitors rather than residents.