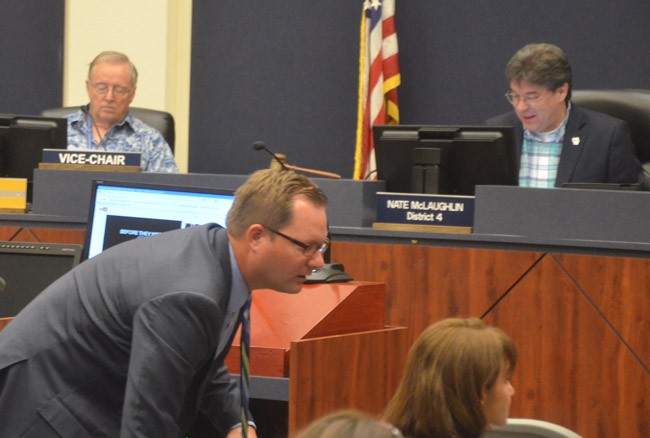 A FlaglerLive Investigation
---
Matt Dunn, Flagler County's Vice President of Tourism Development, had been working on bringing a Spartan extreme-sport race to Princess Place Preserve in Flagler County for almost a year. By the time the proposed race became public last week, he'd convinced Spartan officials that the preserve would be theirs, that they'd have a $55,000 subsidy at the county's expense–$25,000 of it in cash—that the matter had been aired before the county commission, and that they could go ahead with taking registrations, beginning in July.
None of that was formally the case: The money had not been approved by the county commission, which hasn't even passed next year's budget yet. At least some of the commissioners hadn't heard anything about the race. The organizers had yet to see a map of the 1,500-acre site. And the county administration was contending with serious questions about the event from its own attorney, who in July had been told to draft a contract as quickly as possible.
Most glaringly, County Administrator Craig Coffey said he never gave the green light for Spartan to take registrations in July. Spartan had opened website registrations to thousands of potential runners, but it did not do so until Dunn's go-ahead.
At nearly every step, it was an example of an overeager but overselling tourism chief who, less than two years after being hired by the Chamber of Commerce on county government's behalf, had built a reputation as a deal-maker for niche sports events that have filled many of the county's weekends, and many of its hotel rooms, and as the golden boy of the Tourist Development Council and the Flagler County Commission.
Dunn's dealings with Spartan officials, revealed through the emails and texts that chronicled his deal-making for the races over the past year, show a zeal for transacting the "get" but little awareness of, or apparent interest in, policy and protocols—whether budgetary or environmental—and virtually no appreciation for the political context that ultimately sank his biggest pet project to date: A majority of county commissioners were categorically opposed to handing over the preserve to the sort of event conducted by Spartan, and a large number of citizens registered their concerns about possible environmental damage to Princess Place. In fact, in an email to Spartan, Dunn contemptuously dismissed residents' concerns as "a few environmentalists that are creating waves." He went on to advise Spartan that environmental concerns are "All the same stuff you are used to dealing with and have proven Spartan's sensitivity to."
That was overstating the case. Spartan's track record reflects that races in areas explicitly designated as environmentally sensitive are the exception, not the rule.
A Spartan spokesperson who declined to be on the record said in an email on Tuesday that Spartan had removed the Princess Place event from its website and was informing racers in a statement that "we're working closely with local officials to relocate this event to a more suitable location." When asked whether alternative locations included other places in Flagler County, the response was: "That's not in the statement."
That was barely 24 hours after the county announced on Sunday that it would pull the race out of the preserve. Meanwhile, the News-Journal's Aaron London had reported on Tuesday that Spartan would be moving the race to Las Vegas, though by Wednesday that story had deleted references to Vegas and reverted to citing "some other venue options," according to the race's principal organizer. Though both the Spartan spokesperson and the race organizer said the race registration page had been pulled Tuesday, as of this morning—Wednesday—the Spartan page for the Princess Place Preserve race was still live and taking registrations. (Frank Barbuti, Flagler County's parks and recreations manager, who was involved in site visits with Spartan and Dunn at Princess Place, told the county's Parks and Recreation advisory board Wednesday morning that the race had been moved to Arizona. That was the first time the race was mentioned to the advisory board, some of whose members were surprised as to why the proposal had never been submitted to them before.)
---
A heavy-handed push to get the deal with little awareness of the political context or the history of Princess Place.
---
Dunn's romance with the Spartan Race was born in Vegas. There, in November, he met Rusty Schellman, Spartan's director of real estate and military markets, at the Events and Management in Sports conference, a leading expo for the tourist industry. The two hit it off. (Whether Dunn was at the conference exclusively to represent Flagler or also as the president of the Dunn Agency, a private sports events management company he runs despite his current job, is unknown. Dunn was at the Connect Sports conference in Pittsburgh this week and did not respond to an interview request, though he said he'd comply with a follow-up public-record request.)
In Vegas, Dunn and Schellman talked about bringing a Spartan race to Flagler. Dunn appears to have had no other location but Princess Place in mind: he immediately steered Schellman to Princess Place, sending him a link to the county's page about the preserve a day after the conference ended—on a Saturday—and setting up a time to talk the following week.
Two weeks later Dunn met with the county administration and talked about the race for the first time. That was the first week of December, 2014. "They gave us a lot of ideas to think about, including the adjacent Florida Agricultural Museum property which is also owned by the county and includes the trail as well," Dunn wrote Schellman on Dec. 2, a suggestion he did not take far.
In an interview last week Coffey said, "I was pushing for the ag museum early on because of the parking impact and if there were more obtrusive obstacles, so we were heaving in a different direction—the raping and pillaging of Princess Place was never on the agenda."
In any case, soon after Dunn's Dec. 2 email to Schellman, Heidi Petito, the county's general services director, made clear to Dunn that the county was beginning to embrace his plan, telling him, "We are very excited about the possibility" of Spartan coming to Flagler.
Schellman flew in the first week of January (at the county's expense, with a rental car and a stay at Hammock Beach Resort), toured Princess Place with Dunn, and had a "meet and greet" with the county administration, where Dunn planned to show an inspirational video of the race that features cancer patients, people with serious disabilities, and a homeless man (with an English accent) all talking about how the race changed them. That meet-and-greet is an administrative function, not open to the public. Coffey says he has many of those. They follow a standard scenario designed to welcome people and introduce them to the administration, but not much more than that.
On Jan. 8, a day after Schellman's visit, Dunn told Petito and Coffey that Schellman "verbally committed to us," but the prospective date was September 2016. "Thank you to everyone for yesterday," Dunn wrote to the county participants, "displaying a united front really showed how we're all in this working together." He ended his email with a smiley face.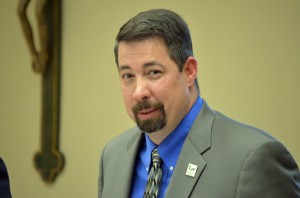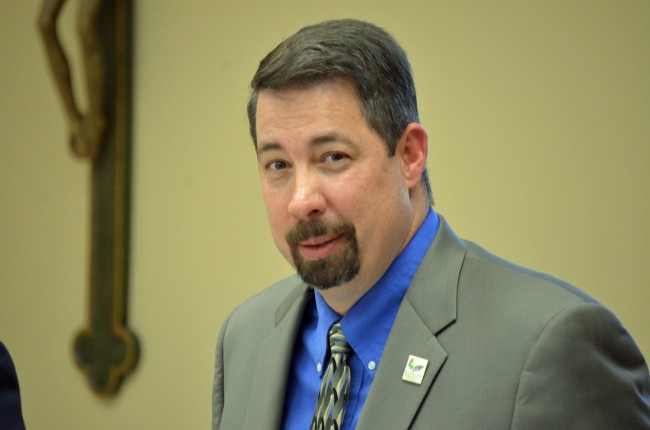 By then, Dunn was referring to Schellman as his "pal," an appellation that would routinely bracket his emails and texts to the Spartan official.
Two weeks later Dunn talked about the Spartan proposal for the first time to the Tourist Development Council in a 10-minute presentation, two minutes of which were taken up by the inspirational video. But back then he was presenting two entirely different races: the Spartan Sprint, a scaled-down four-mile course, and the Spartan Beast, the company's largest and toughest of its three races, a 13-to-15-mile course. Spartan, Dunn told the TDC, had agreed to hold both races at the Preserve.
Dunn played up the fact that the Beast race is occasionally televised by NBC Sports, and that he was working on including a broadcast from the Princess Place race. (Only the Beast race is part of NBC's broadcasts, not the Sprint, nor the Super race that was eventually secured for March, a distinction Dunn was aware of in his emails but did not make when he presented the Super to the TDC last week, and television exposure was still presented as a possibility.)
Nate McLaughlin, the county commissioner and chairman of the TDC, had a question at the January meeting:  "I know Mr. Hanns when this gets to his ears, are we going to get some publicity for Princess Place out of that, when they're filming, will they get some large shots?"
"Absolutely. Absolutely," Dunn replied.
(George Hanns, the longest-serving county commissioner and a long-time defender of Princess Place, would end up having questions about the race last week when he finally learned of it—but only regarding its location. He had no interest in television exposure. He was for booting it out of the preserve.)
At the January meeting, another member of the council asked Dunn if he'd considered other locations.
"We did look at—I'm going to mess up the name again, I always mess it up," Dunn said, "yeah, we did look at Haw Creek, which is out in Bunnell. But it doesn't have anywhere near the footprint or the trail system that is required. Again, we need a lot of space, we need an infrastructure that's already out in place and they found the perfect location in Princess Place."
Spartan officials, of course, knew nothing of Princess Place until Dunn directed them there.
There is a three-month gap in the email communications before Dunn, eager to get that NBC television contract for the preserve event, links it to securing a big subsidy for Spartan through county dollars.
In April, he writes Schellman: "We've already given both boards a presentation in preparation."
That, of course, was not true: Dunn had presented only to the Tourist Development Board. In January it had not approved any money and had not forwarded any recommendation to the county commission. Other than McLaughlin, county commissioners said they hadn't heard of the race or of Spartan until last week, and the Spartan race was never presented to them in open meeting. (It's not clear when Meeker, as the commission chairman, was clued in on the project. He said he became aware of its details only last week.)
In late April, Spartan's Schellman sent Dunn a Spartan Race Request for Proposal, apparently inviting Flagler's tourism officials to formally submit a bid on the Spartan races to be a "destination partner." The RFP was not included in the documents Dunn forwarded to FlaglerLive in response to a public record request. A further request for that document has yet to be honored.
The sequence of events strongly indicates that the RFP played a role in the amount of money Spartan was seeking, and the amount Dunn, without authorization from either the TDC board or the county commission, was promising Spartan.
"Hey Pal," he wrote Schellman in a text on June 10, "I submitted our budget to the County for next fiscal year, still need to go thru the approvals but I included the $25K we discussed. I will have some expenses that will come outta that, ready for contract time?" He finished his sentence with a winky face, then asked again about the TV contract.
The $25,000 was never discussed openly when the county commission discussed the budget in workshops, a budget that also included substantial raises for the tourism office staff, particularly Dunn, though those figures were not broken out. Dunn was asking for a $12,000 raise, from $70,000, a 17 percent raise that would amount to the largest raise by far for any employee salaried on the county's dime. (Several years ago one of Dunn's predecessors, Peggy Heiser, quit the tourism job after she asked for a smaller raise and was turned down.)
And that $25,000 has yet to be approved by the county commission, as it was slated to be part of next year's budget. Nevertheless, Dunn offered it up to Spartan and the TDC, which ratified the arrangement with its own recommendation. ("Yes, it hasn't been formally approved but you cannot wait until October 1st and just try scheduling events just for that year," Coffey said.)
Later in June, Spartan informed Dunn that the company's planned Tampa race had fallen through. Communicating this to his bosses, Dunn wrote, "Tampa folks have quoted themselves out of a tour stop." Spartan asked to have the race in Flagler moved up to March or late February 2016.
"Yada yada we just lost 7 months of planning, ha!" was Dunn's characterization to Coffey in an email, which drew no response or objection, at least not in writing. The plan quickly changed to a March race, and matters accelerated, albeit with more mischaracterizations.
At that point, Dunn was telling Spartan to write the contract with the Flagler Chamber of Commerce as the named party, not the county. "I'll review the contract and we'll discuss it if there are any questions or changes," he told Schellman. "From there, usual turnaround time is a couple of days." He was wide off the mark on all counts, as the contract would have to be written with Flagler County as the named party, it would take weeks or more to review, and it would be reviewed by the county attorney, not by Dunn, even though Dunn knew the county attorney would be in charge: "Even if I have to sit in the county attorney's office til they review, I'll get it done," he promised Schellman, ending the email with a smiley face.
Spartan was just then pushing to open registration for the race in time for the July 4 weekend. Dunn informed the county administrator's office of the company's intent and copied Coffey, Deputy Administrator Sally Sherman, McLaughlin and Petito on the contract and registration matters: they were all aware that Spartan was looking to open registration soon.
Registration did not open that weekend. Schellman again pressed Dunn for clearance to open registration on July 17. Schellman clearly wanted the contract matter taken care of first. "Critical we get this reg open," he texted that afternoon. Dunn replied, "I'll stand at the doorway to the county attorney's office if I have to, I'll get er done early next week,"
"Give me a call so we can be clear," Schellman texted an hour and a half later.
A few days later Dunn repeated to Coffey that Spartan "is all over me to start registration on their website," and Dunn told Sean Moylan in the county attorney's office the same morning that "now that we've come to terms they want to open registration immediately." (Coffey said he doesn't know what Dunn meant by coming to terms.)
The next day, July 21, Dunn wrote to Schellman: "Spoke with Craig (County admin.), he's comfortable with all that we discussed, green light on opening registration whenever you're ready, I have our PR firm working on a release that we'll send for your approval." Dunn expressed only one note of caution, telling Schellman that Coffey "wants to wait on funding confirmation and contract execution before bringing you back here for a press conference." (Laurie Rowe Communications does PR for the tourism office. No documents from the PR firm were included in the response to FlaglerLive's public record request, though all such documents had been requested.)
Apparently confident that the race was a done deal, Spartan opened registration for the event on its website. Later that afternoon, Schellman asked Dunn for "a jazzy description" of Princess Place to put on the registration page.
In a one-line email to Coffey, Dunn wrote: "They jumped the gun… up and running."
"I don't know what he meant by green light other than things were going well or whatever," Coffey said in an interview Tuesday. "But I didn't talk to him about registration. I didn't get involved at that level of detail."
While Spartan was beginning to register participants for the March event, the contract Dunn was promising to Schellman was meeting with some strong opposition in the county offices. On the afternoon of July 22, County Attorney Al Hadeed sent an email to Dunn and Moylan, copying Coffey and several others. "The critical question as I read the info," Hadeed wrote, "is what kind of obstacles, what kind of ground disturbance and other alterations?" Then, seeming to address Dunn's eagerness to get a deal done with many questions about the event still unanswered, Hadeed wrote, "I know everyone is pumped but these are environmentally sensitive lands and we are supposed to be the model of stewardship and sustainability."
Though Hadeed's emailed concerns had been directed primarily at Dunn and Moylan, it was Coffey who responded early the following morning. "We will be working on these operational issues as we get closer," Coffey wrote. "We have thought of some of the same issues you have mentioned and will work through them." Coffey concluded the email by saying, "At this point in the game we need to get the contract together."
The response did not satisfy Hadeed. Just after one in the morning on July 24—apparently after a long day at the office–Hadeed emailed a lengthy set of red flags to Coffey and Dunn. Hadeed wrote that he had done some research on Spartan's events, and took serious issue with assertions by Coffey that the impact on Princess Place would be in line with that of the occasional cross-country runners who use the preserve.
"I have to say I am still very troubled about doing a contract," he wrote to Coffey. "We have never had anything like this that actually challenges our lands, that will alter our lands." Hadeed continued, "I will have to do more with you before I agree to a contract form. I have to be convinced of its suitability in light of our management plan and covenants and the nature of the resources." Hadeed urged Coffey to move the race elsewhere and concluded: "I cannot in good conscience accept the promise at face value that this can be done appropriately when I have acquainted myself with the operation, know the lands, and not having heard from anyone else the potential impact of the operation." Hadeed asked for a series of plans and stressed that he would have to be sure that the proposal was "legally valid" for the county to execute. "We need to do it upfront," he said.
But little had been done upfront aside from the brief and hazy presentation at the January TDC meeting, and nothing had been said openly since. Behind the scenes, Dunn and Coffey were pushing hard to close the deal, even though Spartan had yet to provide so much as a map of the proposed course or a description of the obstacles.
Last Wednesday, it all began to unravel. Dunn presented the Super Spartan race to the TDC. A story outlining the plan in FlaglerLive provoked a response no county official had anticipated. In the face of angry emails from residents, and expressions of astonishment from commissioners, by the weekend the Spartan race at Princess Place Preserve was dead—cancelled with a quiet press release.
Spartan's Schellman did not respond to interview requests from FlaglerLive. The company has sent conflicting signals in the last several days about whether the race is still a possibility in Flagler County or not. Coffey on Tuesday was unaware of alternative plans, but he said that while the county was willing to help find a different venue, he'd made clear that he wanted to know "if they're still interested in coming. But if they're not we don't want to waste our time."