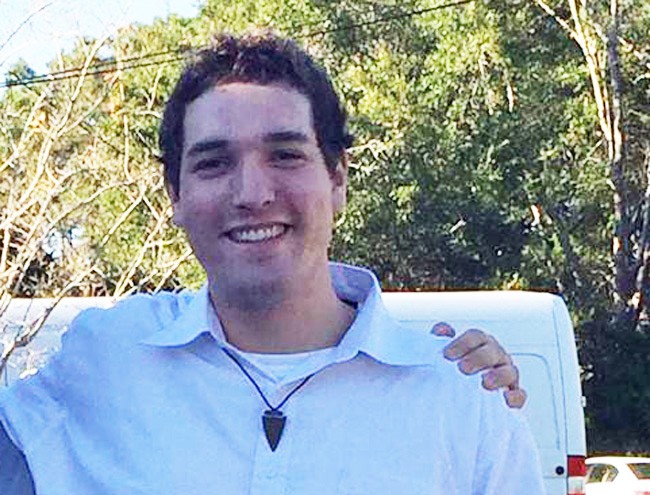 He was a big man–he stood 6'6"–who could muster big smiles, big hopes, a searching intelligence and, apparently, great despair. The evening of July 1, he posted on his Facebook page, for what proved to be the last time, a meme that he had already posted in February, and that said: "Accept what is, let go of what was, and have faith in what will be."
"Amen," is all he wrote. Amen may have been the last word Mathew Talacko wrote. He died sometime soon after that.
The Sheriff's Office this afternoon identified the man found dead in a pond behind Walmart on July 4 as Talacko, 25, of 87 Patric Drive in Palm Coast. The office identified him shortly after the News-Journal's Matt Bruce first did so earlier today, after a call to the medical examiner's office.
"The investigation revealed that Talacko was reported missing by relatives on July 2 and that he has a history of narcotics use. The cause of death has not been determined," the sheriff's office said in a statement, "however, no foul play is suspected in this
case."
Just last January he'd been arrested on charges of possessing inhalants. He ended up facing additional charges for violating his probation and his conditions of pre-trial release, though he ended up with six months' probation in May, a sentence that would have been over by November.
The incident report on the discovery had been heavily redacted before Talacko's identity was ascertained. An unredacted copy of the report, made available this afternoon, indicates that a grandparent of Talacko found his body "in the canal behind Walmart." A deputy then contacted Talacko's mother, who said she last saw her son on June 30, that he had a history of substance abuse such as inhalants, and that he would hang out in the woods to "get high." A missing person's report was completed on July 2, because Talacko was not in the habit of disappearing for very long.
Talacko's mother, the report notes, "stated that she decided to check the wooded area behind Walmart this morning [that is, on July 4] because Matthew use to frequent that area." The man's mother said her father located the body near the canal and called authorities. A deputy at the scene observed the body in the water. "A pair of black skateboard shoes were located on the side of the canal," the report states, "along with a pack of cigarettes and three cans of aerosol keyboard cleaner was located in the canal, along with what appeared to be two bottle of orange juice."
The report adds that when Walmart employees reviewed surveillance video, they saw Talacko in the store on July 1 at about 5:30 a.m., walking out of the store without paying for the keyboard cleaner. The surveillance video also shows him walking around the store and entering the woods.
It was that evening that he made his last two Facebook posts, his penultimate one a bit less profound than his very last, but reflective of what must have been a resilient sense of humor: "Not sure if I need sex, sleep, or to punch someone in the face." To that, he'd appended a simple "Lol."
His mother identified the shoes at the scene as his, but more positive identification could not be made: even the spiderweb tattoos on both his hands were not identifiable, which explains why strict, positive identification was delayed.
Talacko's Facebook page in stretches reads like the journal of a self-searching man on the run from anguish and on the lookout for any kind of radiance, whether the glow of a campfire (which he preferred to a nightclub) or the flickering hope of a reassuring saying. "The acceptance of your darkness allows you to create a greater strength in your light," he'd posted from a website in late March, days after posting something about being off the grid, and something about the top regrets people make on their deathbed. He had none of the snarkiness or meanness so often associated with social media postings. Even his introspection read like an attempt to share a personal struggle.
In his last days he'd quoted Einstein ("I have no special talent. I am passionately curious"), Helen Keller ("The world is full of suffering but it is also full of people overcoming it"), Gandhi, Skinner and Napoleon Hill ("Victory is always possible for the person who refuses to stop fighting"). He'd reminded someone, as he must have so often, that his name–misspelled in recent media reports and in the sheriff's release, but not in his court docket–is spelled with one t. And on Easter, he'd wished his friends "much love on this day of suffering past."