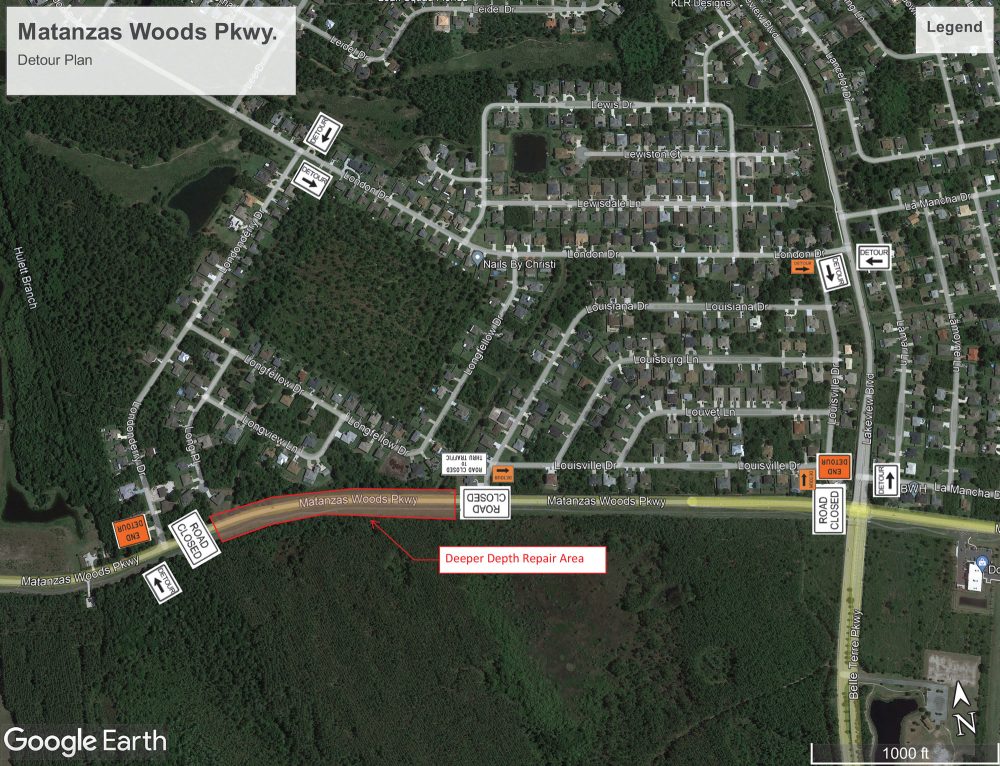 Last Updated: Saturday, 3:45 p.m.
Matanzas Woods Pkwy from Lakeview Boulevard to Londonderry Drive will be closed to traffic from July 5 to July 15 as crews repair and repave that segment, one of Palm Coast's major arteries.
The repaving began on June 26, but due to what the city calls "unforeseen circumstances," the closure  became necessary, as more than just milling and resurfacing would be needed.
According to a city release, beginning Wednesday, July 5, a detour will be required as follows:
The "unforeseen circumstances" amount to a matter of inches, and a bit more. As a city spokesperson explained it, "the repair requires more milling than anticipated. Typically they remove 8" of asphalt before resurfacing, but in this area they will remove greater than 8"."

The spokesperson further explained that once construction started, P&S Paving discovered that the base material below the asphalt is too soft to support loaded dump trucks without the top asphalt covering. To that end, the contractor will load asphalt into the paver using a shuttle buggy, whose wheels can only travel on a solid, asphalt-like surface. "The road is closed to allow the one remaining asphalt covered lane to be used for construction operations rather than be available to the public for travel purposes," the spokesperson said.

Drivers traveling west on Matanzas Woods Parkway towards U.S. 1 will be routed down Lakeview Boulevard onto London Drive to Londonderry Drive, where access to Matanzas Woods Pkwy westbound will be accessible.
Drivers traveling east on Matanzas Woods Pkwy towards I-95 will be routed down Londonderry Drive onto London Drive, to Lakeview Boulevard, where access to Matanzas Woods Pkwy eastbound will be accessible.
The detour is expected to last through the end of business on Friday, July 14.
Drivers are encouraged to allow additional time to their travel plans. Residents should be prepared for delays and exercise caution during the paving operation. If feasible, it is recommended to use an alternative route during this period to avoid any potential inconvenience.
 The milling and resurfacing of Matanzas Woods Parkway is part of this year's $5.3 million resurfacing plan, one of five projects approved by the Palm Coast City Council for major thoroughfares throughout the city. Milling and resurfacing prolongs the life of a road without having to repair its foundations.
The following arterial roadways are scheduled for resurfacing this year:
Matanzas Woods Parkway (from US-1 to I-95)
East Hampton Blvd. (from end-to-end)
Belle Terre Boulevard (from south of SR100 to US-1)
Sesame Blvd. (from end-to-end)
Seminole Woods Parkway (from south of SR100 to US-1)
Lane closures had been planned for Matanzas Woods Parkway when that project started at the beginning of the week, but not full road closure.
The milling and resurfacing project is led by P&S Paving, and all told, is expected to last approximately 3-4 weeks. Extensive base repairs is being conducted to strengthen the road's structure and stability.
This project is related to a future plan to four-lane Matanzas Woods Parkway and realign Luther Drive with Bird of Paradise Drive, a plan the city council advanced earlier this month by approving the purchase of parcels necessary for the project. The council will ratify those purchases at its meeting on July 11.