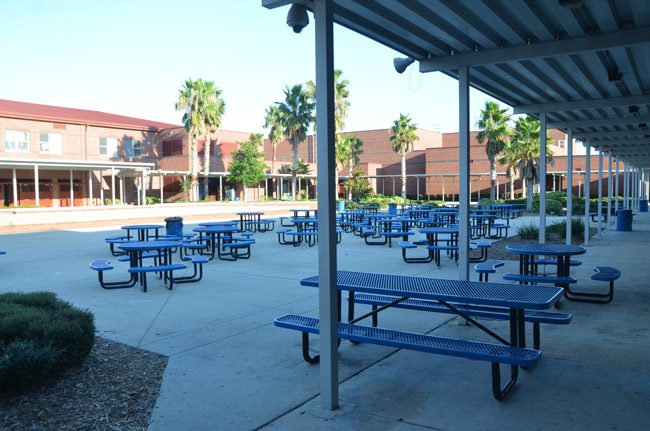 A pair of fights between girls at Matanzas High School last week is being linked to a subsequent fight, prompted by a Snapchat exchange, that took place Sunday afternoon at Bellmore Place in Palm Coast and that led to charges against some of the girls. The charges were forwarded to the State Attorney's office.
The fights at Matanzas High School took place in front of School Resource Deputy John Landi and Assistant Principal Shawn Schmidli in the noon hour on Nov. 6. A 15-year-old girl from Blair Drive in Palm Coast is listed as a victim, whom the deputy had to restrain by pushing her down into the mulch several times to keep her from going back to fighting after he'd separated them.
As she had been fighting another girl, a second fight broke out nearby, in which the deputy had to force one of those involved to the ground. At least one of those involved was handcuffed. A large crowd of students gathered and refused to listen to administrators' commands, according to an incident report, prompting a response from several additional deputies. (Three days later, the school again swarmed with deputies after a student fabricated the story of a gun sighting.)
One of the girls involved told authorities that the fight with the girl listed as a victim on the incident report had started over the previous weekend when a question was asked that was never answered. At lunch on Nov. 6, the girl walked up to the victim and poured a drink over her, triggering the physical confrontation in the school's courtyard.
One of the girls' father at first declined to pursue charges against her attacker. The mother of another student involved in the confrontation chose to sign an affidavit for a charge of battery. The next day, the father of the victim provided authorities with a video that, according to a follow-up incident report, appears to show his daughter being struck first. The girl's father and his wife then request to sign battery charges against the alleged assailant, which was forwarded to the State Attorney's Office. Only one parent's name is listed in the incident report—that of Shawn Lyndon.
All appeared quiet for a few days, until the afternoon of Nov. 12.
Eric Brandon, 47, told deputies that just before going to Home Depot that afternoon, he'd been made suspicious as a car drove by his house. Soon after he left, his wife called him to tell him that juvenile girls from that same vehicle emerged and attacked her and her daughter, according to an incident report.
"I then made contact with Svetlana who began explaining what had occurred," Flagler County Sheriff's deputy Troy Cavas reported in his incident report, referring to Eric Brandon's wife. "While she was trying to explain what happened, Eric was attempting to view footage from a camera that he had on his car. He was trying to review it to show the suspicious vehicle that was in front of his residence. Eric then advised that [his daughter] knows the females that came to his house and that LEO had better find them before he does."
Then a confrontation almost developed between Eric Brandon and Cavas, leading to the un-holstering of a Taser gun.
Brandon wanted to go to his car to plug in the camera in order to view the footage. "I then told Eric that he was not going to leave his residence and that he needs to allow me to conduct an investigation," the deputy reported. "He became argumentative and refused to exit his vehicle after I gave him a lawful order to do so. Eric continued to stay in his vehicle. I then removed my Taser from its holster while telling him again to exit his vehicle. Eric said that he was only going to review the camera footage and he was not going to leave. He then exited his vehicle to review the footage on the camera." Additional deputies arrived.
Svetlana Brandon and her daughter described how the fight developed with the girls from the car, some of whom got involved in the fight while others stood by, recording it on their cell phones. At one point some of the girls began separating those that were involved in the fight. Svetlana Brandon and her 15-year-old daughter were both bruised along the way.
Deputies were able to locate at least two girls with knowledge of the confrontation. Deputies spoke to them separately. They corroborated each other's stories. They each explained that the Brandons' daughter had allegedly contacted another girl (a suspect in the case: her name is censored from the report) on Snapchat, telling her to come to her house "so they could talk to her about the fight," according to an incident report, and when that was done, the Brandons' daughter told them to wait until her mother was off walking the dog so they could fight. One of the girls said that the Brandons' daughter had also proposed going to one of the girls' houses to fight there. The Snapchat messages no longer existed, as the app is designed to erase messages after a short period.
The girls who spoke with deputies said the individuals in the car were there likely because they'd heard about the impending fight. The Brandons' daughter, however, denied messaging anyone to instigate a fight, according to the incident report. Since the two girls the deputies had spoken to separately had conceded that they had each walked to the house on Bellmore Place to fight, deputies determined them to be the primary aggressors and filed charges of battery against them. The charges were forwarded to the State Attorney's Office. Meanwhile, the parent of one of the girls involved told deputies that she intended to pursue charges against Svetlana Brandon. A deputy told her she'd need to contact the State Attorney's Office to inquire about such charges, since Svetlana was defending her daughter when the other girl was struck.
There were to be additional follow-ups regarding other girls involved. It is not clear if the confrontations are over.