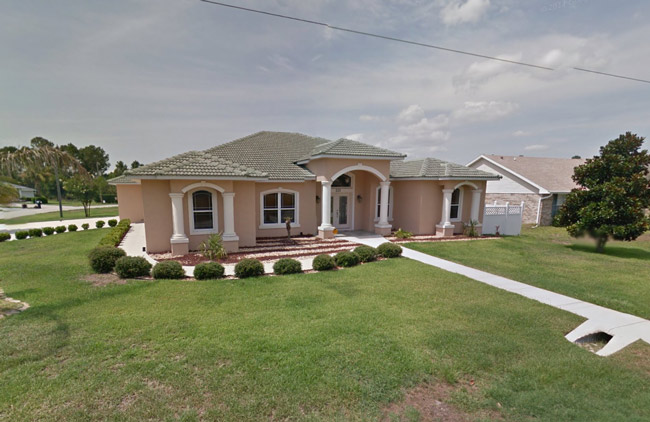 A ninth grader and two tenth graders who'd jumped the fence to leave Matanzas High School this morning were arrested and charged with armed robbery following two incidents in Palm Coast's F-Section, the Sheriff's Office said in a release this evening.
A caller to 911 said he heard glass breaking at 46 Fitzgerald Lane and saw three suspicious people in the area, according to the release. The caller provided the description of the three people to the dispatcher. When deputies arrived, they saw three teenagers (two black males and a white female) running from the area. The female member of the trio was apprehended without incident by Deputy Jesse Kocorowski. The other two fled into the nearby woods.
Flagler County Firefight, the county's emergency helicopter, was called in as deputies set up a perimeter and began searching for the two. During the search, Deputy John Landi, the School Resource Deputy at Matanzas High School), provided the names of three school students reported to have jumped the school fence and fled from school officials at 9:30 Wednesday morning.
With a perimeter in place, K-9 Deputy Robert Tarczewski and his partner Repo tracked the duo to a wooded area near Flemingwood Lane and Flat Rock Lane. With the assistance of Sgt's Jon Welker and Phil Reynolds, the two were apprehended without incident.
A subsequent detectives' investigation determined that the trio were the same ones who skipped school and were allegedly involved in a burglary that occurred at 19 Fircrest Lane in Palm Coast. After entering that home and taking several items, the trio allegedly went to 46 Fitzgerald Lane and attempted to break into that home by throwing a stool through a window. This was when they were spotted by a neighbor and were ultimately reported to the sheriff's office.
Nasir Clark, 17, a 9th grader, Emmanuel R. Nixon, 15, a 10th grader, and Ysis C. Sanchez, 15, a 10th grader, all from Palm Coast, were arrested and charged with two counts of felony armed burglary and other related misdemeanors, according to the release, which did not specify those misdemeanors but noted additional charges were possibly pending.
Deputies recovered property taken from the residence at 19 Fircrest Lane, including two bags that contained a .22 caliber starting revolver, numerous clothing items, jewelry, a computer and shoes. All of the items were returned to the victims.