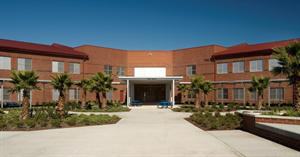 A 16-year-old Matanzas High School student was charged with felony battery on a law enforcement officer Monday after headbutting the officer during a fight with another student.
The suspect, a resident of Biltvue Place in Palm Coast, was fighting with another student in what the Flagler County Sheriff's Office described as a boy-girl issue. Cpl. Don Apperson, the school resource deputy assigned to Matanzas, said the 16-year-old student struck the other in the face repeatedly. Apperson intervened to break-up the fight. He was head-butted in the left temple, and suffered a laceration on his nose from the force of the impact against his glasses.
Apperson was treated for injuries at the school. But another Matanzas High School employee who also intervened in the fight fell and hurt his back, and was taken to Florida Hospital Flagler. A sheriff's release described the employee as a faculty member. Chris Pryor, the principal at Matanzas, contacted about the incident Monday evening, said the employee is a security guard at the school.
The suspect was turned over to the Division of Youth Services in Daytona Beach (juvenile inmates are turned over to the Department of Juvenile Justice's division in Daytona because Flagler doesn't have its own juvenile jail).