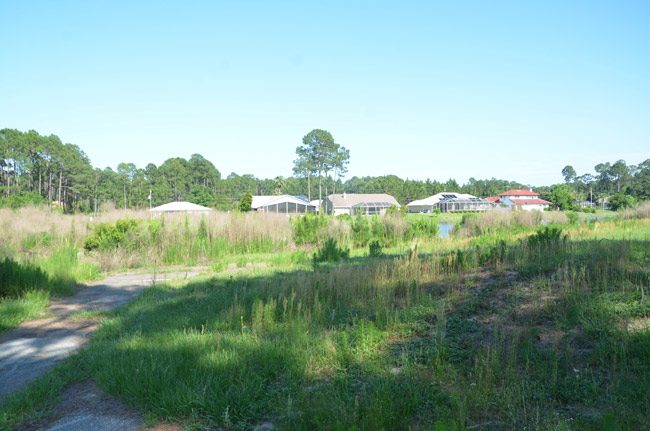 The long-running dispute involving suits and counter-suits between Palm Coast government and the owners of the Matanzas golf course, which led to foreclosure litigation, has been settled out of court.
But while Group Golf of Palm Coast, the name of the entity that owns the 277 acre that snake between and around L-section properties at the northern tip of the city, has made some payments pursuant to the settlement agreement, it has yet to make others (it still has time), and has not met certain code enforcement conditions, including a requirement whose deadline was today.
The course weaves around hundreds of homes along Lakeview Boulevard and its offshoots to the east and west. It was in disuse and overgrown. Palm Coast government was getting pressure from residents to compel the owners to clean up the property. The city sued for foreclosure in 2016 after exhausting its avenues through the Code Enforcement Board, and as fines had piled up. Group Golf sued in turn the following year, seeking to stop the city from enforcing certain ordinances it termed arbitrary.
Palm Coast's action against Group Golf progressed, unfolding before Circuit Judge Scott DuPont, the embattled judge whose behavior during one of the hearings involving both cases regarding the city and Group Golf was cited in the many charges against DuPont, who now faces removal from the bench. (Group Golf had been 19 minutes late to a hearing because of a traffic crash, DuPont had gone ahead with it anyway, concluding it before Group Golf counsel showed up.)
That was last May 31. Within days Group Golf filed a motion to have DuPont disqualified. DuPont ruled against the motion, only to face a second motion for recusal, now involving the Fifth Circuit Court of Appeal. On Aug. 23, Chief Judge Raul Zambrano reassigned the case to Circuit Judge R. Lee Smith. (Last Friday Zambrano ordered DuPont barred from all courthouses unless he was there to conduct personal business.)
The golf course case proceeded under Smith's new watch, and on Nov. 20, the two sides went to mediation. The mediation appeared to be successful, resulting in an agreement the same day.
The four-page agreement doesn't necessarily end all litigation. It does so only conditionally. It calls for Group Golf to pay off the $58,553 utility lien in two installments, with the first installment, to have been paid in early December, resulting in the cancellation of what was to have been the next-scheduled hearing before Judge Smith. Group Golf made both payments and satisfied the utility lien, according to a city spokesperson.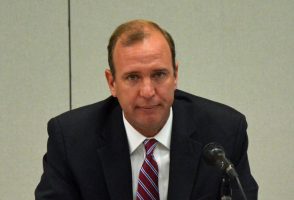 Group Golf also faced a $170,138 code enforcement lien that's part of the same foreclosure proceedings. Palm Coast agreed to reduce the lien and a reduction of attorneys' fees to $60,000, a reduction of almost two-thirds of the original bill for $170,000. Those payments are due in three installments to the trust fund of the city's law firm, Garganese, Weiss and D'Agresta, starting with $20,000 due by March 30, and additional installments due by April 30 and May 30. None of those payments have yet been made.
Finally, Group Golf is required to resolve code enforcement violations by either demolishing a cart barn on the property or receiving a certificate of occupancy by Feb. 28 for it. "If substantial progress is being made by Group Golf, the city agrees to extend the deadlines by 30 days." As of Feb. 26, those conditions had not been met.
Once all the conditions are met, the city agrees to dismiss its case against Group Golf, and Group Golf is to dismiss its case against the city. But if Group Golf were to default on any of the conditions, the city will move ahead with a final judgement for foreclosure and a $168,553 payment, minus whatever Group Golf may have paid until then.

The Settlement Agreement Between Palm Coast and Group Golf (2017)