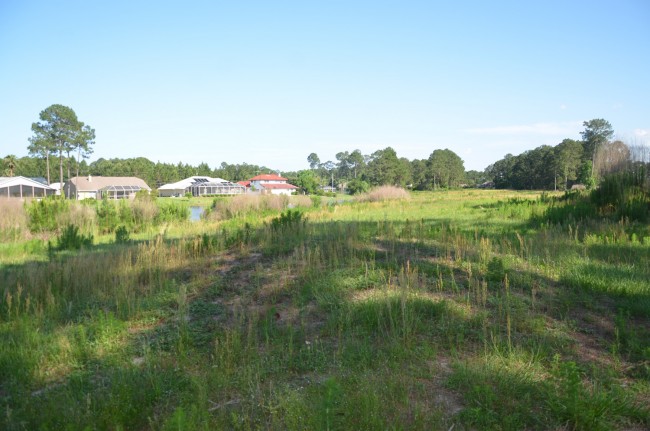 Mike Finnegan has been traveling for work for two years. When he got back to his home on Lake Charles Place in Palm Coast's L Section he was confronted by neighboring residents "with a list of questions on the conditions and what's going up there." He was referring to the Matanzas Woods golf course, which has gone unused for almost a decade and an unruly spread of overgrown brush, clogged waterways and occasional refuse.
He submitted his questions to the Palm Coast City Council this morning, after he was invited to do so by council member Bill McGuire, but the most he got in return was the promise that the city will consider putting together a summit of sorts between various government agencies and residents in the Matanzas area, while the city's code enforcement board proceeds with an actual case against the property owner, whoever that may be. Beyond that, numerous questions remain, as do legal limitations on what the city may and may not do.
The disused golf course sits—and now sprawls—in the form of an overgrown nib at the pointed edge of north Palm Coast, snaking around the homes on Lake Placid, Lake Success, Lindsay Drive, Lakeview Boulevard, Lee Drive, London Drive, upsetting those residents who know that if they were to let their own yards go untended in the same way, they'd be arraigned before the city's code board before long.
---
Different standards of maintenance apply to vacant land, even former golf courses.
---
"I was shocked recently when I drove by the old Matanzas Golf Course recently," Toby Tobin, publisher of GoToby, wrote in December. "The clubhouse is overgrown and falling apart. The parking lot is littered with trash. Only the contours of the course remain. How can such a treasure become unrecognizable in such a short period of time? What might the future hold?" He, too, was asking questions begging for answers the city could not provide.
Residents keep wondering whether the city's code enforcement department, never known for going easy on property owners, is applying the same standards on the owner of the Matanzas Woods golf course, though equal standards happen not to apply in this case, because the abandoned course is not judged by the same standards as residential home lots. Still, there's garbage in various places. There are bonfires, as neighborhood teens use certain areas as gathering places. There's a lake that's almost entirely overgrown, to such a point that firefighting helicopters can't get their buckets in there to draw water when fighting fires.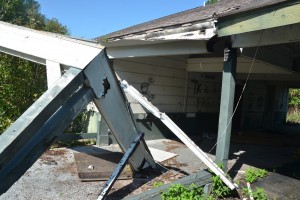 There's one other persistent mystery: no one can figure out who, exactly, owns the place. Last October an entity called Group Golf of Palm Coast LLC, of Jacksonville, bought the site for $266,800, according to property appraiser records—from an entity called Golf Group of Palm Coast. (The previous owners' corporate identities, listed with the Department of State's Division of Corporation, were all from Palm Coast. The new owners list just two names: Stephen Richardson and Michael Yokan of Jacksonville.)
"At some point we would like to have state officials and government officials and Bill Nelson's office and the city and the county to have an open house up there, to know what's going on," Finnegan said. "Since 2005, nothing has happened up there, and we need the city to take a hard look."
Palm Coast doesn't dispute the nuisance. "This has been a thorn in our side for years," Palm Coast Mayor Jon Netts said. But the most he could do today was ask his administration for yet another update on where the city is on code enforcement "and what we anticipate doing."
"There are private property issues, private property rights, that the city cannot impact," Netts said. "The property is owned, I agreed it probably—although I would hope otherwise—it probably will never be resurrected as a golf course. But you can't require them to maintain it in the appearance of a golf course."
City Council member Bill McGuire, who attends county commission meetings, reported from the previous evening's meeting that he'd heard that different city staff members had said they would not be enforcing the city's code. "We've got a communications malfunction here," McGuire said, which bothered him, he said, "because I've never seen our staff malfunction in areas like that." He described Finnegan's remarks as "a microcosm" of what's happening in the county, citing "a huge gap" between what the residents of Matanzas Woods are thinking, and what the city is thinking.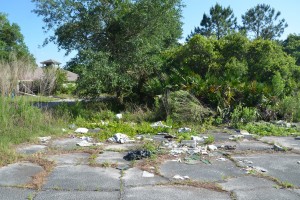 City Manager Jim Landon describes the Matanzas property as a vacant property, not a golf course, though the city does, he stresses, have minimum standards. "They let it go, then we send them a notice, and within a few weeks they have historically done the minimal amount of maintenance. Code case goes away," Landon said. "Recently, we've had difficulty with exactly who owns the gold course, because it has been sold, and it's in the process of foreclosure, and so that always complicates it when you do not know exactly who the owner is. In this case we have started a code-board case, and we actually got it scheduled for the code board. Which takes it to that next level to get the property owner's attention, that they have to make some improvements." A resident's recent email to the administration signaled that "some maintenance" had been done. "But there's still more that needs to be done. The residents may not like to hear this, but we cannot enter the private property to go find issues that they're seeing. We can only enforce the code from the public street and the public property. We've attempted to do that the best we can in a very difficult situation."
Regarding the different standards applied, Landon stressed: "We don't require vacant properties to be maintained. We have vacant lots all over town that aren't required to be mowed and maintained. And there's a portion of this property that is vacant now, and doesn't have to meet a residential kind of criteria. We are trying to get the property owner to, close to homes and certain areas, do the mowing, but residents don't want to hear the fact that this vacant property does not have to be maintained at the same level as a residential lot or a developed lot. Definitely not the same level as a golf course. It is a very difficult call as to where that vacant property can be maintained as vacant property versus a developed parcel."
The city has been making stormwater improvements and storage. But absent a new owner who takes maintenance seriously, the current situation is likelier to linger.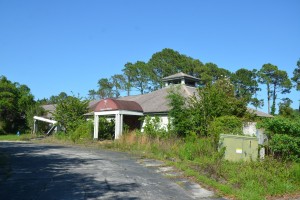 Council member Steven Nobile said the conditions of the Matanzas course is "devastating" on neighboring residents, who bought property on a golf course only to see it decline—and see their property values go with it. But in terms of converting the land to something more valuable, the council had no answers.
Bill Reischmann, the city attorney, broke down the issue in its component parts—starting with the property owner and neighboring government agencies, including the state and the water management district—but could only explain what each entity is responsible for, legally, and what it may not do. "The city's obligations are, right now, to receive complaints, do appropriate inspections and enforce our codes," he said, including potential issues regarding trash, vermin and drainage. But violations can only be documented by code enforcement officers who can see the violations from a public road, or from other residents. As for property values: "That's a private lawsuit," not, Reischmann said, "something the city of Palm Coast has a stake in."
Nobile said the whole matter reflects poorly on Palm Coast, and wondered at what point the city could get on the property and "do something"—an irony, coming from the council's most militant property right advocate, though in this case he was advocating for homeowners, who have seen their property values impacted. "If we've got hazards like mattresses, and we have a garbage dump being put out there," Nobile said, "we really have to get on top of them, on top of whoever the owner is, whoever the bank is that's holding the foreclosure, whatever, and really get on them and hammer them and make it as costly as possible for them to get that cleaned up."
One unspoken matter nevertheless loomed over the council's discussion, in light of where it had been a week ago: just last Tuesday, some council members, including Nobile and McGuire, were critical of the direction of the Palm Harbor Golf Course, which is city owned and has been losing money every year. It's run by a private company, KemperSports, which, of course, is not losing a dime: taxpayers are subsidizing the losses. Council members have been under pressure to end the drain on the city. City Manager Jim Landon has been arguing that the value of the golf course goes beyond the bottom line—both as a city asset, in the scope of the city's parks and recreation offerings, but also as an asset to the golf course's neighbors, and neighborhoods: its continued upkeep enables the properties around the course to keep their value, rather than face a run-down property.
Today's discussion regarding the Matanzas golf course made Landon's point, unpopular as it has been.
The city had a plan to turn the property into a "linear park" that would be maintained by the neighborhood or the city, perhaps providing a playground to children in the neighborhood. But there was "sharp opposition" to that proposal, Landon said.
"Until the neighborhood can come together and sit down and be civil about it, with a game plan, your potential buyers all run away," Landon said.
Council member Jason DeLorenzo, speaking of involving all residents in future discussions, hinted at the possibility of changing the golf course's zoning, if only to make it more attractive to future buyers–namely, developers.
"The time has come to be the convenor of a discussion," Netts said. "This cannot continue in perpetuity. Who is the owner, what are your plans for this property, do you have prospective purchasers for this property."