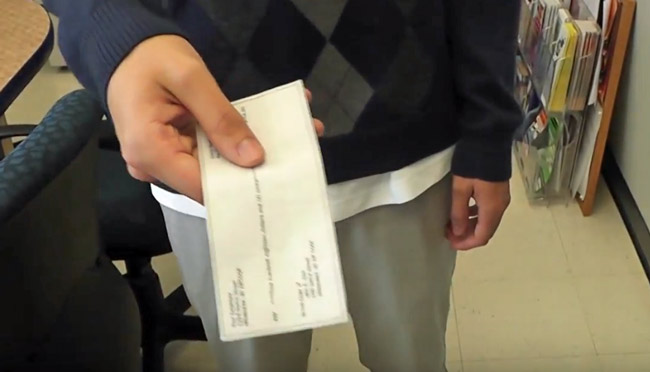 Four Matanzas High School students' video won second place in a statewide contest on financial literacy sponsored by the Florida Department of Financial Services.
The students, Brittany Dye, Patrick Flebotte, Emma Grushkin, Danielle Hartley and Duncan Sorensen, had been assigned a 30-second public service announcement in their television production class. (A previous version of this story had incorrectly stated that they are part of the high school's financial literacy flagship program, which includes a VyStar bank branch run by students and featured in the 30-second public service announcement.) The brief spot is described as "a person that goes to work, earns a paycheck and learns how to see how they pay bills. They can determine if they can save for the future."
Flagler students tied for second place with students from Leon County (George Gwynn, Clayton Hobbs, Curtis Wright and Ellie Stubblefield) who won for this video. First place went to First place Kobe Peralta and Jordan Hanna of Pasco County for this video. See below. Alessandra Poma and Jamie Zimilch of Duval County won third place for this video.
Florida Chief Financial Officer Jeff Atwater announced the winners today of the Department of Financial Services' first "Learn to Save" Challenge. Florida high school students were invited to submit a 30-second public service announcement highlighting the importance of financial literacy, while middle school students were encouraged to create an educational billboard on financial topics.
"Saving is so important and yet, more often than not, our children don't learn this valuable lesson until they are adults and facing the real world," Atwater said. "It was a rewarding and eye-opening experience to see first-hand how children and young adults view these sometimes complicated topics. Congratulations to our winners and to all who participated."
Four winning high school student teams were chosen from across Florida. The first-place video will be aired on TV in Pasco County. Cash prizes in the amounts of $300, $200 and $100 will be presented to each team member of the first, second and third place winning entries, respectively. Two billboard entries from middle school students earned honorable mentions and will receive a $50 cash prize.
The contest was open to public-, private-, and home-schooled students in Florida and encouraged students to explore the concepts of budgeting and saving early on. Students were provided resources from the Department of Financial Services' Your Money Matters website to inform their entries.
The Department of Financial Services sponsored the project with partners that included the Florida Outdoor Advertising Association and the University of Florida's Institute of Food and Agricultural Sciences 4-H Development Program for providing the cash prizes.
See the Matanzas video below, and below it, the first-place winner.