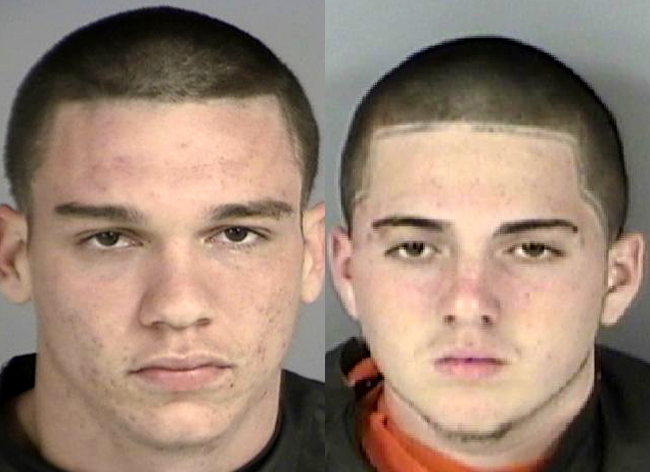 Sebastian Dominguez, 18, of 51 Longfellow Drive in Palm Cost and Brandon Smith, 19, of 291 Cone Road in Ormond Beach, were riding in their truck with a 14-year-old girl from Indian Trails Middle School and a 15-year-old girl from Matanzas High School when the boys allegedly decided to rob a Matanzas High School student waiting at a bus stop early Tuesday morning.
The suspected heist didn't go as they planned.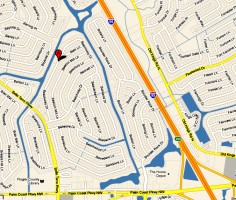 Deputies said two Matanzas High School students were waiting for a school bus on Beachway Drive (where it loops around and reconnects shortly after 7 a.m.), when a truck, driven by Dominguez with Smith as a passenger, stopped. The high school students said the two exited the truck and Dominguez approached him with what appeared to be a gun. The student said one of the men patted him down to find items to steal while the gun was pointed to his chest. At one point, the student was struck in the face with the suspected firearm after making a comment to the robbers.
The boys fled in the truck.
At 7:20 a.m., deputies responded to a crash with injuries on Bird of Paradise Drive, about a mile north of the bus stop. The crash involved the truck the two suspects were driving. Deputies detained Dominguez and Smith, who were later identified by the two students as the robbers.
A pellet gun was recovered at the scene and is believed to have been used in the robbery. The two girls in in Dominguez's truck were slightly injured in the crash. They were not detained. Dominguez and Smith were taken to the Flagler County jail. Dominguez is charged with robbery with a firearm and aggravated battery with a firearm. His bond is set at $35,000. He also faces two charges of leaving the scene of an accident, with bond on those charges set at $20,000.
Smith is charged with being an accessory to robbery with a firearm. His bond is set at $5,000. He also is being held on an outstanding Volusia County warrant for failure to appear. Bond is $2,500 on that charge.
Florida Highway Patrol investigated the accident and additionally charged Dominguez with leaving the scene of an accident with injuries and leaving the scene of an accident with property damage. Bond on those charges totaled $20,000.
Sheriff's deputies are continuing their investigation into the incident and they are investigating the possibility that the truck driven by Dominguez was involved in an overnight vandalism incident at the Indian Trails Sports Complex. In that incident, someone did donuts in a vehicle on the soccer fields, damaging the fields.