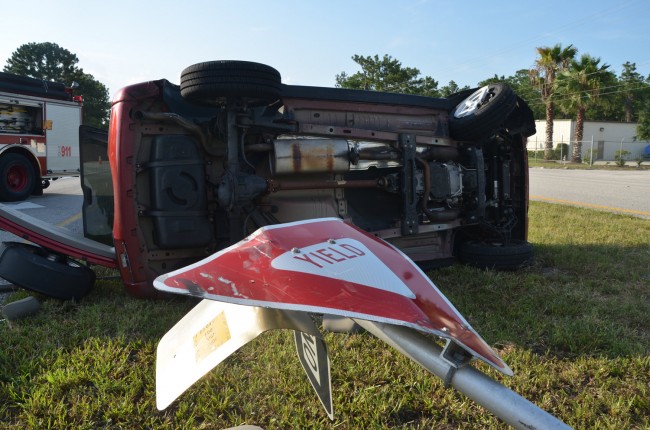 Mary Rosalind Barber, a 52-year-old resident of Westbury Lane in Palm Coast, was driving north on U.S. 1 in her Jeep SUV late Thursday afternoon–no speeding, no unusual movement. The SUV is bright red. The afternoon light was bright but not blinding.
Just before 5:45, Barber was approaching the Hess station and convenience store south of Korona. A small convoy of three cars had pulled in there a little earlier, including Silas Cortez-Florez, a 27-year-old resident of Rome, Ga., who is down here visiting with family. He was at the wheel of a white Chevy Trail Blazer, with four people in the car, including a couple of children. He was pulling out of the Hess station, which is on the east side of the four-lane, divided highway, to make a left turn and go south on U.S. 1.
"He said he didn't see anybody coming," A Florida Highway Patrol investigator said of Cortez-Florez at the scene.
He cut off Barber's right of way, whose Jeep slammed into the side of the driver's side front of the Trail Blazer, tipping the Jeep on its side as it slid into the median, where it came to rest, just past a Yield sign it struck. It ended up diagonal with the highway, with considerable damage. The Trail Blazer ended just past the median facing northwest on the southbound lane.
Barber was transported with undetermined injuries to Florida Hospital Flagler, but the FHP investigator said she did to appear to have been seriously hurt. Neither Cortez-Florez nor the passengers in his car were hurt, the investigator said, except for one woman who complained of neck pain.
Until then, it had been a relatively quiet holiday week on local roads.
The Palm Coast Fire Department and Flagler County Fire Rescue and the Palm Coast Fire Department responded, as did the Palm Coast Fire Police, which shut down a lane on each side of the highway, though traffic was light and backed up only briefly. At close to 7 p.m., the vehicles and the investigator, along with the occupants of the Trail Blazer and the other cars that were part of Cortez-Florez's group, were still at the scene, finishing paperwork and awaiting John's Towing, the wrecking service.