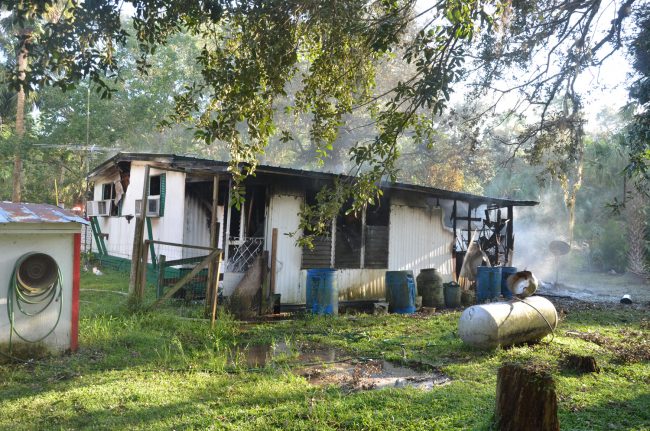 Update: On Sept. 22, the homeowners reported that Smokey the cat was seen darting around the property, alive.

They cheered when the power came back on mid-afternoon today, about a half mile deep in the woods off County Road 305. It had been off five days, since Hurricane Irma blew in. Moments later, the house John Martin and his mother shared was in flames, soon to be a total loss.
Martin had been staying at his sister Linda Richard's house with his 90-year-old mother Grace, whom he takes care of. The house is about a football field or so across the boggy clearing from Martin's and his mother's. "We just took what we did for the hurricane," Martin said. "We didn't stay because I was afraid that big tree would fall on it. So we stayed over here, plus she had a generator. My generator is here but I couldn't get it running."
Late this afternoon he was standing in front of his home in grounds muddied still from remnants of the foot of rain that fell on Flagler County's west side during the storm, and now from the torrents of water firefighters threw on his house for 45 minutes, but to no avail. The fire had just been put out, but nothing of the trailer Martin's father built in 1988 was salvageable.
And Martin's cat was dead.
The cat's name? "Smokey. Imagine that," he said of the 4-year-old male. The loss of the cat more than anything devastated his mother.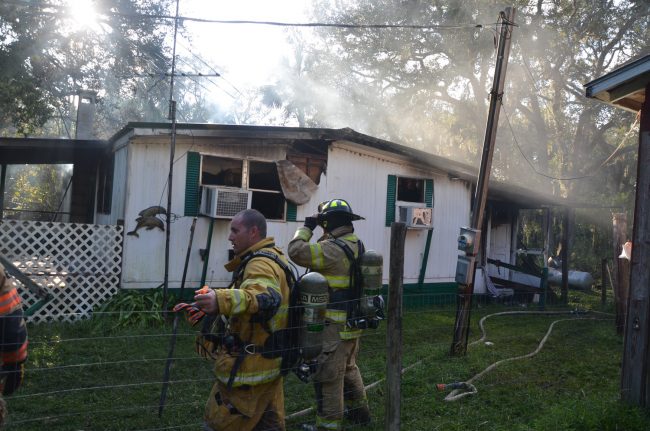 "As soon as they turned the power on is when it started," Martin said of the fire. He was still at his sister's. "We were pulling the plant out of the back room—see all the plants on the back porch?—we had them inside because of the hurricane. So we brought them all out. While we were bringing them out, sis says, 'I think your house is on fire.' I ran over as quickly as I could, got the hose, tried to put it out, but I mean, it was just—I wanted to get the cat out is what I was trying to do."
The flames were too powerful. "I had the hose, I was trying to fight the fire, but my pump wouldn't kick on," Martin said. "I guess when it shorted out it kicked the breaker off on the pole and then I had no power for the water pump, I used what was in the holding tank and then it ran out of water and there was nothing else I could do."
By then someone across the way had called 911, sending a slew of fire engines and tinders from Palm Coast and the west side's Station 71 barreling down County Road 305. Rickety as 305 can be, it's nothing compared to the sinews of mud and craters and that approximate the road leading to the cluster of Martin homes, all under the 6355 County Road 305 address. The fire trucks—Engine 71, Engine 92, Tinders 51 and 31, all from Flagler County Fire Rescue, Bunnell's Engine 63, whose water proved useful, and Palm Coast's Engine 25, made their way in single file, and only a portion of them could make it all the way into the clearing, but only up to a point: the property was more like a shallow pond. The firefighters stretched their equipment, waded in and attacked what sounded like a fire zone for reasons other than just flames.
"We had some ammunition going off when we first arrived," Flagler County Fire Rescue Captain Richard Bennet, who was in command of the scene, said. "It was pretty much 50 percent involved when we got on scene." So firefighters went into containment mode, though before long they had the flames out. The fire had been called in at 4:16 p.m. It was all out by 5 p.m.: less than an hour to consume 30 years of memories.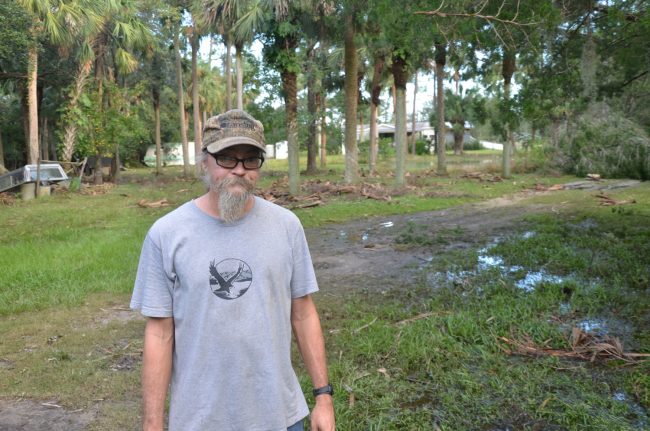 Martin's been taking care of his mother in that trailer since 2010. His father had bought the land and dug the road through in 1973, after moving down from Canandaigua, a small community southeast of Rochester, N.Y. where the Martins still have family connections. "My dad put in the road. Nobody would have a house back here if it wasn't for my dad," Martin said, showing where his sister lives, where his niece lives, where he used to live, all at a sweep of the arm. "He put in a road, cleared all this land, he did it with a friend of his, with a bulldozer. My dad was the best guy in the world, he really was."
They called him Jack. He died in 2012. He was 86. What he left his wife and children were what he built and what he gave them. That particular trailer, he finished building in 1988.
"Everything that my dad left her was in this house, when he passed away," Martin says. "That's the biggest thing about it for my mom, is he had done all this, the cabinets he built with his own saw, made them out of plywood, took a torch and burned the meat of the wood so it was all decorative and then varnished it real good, and they've been lasting since '88. That's when he finished this place and they moved in."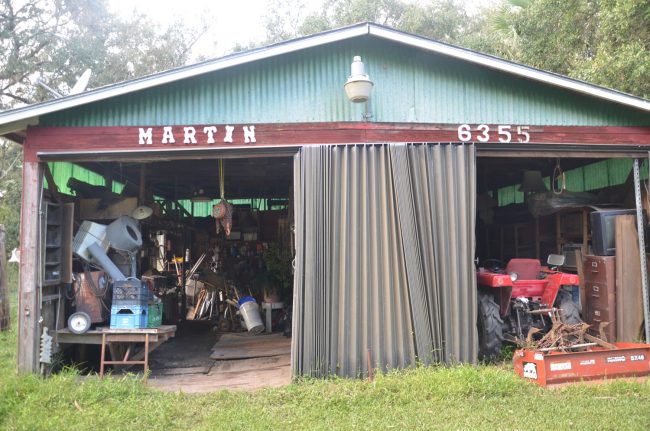 Martin and his sister's computers were lost in the fire—his sister came over to use his internet connection, take care of her mother's medicines, pay the bills and do the family's banking, with Martin, who has a medical condition, and his mother both on Social Security. So were the entirety of their wardrobe. Martin and his mother each had a couple of changes of clothes. That's all they have left. A lifetime's pictures on the walls were also lost.
And this too was lost, which seems to evoke the most emotion from Martin: "My leather jacket my dad gave me when I first got a motorcycle," he says. "I was in my 20s. I've had it ever since. I'm 48—49, I just had a birthday on the 5th. It had a fringe, leather, black leather and it had an animal print up here. It was a beautiful jacket. I used to wear it all the time with pride. My dad got it for me. He'd already owned it. It was something he got for himself then he gave it to me. It was a little big on me because I'm a little guy, but it was great riding on a motorcycle. I no longer own a motorcycle, but I kept the jacket, and it was in my closet."
Martin's house is the third recorded house loss related to Hurricane Irma. A house was lost on Palm Coast's F Section, to a fire. A house on Welshire Lane in Palm Coast is a possible loss, with a tree through the room.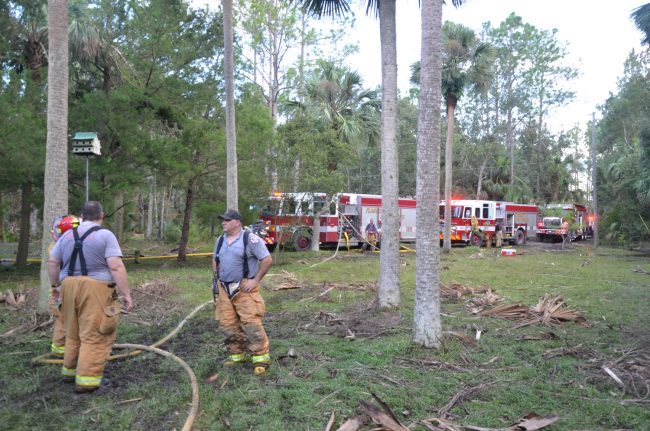 Until today, not a single injury had been recorded in connection with Irma in Flagler County. That changed not an hour before the fire off County Road 305, when a man who was apparently working on his roof fell, at 35 South Shady Lane in the Hammock, and had to be trauma-air-lifted to a hospital.
Martin is grateful no one was hurt in his house fire. But he feels his mother's pain. "She's 90 years old. She don't need this," he said. The family a few hours later set up a GoFundMe account. (See the details below.)
Firefighters were wrapping up their fire call, but some heavy-duty work was still ahead. Palm Coast's engine, which hadn't made it into the clearing, was stuck, its wheels spinning in the mud. That massive thing couldn't move on that road where no car could make it, and where, clearly, certain big vehicles couldn't either. Bennett was getting ready to use his four-wheel battalion pick-up truck to literally pull the engine, giving it that momentum to get out of ruts. Then, a little distance up the semblance of that road, one of Martin's relatives was getting on a backhoe to do the job.
Bennett was expecting the same ordeal for the other engines on the property. The sun was already well below the thick canopy, making 6 p.m. feel more like a wintry dusk but for the oppressive humidity and windless heat. For those firefighters, many of whom had just put in five days' worth of endless shifts thanks to indifferent Irma, the work, it seemed, was just beginning.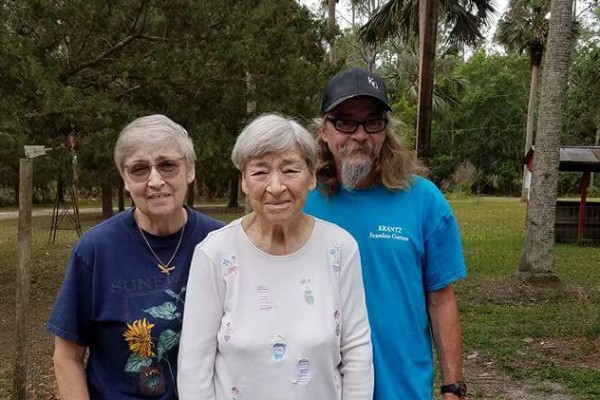 A GoFundMe page has been set up for John and Grace Martin. Click on the image above or here to contribute.