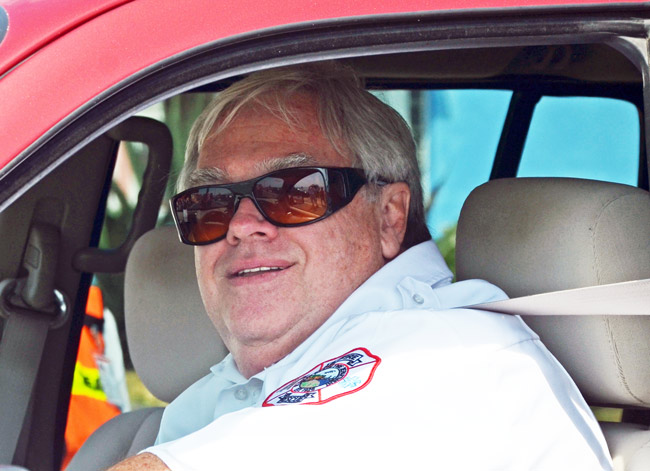 For Flagler Beach Fire Chief Martin Roberts, it wasn't just a pre-termination hearing he was entitled to by city rules. It was vindication. He got his job back as his lawyer, like a Marc Anthony turning the tables before the city's eyes, transformed Martin from an alleged insubordinate and incompetent with a hand on graft into a maligned hero who, wearing his heart on his sleeve, got stomped on by his boss.
"You know," Patricia Sigman, Martin's attorney, said at the concluion of the three-hour hearing Tuesday, "normally when people are being disciplined in city employment, it's for not trying to do everything they could for the city. But you have somebody here who wanted everything he possibly could for the city, and you're punishing him. Now, what message is that sending to the firefighters out there? What message is that sending to your city about the care and concern that you have for the one guy who was making sure that he gathered up all the information about these trucks, so that the people and the firefighters could have the right equipment?" (Read Sigman's full closing arguments here.)
A day later, Roberts, who'd face termination last week, was handed instead a three-day suspension without pay, which he's already served. He returns to work Tuesday. The controversy exploded in June when City Manager Bruce Campbell discovered that Roberts and other firefighters were taking trips to examine fire trucks out of state, without his consent, though they were doing so on their own time—but on fire truck companies' dime. Campbell had warned Roberts previously that he had to follow the chain of command when taking big initiatives on behalf of the fire department. On July 12, he placed Roberts on administrative leave and told him he intended to fire him. The due process hearing was a required step before the decision could be made.
For Campbell, the hearing produced a devastating three hours of damaging allegations that raised serious questions about his leadership style, his command of administrative rules, his awareness of common-knowledge city business, his motivation for firing Roberts, and the potentially vulnerable position in which Campbell placed the city, should Roberts pursue further legal avenues.
Sigman, in a systematic analysis of the origin of a March 23 memo in which Campbell summarized a "last warning" encounter with Martin that took place that month, went as far as suggesting that the March date on the memo was possibly fabricated, as no such memo had been placed in Roberts's file until June, when the controversy erupted, nor conveyed to him. Yet that was a central document that incriminated Roberts. (See the transcript of the key exchange on the matter between Campbell and Sigman at the foot of the article.)
The lawyer then showed that Campbell failed to follow his own ordinances in the steps he took—but mostly did not take—to discipline and then decide to fire Roberts. She revealed that Roberts had handed an age-discrimination complaint to Campbell before the controversy, and that the complaint was never investigated, in itself a serious violation of an employee's rights with potentially serious exposure to the city.
And Sigman, in cross-examining Roberts, revealed that Campbell had had discussions with Roberts and Police Chief Dan Cody, telling them that he wanted to eliminate both positions and create a single public safety chief position. "During the discussion he said it's not about the money anyway," Roberts said. "We were in a discussion about budgets and so forth. And he said it's not about the money anyway."
"So did the police chief ask him then if it's not about the money, then what is it about?," Sigman asked.
"Yes, he did."
"And what was the city manager's response?"
"He didn't really respond to it."
"Was that further indication to you that there was some other motive going on here?"
"Yes, it was."
"Did you feel like it was your age?"
"Yes, I did."
Sigman had requested Cody to be at the hearing Tuesday. Cody declined, upsetting the lawyer. She had also requested that City Commissioners Marshall Shupe, a volunteer at the fire department, and Jane Mealy, who chairs the commission, attend. They both declined.
"I believe that the police chief who's actually on duty should have been required to attend because this is city business, and he could be called over here," Sigman said at one point.
"I can't force him to attend," Campbell said.
"Miss Sigman," Virginia Cassidy, one of two attorneys who represents Flagler Beach, intervened, "you are not the city manager. Could you just continue on with whatever you want to do with this hearing?" It was only the latest of several confrontations between Sigman and Cassidy, who had deep disagreements on the scope of the hearing.
The hearing was held Tuesday in the presence of Campbell, Roberts, the two attorneys, the city clerk, Roy Johnson, a volunteer fireman with the city who was there as a private citizen (but an advocate of Roberts), and Paul Stevenson, representing one of the fire truck dealerships that had flown Roberts and other firefighters on one of three company-paid trips to examine fire trucks out of state.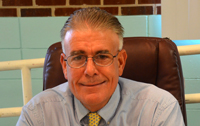 Campbell also acted as the city's representative, able to question Sigman's witnesses—a role Sigman said was a conflict of interest, since Campbell was at the heart of the issue. Yet Cassidy would not let Sigman cross-examine Campbell, saying that questioning him would go beyond the scope of that hearing.
"That's not true, we believe there's an illegal motive for this termination, and we're entitled to bring that up in due process," Sigman, who has close to 25 years' experience in labor and employment law, said.
Cassidy said those issues may be brought up only if Campbell chooses to actually fire Roberts, at which point the decision can be appealed to the personnel committee. "At that time, that is the time to go through whatever you're saying, an illegal motive," Cassidy said. "I'm assuming you're talking about—I know that we have here a letter for age discrimination. But that does not enter this time. This has to do with his behavior, not with any illegal motive." She added categorically, after a bruising exchange with Sigman: "You don't have the right to cross-examine Mr. Campbell."
When Sigman said that the harm to Roberts will have already been done if she were to wait until a subsequent hearing to cross-examine Campbell—because Bobby Pace, Martin's interim replacement, has already been named—Cassidy said: "You're the attorney, and now I'm not going to take that. I'm going to take that as incompetent, because you're the attorney, and you don't—you're not going to be testifying here."
"Excuse me? Excuse me," a stunned Sigman said. "I will ask you to please think about, and retract what you just said."
Cassidy: "No. I will not."
Sigman: "I'm advocating for my client and I think I just heard you say something about incompetence."
Cassidy: "You just tried to enter testimony that is incompetent. I'm sure that you must have gotten that information from who?"
Sigman said she wanted to ask Campbell if he'd notified anyone that that person was going to be the chief of the fire department, "because if so, I want to know that."
"No," Campbell said, adding (and referring to himself in the third person), "I just want to say for the record, this isn't about Mr. Campbell. This is about the behavior that we witnessed at the fire department with Mr. Roberts. That's all I have to say."
The hearing resumed, with Sigman questioning Johnson and Stevenson, then Libby Kania, the assistant to the city manager, who had entered the room well into the proceedings. She could not remember when Campbell had given her the written memo in which he summarized his reprimand of Roberts. But she spoke at length of the complicated procedures employees and department heads go through in disciplinary matters, including the "progressive discipline" she had recommended Campbell apply with regards to Roberts, as opposed to an abrupt termination. Roberts has never been disciplined in his seven years with the city. Kania also spoke of knowing of the fire-truck trips, and assuming that Campbell knew, too.
It was then Roberts's turn. The fire chief recalled the March 23rd meeting in which he was reprimanded (for circumventing Campbell, talking to commissioners, and bringing up a fire truck issue at a city commission meeting without warning Campbell first). But he said Campbell kept no notes, nor told him that he would be writing anything up, nor that there would be any disciplinary action, though Campbell did say that he didn't want anything like that happening again. But he didn't forbid trips or looking into better equipment.
Martin said Campbell knew about at least one trip. "He knew about it because he talked to me about it before, two days before. He even admitted to me that he knew about the trip to Pierce [the fire truck manufacturer] about two days before the trip was scheduled. He didn't tell me not to go. He didn't tell any of us not to go. He just said, oh, I knew about that trip."
That, too, was a direct contradiction of Campbell's accounts.
Sigman ended the hearing with a long closing statement that restated the facts in light of her findings, and underscored the implications of the way Campbell had handled the issue. "This is something that an employee with no prior history of discipline did in a positive way to try to contribute in a positive way to the town," Sigman said of the trips out of town. "And we believe that this is being used and twisted and blown out of proportion and accelerated all the way to a termination, just in order to get rid of somebody who you wanted to get rid of anyway because you want him to retire and replace him with somebody younger."
Roberts's age-discrimination complaint could very well have been a strategy of its own, and a very effective one, that Sigman made full use of as a bargaining chip during the hearing: the complaint had never been addressed, it was still hanging out there, it could be pursued, and a firing would only make matters worse for the city.
"So we assert that the allegations are unfounded, that there was knowledge, that there was openness, that there was no deception, that there was no attempt to hide anything, that it was all done with pure heart and pure motive to try to serve what the interests of what my client thought everybody wanted him to do," Sigman concluded. "And now, to turn it into something else in order to get rid of him, we feel, is a violation of the law and of his rights and what's fair and just. I hope that you will decide to step outside of yourself and objectively allow others who aren't right in the middle of this, to evaluate the situation before you make a decision that could be discriminatory, retaliatory and inconsistent with his legal rights."
The hearing took place on Tuesday. Today, Campbell would not speak about it. "I'm going to give you this statement. That's it," he said by phone, a half hour after being reached, when he said he was in the middle of a meeting. He had written a statement, which he delivered over the phone: "I am saying that considering all the circumstances heard during the pre-determination hearing, I have decided to suspend Chief Roberts, opposed to an outright termination. Those circumstances coupled with what I believe is best for our city at this time, is why the suspension was ultimately decided. That's it."

Flagler Beach City Manager Bruce Campbell Answers Martin Roberts Attorney Patricia Sigman's Questions
The hearing began with Bruce Campbell summarizing the issue from his perspective, and laying out the facts as he saw them, leading to the termination letter he sent Fire Chief Martin Roberts.
"I have a problem with how we didn't follow our code," Campbell said, "how we didn't follow our chain of command, how we tried to not be above table and be forthright in asking permission and all of this sorts of things. At no time did anyone give Mr. Roberts the authority to act on the behalf of the city nor did we give any of his firefighters that authority, and heaven forbid of there would have been someone hurt or someone even more so, killed, because we would have had certain liabilities in my mind." Based on all that, Camplell said, "dismissal is warranted."
The following key exchange then followed between Campbell and the attorney over the origin of a memo dated March 23 that Campbell wrote about his encounter with Roberts, and which he used as a record of what he called a "verbal warning" and reprimand, which led up to his termination. Libby Kania is the assistant to the city manager.
Sigman: "When you mentioned insubordination, you did not mention at any point having provided a copy from any written memo from March 23 to Mr. Roberts."
Campbell: "That memo was placed in his personnel file."
Sigman: "And so what day did you write that memo on your computer?"
Campbell: "March the 23rd."
Sigman: "And are you aware sir that according to the city's ordinances, when you give anyone a written reprimand, a copy shall be placed in the file and sent to the employee."
Campbell: "It wasn't a written reprimand. It was a discussion that Mr. Martin and I had."
Sigman: "And you did not give it to Mr. Martin, correct?"
Campbell: "No, it was placed in his file."
Sigman: "And isn't it true that in fact it wasn't placed in his file until June."
Campbell: "I don't know that."
Sigman: "In fact, didn't you hold on to, or not have, that March memo, until sometime in June, when you gave it to Libby Kania, the HR director, to put into Mr. Martin's file."
Campbell: "I don't know that."
The attorney asks him about a June public records request that prompted more action regarding the memo.
Sigman: "And it was at that point that you gave it to Ms. Kania, correct?"
Campbell: "That is not true. Ms. Kania had that at the time if not way before that."
Sigman: "How long before that public records request did you provide that memo to Ms. Kania?"
Campbell: "I have no idea."
Sigman: "Wasn't it in fact in June of 2012?"
Campbell: "I have no idea when she was given that."
Sigman: "Well, you gave it to her, correct?"
Campbell: "She had asked—I had made reference to it, that this stuff in her jacket and she said she didn't have it and I gave her another copy of it."
Sigman: "When was that?"
Campbell: "Sometime in June, well before the records request."
Sigman: "Approximately two weeks before the records request, correct?"
Campbell: "I don't remember exactly when."
Sigman: "Isn't it true that no copy of the March memo, the March 23rd memo, was ever given to Ms. Kania, prior to June of 20012."
Campbell: "I can't say that."
Sigman: "It's important to you that all the procedures, the normal procedures of the city be followed in the way that things are documented, correct?"
Campbell: "I believe they were followed."
Sigman: "So it's your typical practice to write a memo, sign it, date it, about a personnel matter and then keep it in your office and not give it to anybody?"
Campbell: "I did not keep it in my office."
Sigman: "Where was it?"
Campbell: "You tell me. I don't know that it wasn't there. You're telling me something that I don't know."
Sigman: "Who else was present when you wrote and signed the March 23rd memo?"
Campbell: "Mr. Martin Roberts and I had the meeting. No one was present when I wrote the memo."
Sigman: "Until you handed that memo to Libby Kania, had anyone seen it?"
Campbell: "No."