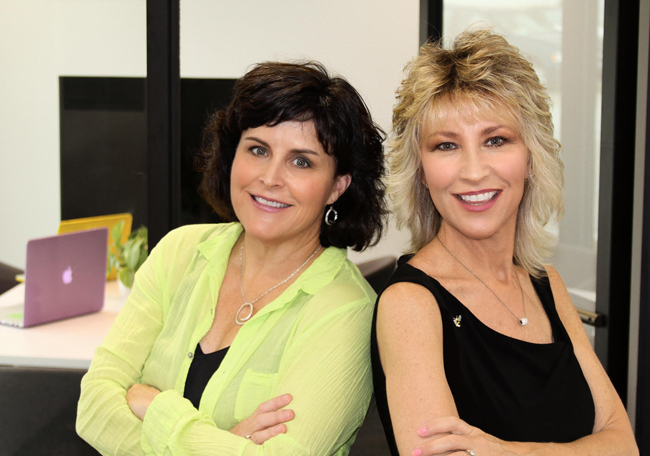 Note: A profile of Cindy Dalecki, where she reveals at length how she and her children coped with the death of her husband David in March, will post in early afternoon.
"It's distracting and inspirational." That's how Cindy Dalecki describes her new office at Ripple Coworking on South Ocean Shore Boulevard in Flagler Beach, a few blocks south of the pier and a few steps from the Atlantic.
Marketing 2 Go, Dalecki's 7-year-old company and with Kim Fitzgerald's Curley Tail Design, who together run The Branding Box, moved to the coworking location earlier this month and host an open house and ribbon cutting Wednesday starting at 4 p.m.
Fitzgerald and Dalecki previously had their office at the Chiumento building in Town Center. It's been undergoing renovations. The move was propitious. "It's got a really cool vibe and that's something we were really looking for as a tech company," Dalecki said.Her company now employees six full-time, though they work remotely.
Ripple Coworking is itself a start-up, the brainchild of Stephen and Kristy Furnari. They had bought the two-level building on A1A just three weeks before Hurricane Matthew. The storm wrecked the venerable structure, losing half its roof. They rebuilt. They remodeled. And they opened what's now an inviting, airy suite of offices for rent starting at $350 a month.
"It's an ideal place for small business owners and remote workers who find it challenging to be productive in a home office," Furnari is quoted as saying in a release issued by his company.
Ripple offers conference room rentals and deskspace rentals by the hour or day. One conference room has a whiteboard, another has a TV, and there's a room renters call the phone room or, because it has a couch, the nap room.
"We've already had several vacationers use our deskspace rentals to get a day or two of work done while visiting Flagler County with their families," Furnari said. "You can spend a the morning with your family on the beach, walk across the street and rinse off in our outdoor shower, and spend the afternoon getting some work done."
For Fitzgerald and Dalecki, the move was ideal as they took up a corner office with great views of the pier and the ocean.
While Dalecki and Fitzgerald run separate businesses, the 'Branding Box' is a place where mutual customers can experience a collaborative environment to launch, market and brand their businesses.
Further details about Dalecki's and Fitzgerald's operations can be found here, and about Ripple Coworking here.
The ribbon-cutting and celebration of The Branding Box is at 4 p.m. Wednesday at Ripple Coworking, 720 South Ocean Shore Boulevard.