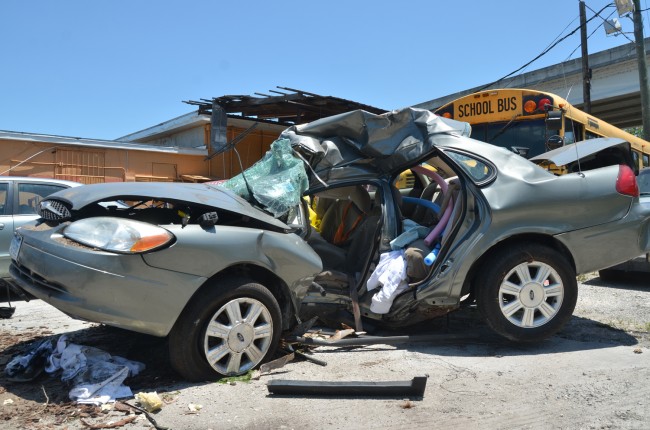 Authorities are looking for clues, and the public's help, to better understand what led to a fatal crash on State Road A1A that took the life of 56-year-old Mark Weins either late Tuesday night or early Wednesday morning.
The wrecked 2003 Ford Taurus, which had gone airborne and crashed down on a fence, was not discovered until daybreak today (May 21) when a Hammock resident on his way to work noticed the vehicle and called authorities. The Florida Highway Patrol then investigated. The violence of the crash caused the battery in the engine compartment to break loose, which is why the car, once it crashed down in a somewhat dissimulated area of brush, left no clue that it was there–no headlights, no interior lights–unless someone was looking purposefully in its direction. That stretch of A1A is very dark at night.
The crash took place near the Hammock city limit sign, just south of Camino del Rey Parkway, the road that leads to the Hammock Dunes Bridge. It did not impede traffic at any point.
Weins, originally from North Haven, Conn., was traveling north on A1A when, for unknown reasons, according to the FHP crash report, the Taurus drifted onto the east shoulder. Weins overcorrected, sending the car swerving northeast, then into a clockwise spin that sent him back onto the east shoulder. At that point the driver's side door struck a palm tree of between 18 inches and two feet in diameter. The tree was not uprooted, but it bent, turning its trunk into a catapult and sending the vehicle airborne. The dynamics were similar to those in a crash on Belle Terre Parkway on Sept. 28, 2012, when the 39-year-old driver of a Town and Country Chrysler died after the car crashed and rode up a palm tree, then crashed back down.
Weins's Taurus then crashed down on a metal fence. Weins is believed to have died at the scene. He was in the Flagler-Palm Coast area as he was planning to relocate from Connecticut, family members told authorities, but it's unclear where he had been, and where he was heading at the time of the crash.
Authorities are still piecing together the incident. If anyone has any information concerning the crash or the earlier whereabouts of  Weins contact Cpl. S. Howard at 904.825.5080 or by email at [email protected].