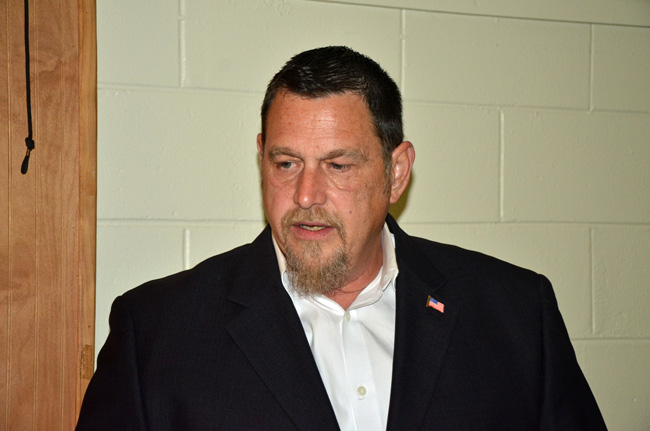 Mark Charles Richter is a 56-year-old candidate for the Flagler County Commission who moved to the county less than two years ago. A Republican, he is campaigning to unseat incumbent and fellow-Republican Nate McLaughlin in the Aug. 26 primary. Richter represents the Ronald Reagan Assemblies wing of the local GOP, though the Reagan Assemblies endorsed him apparently without knowing a great deal about him.
As it happens, Richter is a convicted felon, having pleaded guilty to robbing an Air Force serviceman and his wife. On his Facebook page, Richter claims he is a "veteran," though his service consisted of a mere seven weeks, which was not enough to complete basic training. And he claims that as a "training officer for the military" he was injured "in the line of duty" in Afghanistan when, in fact, he was a mid-level civilian contractor whose on-the-job injury qualified him for a worker's compensation settlement. He was not an "officer," but an employee of a company that trains military personnel in how to maintain armored vehicles.
On the Facebook page "Mark Richter For County Commissioner," as well as in an advertisement he bought on FlaglerLive, Richter claims to have been a business owner, a "CFO," a "CEO," and asserts that he has negotiated "many multi-million dollar contracts." Richter provides no support or documentation for those claims. And while much of his work history is easily checked, Richter has refused to answer basic questions about his history.
The Ronald Reagan Assemblies' Man
"We did not do a background check on candidates," Bob Hamby, who heads the Ronald Reagan Republican Assemblies, said Thursday. "We did put out a questionnaire and the endorsements were based on the responses. Our membership voted, and these endorsements were based on our principles and values."
Nevertheless, Hamby, clearly uncomfortable with Richter's handling of his history, said "stonewalling is never a proper approach to dealing with issues in your past."
"I'm not trying to defend him on that," Hamby said. "The best way to deal with situations in your past is to discuss them honestly, because my assessment of his last 30 years of life is that he's been a model citizen, and based on that, it exemplifies what we need for people to step up. But not being able to discuss your past is not admirable."
The problems with Richter's non-disclosures are not limited to issues when he was younger.
"I Am Not a Snowden"
FlaglerLive does not routinely investigate a candidate's background beyond a local criminal background check and questions posed directly to the candidate about employment and related history. On July 31, in response to a telephone query from FlaglerLive asking for documentation of his military service, Richter sent an angry email, refusing to release any of his military records. "I will tell you this," Richter wrote. "I have an active Security Clearance (no other Commissioner or candidate has this) and in this time of heightened alertness, and the training and responsibility I have been given by the Government of the United States. The oath and promises I have given to our government and Country. I have to ask my self Is your interest in the security of the United States? Do you have a military need to know? I can not under any circumstances oblige your request for any military records. I am not a Snowden and will not betray my county [sic]."
Richter sent a copy of his email to Hamby, among others. Richter concluded his email by referring FlaglerLive to the Department of State. "Perhaps they can answer your questions," he wrote. "Please feel free to contact them directly." In fact, the State Department has no oversight of military personnel, and keeps no military records. That responsibility rests with the Department of Defense and the various service branches, all of which were contacted by FlaglerLive, and all of which provided answers to queries about Richter's service.
Richter's refusal to discuss the particulars of his military service–highly unusual for anyone who has served in the military, but especially odd in a candidate for elected office–prompted a closer look at Richter's entire record.
The Military Record
On August 4, at the candidate forum at the Hilton Garden Inn, and at a forum the following evening at the Hammock Conservation Coalition, Richter asserted that he was "honorably discharged from the Navy," which may be literally true, but is less than the whole truth.
According to records obtained by FlaglerLive through a Freedom of Information request, as well as a medical record also obtained by FlaglerLive, Richter's service was very brief.
On January 7, 1975, Richter, then 17, was recorded as having been "received" for Navy recruit training in San Diego, Calif. He was discharged seven weeks later—on Feb. 28, 1975. In the space marked "recruit training" on Richter's official "history of assignments," a hand-written notation says, "not completed 2-21-75." The medical record obtained by FlaglerLive indicates that the 17-year-old recruit had a case of "atopic dermatitis"–a rash that did not appear to respond to treatment. According to the medical document, "Within a few days [after beginning recruit training] he reported to sick call, complaining of rash on his neck, arms and legs."
While the medical document could not be independently verified, it is clear that young Richter was sent home, short of completing basic training. A further check of military records by FlaglerLive confirms no subsequent record of service in any of the four service branches.
On July 28 Richter acknowledged having received the 15 questions that comprise the standard FlaglerLive interview with candidates. He answered a few questions by email on July 31, and a few more on Aug. 3, then stopped. He did not respond to repeated requests for answers to the remaining questions, including a question about his criminal background, nor to requests to explain issues and discrepancies in his record.
It is only after he was told that FlaglerLive had in hand proof of the record he had fudged or not disclosed, and only after Hamby urged Richter Wednesday to be more forthcoming, that Richter finally wrote in an email that "in retrospect I realize that having become a candidate I have entered the public arena and with that comes the public's right to know."
Even then, Richter proved cagey.
"I am at your disposal" for an in-person interview, he wrote Wednesday afternoon, though he wanted Hamby included. An interview was set up for Thursday morning on neutral ground, at an Office Divvy conference room. Hamby showed up, agreeing only to be present and not participate. Richter did not show. He cited a "prior engagement," saying he could meet Friday.
One of the questions about Richter's history pertained to his criminal background.
The Criminal Record
While Richter remained silent until Wednesday, FlaglerLive obtained records provided by the clerk of Bexar County, Texas, which includes much of metropolitan San Antonio. The records disclose that on April 19, 1976, Richter, then 18, was convicted of a third-degree felony. Richter entered a guilty plea to a charge of stealing a woman's purse in a mall and fleeing until an off-duty police officer pulled a gun on him and stopped him. He was sentenced to four years in prison. The sentence was suspended, and Richter was placed on probation for four year. The conviction was set aside once Richter satisfied half the probation.
Richter in one of several late-night emails Wednesday said his conviction was "never upheld," then attributed "this event" to his youth and cited a Bible verse ("when I became a man, I put away childish things") to explain the case.
The theft took place at San Antonio's North Star Mall, where a 27-year-old Air Force serviceman and his 24-year-old wife were shopping in the early evening. "I do not remember exactly what store we were walking by when my wife shouted someone took my purse," Richard Harris, the serviceman, wrote in his statement. "When I looked up I saw a tall white male in a white T-shirt and long blond hair running with a purse in his hand."
Harris set out in pursuit, as did another man who turned out to be an off-duty cop. Richter was located outside a Mexican Restaurant, where the cop, as he wrote in his statement, chased him into the restaurant, pushed him against a table, "and we both fell to the floor and began struggling. I identified myself as a police officer, but the subj. kept resisting arrest. I applied a choke-hold on the subj. and the subj. quit his struggle."
Richter was 11 weeks shy of his 18th birthday at the time of the theft. Half-way through his four-year probation, Richter was released from court supervision and the conviction was vacated. Nevertheless, the circumstances of Richter's encounter with the Texas criminal justice system was not divulged by him until he was told that the record was about to be disclosed on FlaglerLive, a serious breach for a candidate for public office.
"As a Christian," Hamby said, "I believe that forgiveness is part of the thing that Jesus Christ taught us. Something that someone did as a youngster, if they are truly remorseful–almost any of us can say we've done things in our youth that we'd not be proud to share. But as a candidate for office often people who put themselves up for candidacy should be willing to discuss any incident like this and express their feelings."
Court records beyond Bexar County and outside of Flagler County were not checked, as it is not clear where, in the interim, Richter lived.
The Work History
Beyond his refusal to discuss either his brief military career or his brushe with the law, Richter has also shaded and embellished his employment resume in a fashion that raises questions for anyone running for public office. While Richter angrily insinuated that questions about his work history are tantamount to a betrayal of national security, a simple background check reveals that his duties have not exactly been cloak and dagger. By training a skilled mechanic and technician, Richter's recent employment had him working for a government contractor in Kuwait, Iraq and Afghanistan. His duties consisted of instructing military personnel in the operation and maintenance of the vehicles designated MRAP–mine-resistant ambush-protected armored vehicles. The successor to the lightly-armored Humvee, MRAPs were pressed into service in 2004 in response to the large number of casualties inflicted on GIs in the war zone by Improvised Explosive Devices (IEDs).
In a phone conversation with FlaglerLive, one of Richter's former supervisors, Rogers Hamilton, recalls him as a solid employee, "a straight guy," and noted that he did his job well and "did not get into any trouble on- or off-duty."
Reached at the California headquarters of government contractor TJ Fig, Curtis Kimbro, a supervisor above Hamilton, confirms that Richter was one of several hundred technicians assigned to the MRAPs training program. Asked what Richter's skills and duties were, Kimbro told FlaglerLive that Richter was "a trainer working on MRAPs. He had completed field-level maintenance training." Kimbro added that the MRAPs were being modified at the time, or "re-armored," and Richter was involved in the effort. "You could call it sort of auto-body," Kimbro said.
While Richter's easily-verifiable civilian service as a maintenance trainer in the war zone was apparently performed well, and voters may find it an admirable credential, it does not match up with the campaign biography he has posted on Facebook. Richter claims he is "experienced in management and strategic planning," and he describes his tour in the war zone as a "training officer for United States military." Neither assertion can be supported by the facts, and his use of the term "officer" to describe his duties as a maintenance trainer is, at the least, misleading.
A Spate of Late-Night Emails
In a late-night email Wednesday, Richter wrote that "I have never claimed to be a war veteran during my military service I simply stated that I was in the us military and I was honorably discharged."
Richter's version of his "service," as he described it at the Hilton forum, fudges not only his initial service in the Navy, but his subsequent work for a contractor, which he portrayed as additional "service," and the work-related injury. In Richter's exact words: "As a young man I enlisted in the United States Navy, I have an honorable discharge from the United States Navy. One morning I was watching the Today show, and I watched the events of 9/11 befall before my eyes. It changed my life. It changed a lot of people's lives. I was compelled to serve my country once again. I took a position training our sons and our daughters before they went off to war zones. I worked in Iraq, Kuwait and Afghanistan where I was injured, and I returned home."
The only documents Richter produced—again, as part of the spate of late-night emails Wednesday—included letters of recommendations, certificates of appreciation, and excerpts from his military and criminal cases, all of which were already in FlaglerLive's possession. He provided no explanations or answers to repeated questions, including about his injury.
"I have shown you documentation of my injuries from Afghanistan," he wrote. "Pending litigation prohibits me from commenting further." The only documentation of the injury—which Richter did not provide FlaglerLive—is a letter from the Florida Secretary of State's office telling him he did not have to disclose the sum he received in his worker's compensation settlement. He had not previously mentioned litigation.