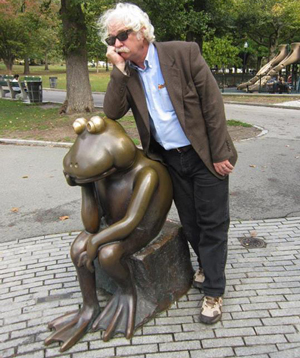 Mark Lane has been writing columns at the Daytona Beach News-Journal since the end of Bill Clinton's reign and the beginning of SpongeBob SquarePants's in 1999. He's managed to combine the sensibilities of both: a keen affinity for centrist politics and a keener flair for humor well suited for Florida's spongy weirdness. Through it all Lane has managed to survive the years of Jeb Bush, Charlie Crist, Rick Scott, Tippen Davidson and even Michael Redding–the latter two being the last two owners of the paper in whose journalistically irreconcilable pages Lane's remains the only voice common to both.
As survivors go, he's a rare breed.
Lane will be bringing his wit, observations and histories to the Flagler County Public Library in Palm Coast on Friday, April 4, at 2 p.m., for a talk entitled, "Trying to Explain Florida in Print." The talk is hosted by the Friends of the Library of Flagler County.
Lane is a three-times-a-week metro columnist at the News-Journal, at home analyzing legislative shenanigans as comfortably as he spots the latest spring-break trends, measures the ecological health if State Road A1A or, more assiduously, the state of the culture, at least from the ground up, through his recurring Darwinian Gardener pieces: as a survivor in newspapering, he knows a few things about the survival of print's fittest.
Lane, a history graduate of Boston College, worked in a variety of positions at the News Journal since 1980 before becoming a full time columnist. He's the recipient of innumerable awards for columns and editorials from the Florida Society of Newspaper Editors, the Society of Professional Journalists (its Sunshine State Awards) and the Florida Press Club. A collection of his columns, "Sandspurs: Notes from a Coastal Columnist," was published by University Press of Florida in 2008.
The library is at 2500 Palm Coast Pkwy in Palm Coast. Refreshments will be served, and the talk is free and open to the public.