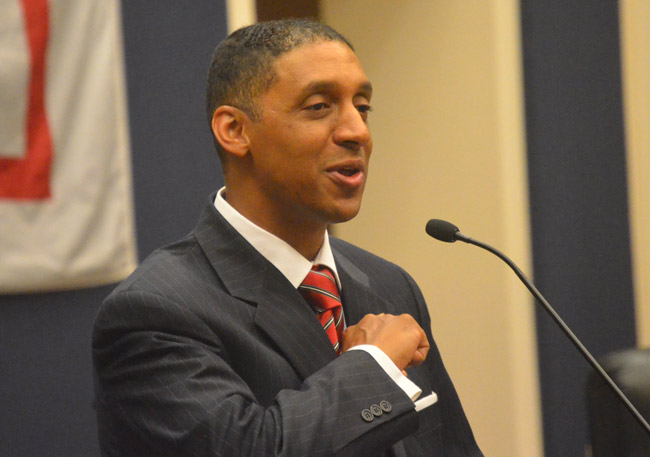 What is it about Mark Dwyer?
The Palm Coast lawyer is smart, suave, well known, well liked, civically engaged. At 42, he's young and ambitious enough to get to where he wants to be: he ran for Flagler County Circuit Judge two years ago and got nearly 20 percent of the vote in a six-way, four-county race, cleaning up on the Flagler County vote. He's running for Flagler County Judge this year in a seven-way race and would appear to have a solid chance.
But there's this. Dwyer gets in trouble. He gets himself in trouble.
Then, like a good lawyer, he does an excellent job of explaining it, rationalizing it, diminishing it. To hear him, he makes a good case for near-exculpation. But then there's the record, and the pattern. Twice in four years he's run afoul of the Florida Bar. Twice in four years he's been punished, the first time with an admonishment—the lowest level of punishment under Florida Bar disciplinary actions—and now with a reprimand that will become public once the Florida Supreme Court signs off on it, as it is expected to. Dwyer has already agreed to the reprimand.
Yet he's running to be a judge.
Two years ago the reprimand was the result of an accounting issue. Lawyers are required to keep clear records of the trust funds they keep for their clients. Dwyer—or Dwyer's office help: he put it on her—didn't. The client wasn't harmed: no funds were misappropriated or lost. But when the account was reviewed, its maintenance was found to be lacking. Dwyer was reprimanded. He'd been a lawyer five years, the mistake was chalked up to a lack of experience.
This new issue is more serious. It involves proper representation of a client. It gets a little complicated, as court cases usually do. And there's the Florida Bar's findings, as opposed to Dwyer's explanations, though Dwyer isn't disputing the findings. Rather, he says, the findings don't tell the whole story. He sat down for a two-hour interview to lay out his story, along with documentation.
Facts of the Case
The case has to do with a boat sale. In August 2006, Richard Reid of Palm Coast sold a boat to Ida Jack of Jacksonville for $16,750. It was a Sea Ray 268 Sundancer. Reid had advertised the boat with a handwritten ad of his design. The original asking price was $24,900. The advertising that drew in Jack included this key phrase that would be at the heart of the legal case: "New factory engine and out drive."
The boat's engine was not new. Reid had had it for two years, and had run it for about 70 hours. Soon after Jack took possession of the boat, the boat malfunctioned. Jack sued Reid for damages—to recoup the costs of the engine repairs. The case went before Flagler County Judge Sharon Atack—whose seat Dwyer is seeking—on March 12, 2008. Atack eventually ruled for Jack, and ordered Reid to pay $10,160 in damages. There were no punitive damages.
None of this is in dispute. Nor is Dwyer's defense at the trial. He had a sale contract both sides signed on the day of the sale which had another key phrase: "Boat is sold in as is condition. Sale is final."
Here's where the complications and diverging interpretations begin, which have as much to do with what happened in the courtroom as outside of it. The judge ruled that Reid misrepresented the condition of the boat engine when he claimed it was new, therefore the buyer was entitled to damages. Dwyer says the "as is" clause overrides the ad, no matter what the ad says, because it was in the buyer's power to inspect the boat before buying it, under the well-known "buyer beware" convention, which courts also recognize. He was willing to appeal the ruling for free.
None of that has anything to do with disciplinary action against Dwyer—until Reid's case against him, which is what brought it on, is examined.
The Reids: "Thrown To the Wolves"
After the trial and before Atack's judgment, Reid faxed a long hand-written letter to Dwyer that began: "Lorraine and I think the world of you. But your staff handled our case badly." Reid then went on to outline a series of issues that would astound any lay reader.
"I feel like I was thrown to the wolves when you told me to take the stand without earlier preparation or support from my witnesses," Reid wrote. He had been the only witness on his own behalf.
Dwyer had a reason for not using the four witnesses. He says none of the four would have helped Reid's case. He produced an internal investigative memo that was done for the Bar and forwarded to it. Dwyer was working on the Reid case with another attorney at one point, Shimene Shepard-Ryan, whom he'd assigned to contact the four witnesses. She had. The four witnesses, she told the Bar investigator, "could not truthfully testify in any matter to be beneficial to the defendant," the investigator's memo reads. It goes on: "Attempts by this investigator to interview the four witnesses were not completed," as two of them were no longer affiliated with the marina where the boat had been sold, while two others had told the marina owner that all they could testify to was the whereabouts of the boat.
The Florida Bar's Findings
The issues the Reids raised are replicated in the Florida Bar report finding against Dwyer. After their initial consultation with Dwyer on May 3, 2007, the Reids had no "meaningful communications" from him until late August that year, and themselves initiated a call to inquire what had happened with their case. They provided the names of four witnesses, none of whom Dwyer used.
After August, Dwyer had "little communication with the Reids," until the trial day. The Reids didn't even know they had a trial. Dwyer's office had called them the day before to remind them, but did not leave a time or place for the trial. Reid was late to it. Nor had Dwyer prepared Reid for the trial: they hadn't met to go over strategy. Dwyer, the Bar's findings read, "decided such a meeting would not be necessary as the boat was sold without warranties and would result in his clients incurring attorney's fees. He did not give the Reids the option of choosing to pay for such a meeting to prepare for the trial."
Dwyer says it's to him incomprehensible that the Reids didn't know of the trial when, within days of sending them a letter when the trial was originally set, Richard Reid called him and asked him if the trial was really necessary…
Atack entered her final judgment on April 5, 2008. Dwyer didn't provide the Reids a copy of the judgment until May 5, when he met with them.
Ends and Means
The Reids were not rich. Dwyer and the Reids had agreed in 2007 to a retainer and a monthly payment plan of $200. The principal reason Dwyer did not hire a court reporter or pursue boat inspections or expert witnesses, he said, was to save the Reids money. They fell in arrears. He says most attorneys would have quit the case. He didn't. He proposed to them that they could appeal the case for free if they made a payment toward their outstanding balance, and pay the court's appellate costs. The Reids agreed to make an additional payment, which they did on May 7, 2008, and which to them meant Dwyer's proposal was a go. Instead, on May 12, Dwyer wrote the Reids asking for the proposal for a modified fee payment arrangement.
He never filed the appeal. On July 2, he wrote them again saying that they hadn't sent him a modified plan of payment, and that the appeal deadline had passed, and that he could no longer represent them.
Reid, Dwyer says, first tried to sue him for malpractice, but then took the complaint to the Florida Bar. The Bar based its reprimand on that succession of events, though in the end the reprimand is for one explicit issue: that Dwyer did not handle the matter of not hiring a court reporter properly by failing to include the Reids on his decision. There was an aggravating factor in the Bar's decision: Dwyer's 2008 case, which establishes a pattern.
He has agreed to complete Ethics School by July 1 and pay all fees associated with the Bar's action, which add up to $1,757, not including the $750 for Ethics School.
Dwyer is not disputing those conclusions or the costs, but he stresses that the settlement agreement is focused on the court reporter matter. It doesn't necessarily eliminate the other matters, which are part of the findings. "It's akin to a plea agreement in that you as the responded are saying, I will accept this, and as a result of accepting that," Dwyer said, "I will not fight this issue, I will not take it to a fight and bring it to whatever level."
Notably, the Reids never brought up the issue of a lacking court transcript. It's the Bar that found that out when it sought out the transcript for its investigation. Once the transcript was found lacking, the investigators wanted to know why. They then discovered that Dwyer hadn't followed the normal procedures of including his client when he made the decision to exclude a court reporter.
"I am prepared to stand up and let people judge for themselves whether they feel that that is significant enough, or whether that disqualifies a person from being a good judge. I'm prepared to let people decide. I think people are smart enough to make a good decision. And I think the people who are truly interested can see through and see what's going on."
Politics and the Feliciano Factor
Dwyer was referring to politics, which are never far from the bowels of local contests, even when individuals aren't necessarily running for office. It bears noting that the Florida Bar's documents that landed on reporters' desks in 2010 and in 2012 regarding Dwyer's issues were not public records. They were anonymously delivered by people who had access to the documents. One person was associated with both cases: Sharon Feliciano, who is also running for county judge in Flagler.
"She served on the Florida Bar Grievance Committee [sic.] from 2008-2011 serving as Chair for the last six months of her term," Feliciano's campaign biography notes at her website. "This committee investigates complaints filed against attorneys."
Feliciano was not on the greiavnec committee when it first investigated Dwyer in 2008. But in 2010, Feliciano was campaigning for Sid Nowell, who was one of the candidates for circuit judge and Dwyer's chief rival in Flagler County (the two have a long history, and once worked together. They're not fond of each other.)
On Thursday, Feliciano said she did take part in the second investigation–though she wasn't yet chairing the committee–and did, in fact, vote to reprimand Dwyer. But in either cases, Feliciano said, she "unequivocally" did not release documents to the press.
She added: "I would point you to Florida Bar rules of conduct, dealing with grievance committees: at the time of the vote, which was back in 2010, Mr. Dwyer had the right to request my recusal and did not do so, and at any time during the vote, if anyone on the committee, including the head of the committee, felt that I was being biased towards Mr. Dwyer, they would have asked me to recuse myself as well. Mr. Dwyer never made contact with the head of the committee to request my recusal, and it has never been an issue until this time."
Dwyer mentioned Feliciano by name during the interview, then had misgivings about it, saying he doesn't want to get personal.
Dwyer's Apologia Pro Vita Sua
Asked point blank if he believes he considers himself an ethical person, Dwyer said: "Absolutely ethical person. And I think that after being investigated I'm probably the most thoroughly vetted of all seven candidates, in that I've had the microscope turned on me, and the microscope has been turned on me and looked at every detail of things I've done in my practice can still not bring any charge against my ethics, my character, intentional wrong-doing.
"Of course it's self-serving, but to me that says more about the person than the sensational lies that I'm stuck with, which most of it is not even true, has not even turned out to be factually founded. I mean, if anyone believes that not writing a cover letter to say, do you want me to get a court reporter, when a person has already expressed and is not even paying for their lawyer services, if somebody feels that that disqualifies you or make you a poor judge, or make somebody else a better candidate, I'm fine with it. I don't think that the majority of people will. I think people are smart enough, I think people understand how the law works. I think that anyone who looks honestly will say, if he had just dropped those clients when they were not paying him like most lawyers would have, none of this would have happened. "
So why accept the reprimand?
"Because $10,000 later of attorney's fees, and countless hours of preparing to go to trial, when I have the number of clients that I have and their cases to have to worry about, is not worth it to me. I can stand up and take responsibility for whatever I've done. If it would be found at the end, which it would be, that I did not take the time to write a letter to them asking if they wanted a court reporter, and if that's worthy of a reprimand, I will accept it. To me, you have to pick your battles. And I know who I am. My clients know what type of lawyer I am. The community knows what type of lawyer I am. Spending that kind of time and taking away from the clients that I do have, that I need to represent, to me, it is not a wise expenditure.
"If," Dwyer continued,  "at the end of the day, after all this, the result would be, well, Mark, we would find that you did not consult them to find out if they want a court reporter—which a court reporter has no bearing on the outcome of a case. It has no bearing on the outcome of a case. Then I'm fine with it. I'm fine with it. I guess because I'm inside the profession. I know that the overall picture can be seen and would be seen if anyone is interested in looking into it. I don't feel like it damages my reputation, other than the people that want to look for that to be damaged, because if you understand what the level of a reprimand is—and a lot of the public may not understand how minor that is in the Bar's eyes. But it's discipline. I'm OK with it. I'm OK with it. I'm a big boy. That is not a battle that I, trying to help my clients right now, trying to you know, build and continue this firm"—he works at Palm Coast's Chiumento Selis Dwyer—"and preparing to present a good choice for the county, for their judge, that is just not a battle that I'm fighting."