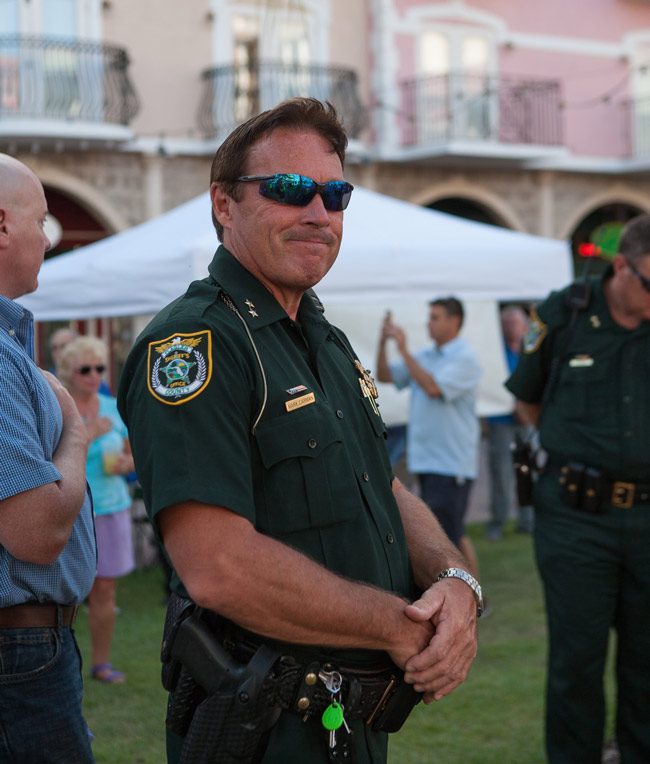 In his 30-some years as a cop and most of the last 20 as Palm Coast's top cop, Mark Carman worked for four sheriffs, three mayors, three city managers–counting the current interim–and about 25 city council members, outlasting all but a handful of them with unusual modesty in a city of outsize egos.
In those 20 years Carman saw Palm Coast become what it is today as no other city official did, often having a direct role in that evolution: he was in the thick of a city's birth, its booms and bust, its flirtation with a police department of its own–his official title at one point was Palm Coast Police Chief–its annexations, its turbulent and litigious reign of red-light cameras, its wrangles with internet cafes, synthetic pot and medical pot, and the more recent focus on "active-shooter" drills, which had Carman co-starring with Sgt. Mike Lutz in a literal road show for scores of audiences in the past couple of years.
"I've seen this town grow from–you've got to remember, when I took over it was 25,000 people, now it's getting closer to 90,000," Carman said. "I've seen a lot of changes. It's going to be a tough thing, but time to move on."
Now, Carman, 57, is retiring.
Or rather, he's leaving Palm Coast, because his state retirement plan requires it. But he's not ready to quit working. So he's becoming a police chief across the pond to the west, in tiny Crescent City in Putnam County, across from Crescent Lake.
"I knew my retirement was coming about, I thought you know, I wasn't ready to retire," Carman said.
He could have worked in Palm Coast until summer. But he was having lunch at Crescent City's 3 Bananas recently, and later saw that the city was looking for a new police chief: its own quit in fall, along with another cop, causing the city to call in the Putnam County Sheriff's Office to fill in. Carman interviewed, it went well.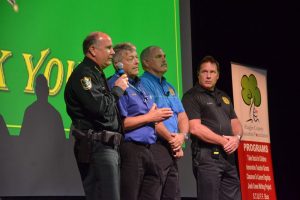 "When he told me he'd applied I told him they're going to hire you, because he's exactly what they're looking for," Sheriff Rick Staly said today. "He's been a great liaison, while I was undersheriff and now as sheriff, for the city. But I totally get why Crescent City picked him up. He's got a great personality, he understands community policing, he's going to fit right in." Staly said it will "definitely be a loss for the Sheriff's Office," but "to me it's a compliment of the Sheriff's Office and caliber of people we have that they can leave here and become a police chief somewhere, so I certainly wish him the best."
Staly will be recommending Commander David Williams to replace Carman as the liaison with the city, a position paid for by the city as part of its annual, $3.5 million contract for policing. Cmdr. Gerald Ditolla is in charge of the Palm Coast precinct's road patrol. Williams's personality is like Carman's: affable (if a bit more intense), popular, approachable and highly visible. By contract, the sheriff has to submit his recommendation for a liaison to the Palm Coast city manager–currently Interim Manager Beau Falgout–who can reject it, though the ultimate decision is the sheriff's. Either way, both sides prefer to have a good fit they both agree on.
Carman, Falgout said today in an email, "served both the City and Sheriff's Office well over the last two decades. He had the unique ability and personality necessary to maintain trust and communication between the two organizations even through leadership changes over those years. Mark was part of the growth of our young City and helped City Council further its strategic goals related to public safety in a cost efficient manner. He will definitely be missed." Falgout said he was sure the transition will be smooth, continuing the city's "positive" relationship with the sheriff.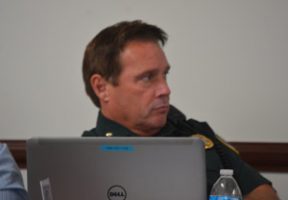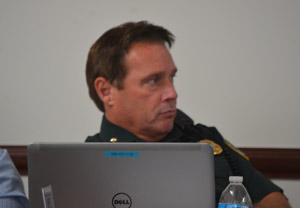 Mayor Milissa Holland noted Carman's unique history with the city and his consistent presence and accessibility to the council and residents, enabling both to "have really formed a close relationship with him."
"As a liaison," Holland said, "he has gone above and beyond and to say he could ever be replaced is impossible and he will most certainly be missed. We wish him well in retirement and we know he will remain a constant in our community."
Carman is a native of Amityville, N.Y., the small long Island suburb of New York City known for that horror house that produced a bestseller and a 1979 movie reputed at the time to be among the most terrifying in the genre. Carman, of course, once went in the house for a look when he was a teenager, he likes to recall. No, he wasn't scared–and he's since gone on to step into many houses where one family member murdered another.
His parents moved to Palm Coast, where he finished his schooling, and in September 1986, he'd taken his first job as a cop with the Flagler Beach Police Department. Less than a year later, on July 1, 1987, he was a Flagler County Sheriff's deputy, under Bob McCarthy. He would go on to work for sheriffs Jim Manfre, Don Fleming and Staly, at one point looking for work in New Smyrna Beach–during the erratic Manfre years, when Carman's job was so threatened that Palm Coast changed the contract to make it less vulnerable to a sheriff's whims: Carman survived and stayed.
It might have seemed at times as if the politics of it were more bruising than the dangers of the job, though Carman had his close calls too. In 1997, Randy DeGroat, 40 at the time, rammed his stolen pick-up truck into the patrol car Carman was driving, chipping a bone in one of Carman's fingers. Carman was treated and released at the old Memorial hospital in Bunnell–now the evacuated Sheriff's Operations Center, itself sick–while DeGroat was eventually sentenced to 11 years in prison.
In 2001, Carman was one of four Flagler sheriff's deputies who went to Ground Zero in Lower Manhattan just two days  after the terrorist attacks that leveled the World Trade Center towers. "We just went to New York to help any way we could," he told the News-Journal at the time. "We expected to be directing traffic somewhere and we ended up working on the bucket brigade."
In 2005 he intervened with detectives at a tent that had been set up behind the White Eagle Lounge in Korona to ask the man running it to voluntarily remove t-shirts with racist slogans about blacks. He got compliance.
The following year Palm Coast hired him as its law enforcement coordinator, but it was a clever move by then-city manager Dick Kelton to buffer himself from criticism over his plan to start a police department masked as a traffic unit. The plan was shelved just in time for Kelton's retirement, and his successor did not revive the idea. But Carman then contended with the new manager's–and the council's–money-driven infatuation with red-light cameras, an infatuation masked, without evidence, as a safety campaign to address traffic problems in the city. Carman was the campaign's front man, defending the cameras at the council and likely helping to prolong their miserable reign, finally ended–after the city was publicly upbraided by two judges and a clerk of court for its mishandling of the scheme–two years ago.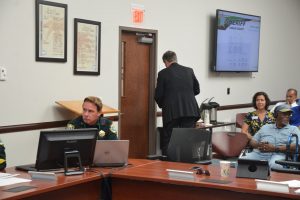 Carman briefly tried his hands at politics more directly, running for sheriff in 2008, he ran for sheriff–challenging Manfre directly–and lost: one of his fellow-candidates in the Democratic primary was Jack Howell, who was elected to the Palm Coast council last November. Carman never tried politics again.
Now it's onto Crescent City.
"I'll be honest with you, it's a big change," Carman says, "I've been in Flagler County 30 years and assigned to the city actually 20 of it, since what, 2000, so I've been assigned to the city most of my career. It'll be strange to work for someone different, but they seem like a  nice city manager, a nice city council."
He's taking a considerable cut in pay and responsibilities, going from responsibility for a precinct of 90,000 people to policing with five other cops what would rank as a small corner of the P or W Section, if that: Crescent City is a metropolis of 1,500 people, half the population of Bunnell. The city had a total of 68 reported crimes in the first six months of the year, only one of them violent (an aggravated assault), and that was an unusual spike in a city that's had its policing issues of late. In all of 2017, Crescent CIty recorded a total of 61 reported crimes, most of them burglaries and larcenies, and 53 arrests, or one a week.
Since he's in the Florida Retirement System's Deferred Retirement Option Program, Carman is required to retire at the end of a four-year period, once he entered the program, and not work for an FRS-connected government for at least a year. Neither the city nor the Sheriff's Office are about to replicate the shenanigans that the county concocted to rehire, a day after her "retirement," the deputy county administrator (at even greater cost than she'd been paid): she was brought back in as a "consultant," thus evading the FRS requirement that she not work for an FRS government  a period. Either agency could theoretically do the same, but Carman is opting for the cleaner break of working for a non-FRS city.
In a sense, it's a closing of a circle: he started at a seven-member police department in Flagler Beach, he's (possibly) ending at a six-cop department that not long ago was at seven.
"I'd like to see some real hometown community policing in a small police department," Carman said. His goal? He wants to get to the point where he can walk into the Crescent City diner and know everyone's names, and vice versa. Almost the way it was in Palm Coast.