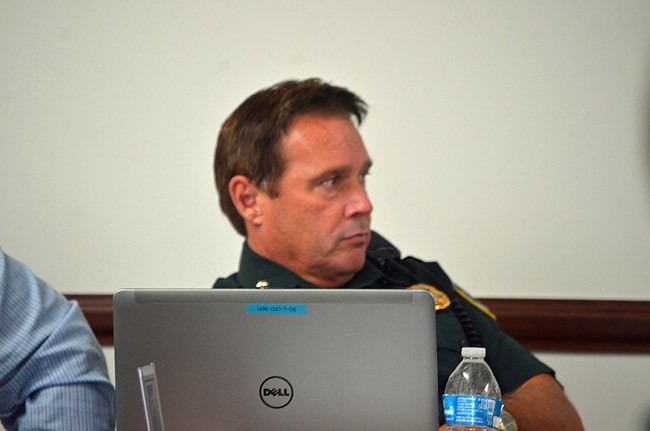 Mark Carman, the long-time captain–now commander–of the Flagler County Sheriff's Office's Palm Coast Precinct, was t-boned but not seriously injured in a crash as he drove on Cypress Edge Drive last week. Carman was not at fault, according to a sheriff's crash investigation.
The crash took place at the intersection of Cypress Edge Drive and Cypress Point Parkway (an intersection that has never had red-light cameras, even when the city had more than 40 of them across town) at 1 p.m. on Nov. 5. Carman was at the wheel of his department-issued 2007 Ford Crown Victoria, driving north on Cypress Edge, in the left-turn lane. He had crossed into the intersection and was beginning to make the turn when Eduardo Carillo, a 23-year-old resident of Karen Place in palm Coast, allegedly blew through a red light as he drove east on Cypress Point Parkway.
The front of Carillo's 2000 Chevrolet Cavalier struck the rear of Carman's Victoria, on the driver's side, spinning Victoria 180 degrees, according to the crash report. Carman "complained of pain to his left shoulder but declined medical treatment on the scene," the report states. Carillo was not injured. He was cited with failure to stop at a red light.
The Chevrolet sustained $5,000 in damages and was towed by Roger's Towing of Bunnell because of the severity of the damage. The Victoria was not towed. It sustained $3,000 in damages. Carman has attended to his duties as normal since.
The sheriff's office's Sgt. David William investigated the incident. As Commander of the Palm Coast precinct, Carman oversees more than two dozen deputies and additional staffers and volunteers. The precinct is located at City Market Place, whose buildings parallel Cypress Point Parkway and Cypress Edge Drive. Carman has been with the sheriff's office 28 years.