Arena Amazônia, Manaus, 6 p.m., ESPN
I purposefully missed my college graduation ceremony–from New York University–on June 6, 1986 because England was playing a World Cup game (against Morocco), and so was Brazil (against Algeria). Plus it was incredibly hot. The choice was between sweltering under the sun in Greenwich Village while listening to Speaker of the House Tip O'Neill shred the Reagan Administration (he was our commencement speaker) or sitting in our cool and cooled living room, watching the fun from Mexico.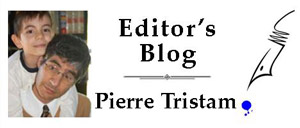 The World Cup won out. It was the right choice. The usually prescient O'Neill was completely off his game that day. "Unless dramatic progress is soon realized at the arms talks in Geneva, we are about to witness an expensive and threatening new chapter in U.S.-Soviet relations," he said, as reported by the Times later. "And if an accident in one plant in one country can cause the contamination that this caused, need we imagine what an exchange of 20,000 nuclear weapons would cause." Later that year Reagan and Gorbachev in Iceland almost agreed to scrap all nuclear weapons. Only their advisers, backed by the usual armies of doom, stopped them.
The point being that I've always had a soft spot for England: it's where I spent my first year away from home, in a hellish boarding school in Canterbury, and where, every Saturday afternoon, I learned to love English Premier League games (called something else back then). England is a football paradox: they have the highest quality football league in the world, but they just can't field a winning team in international competition. Not since 1966, anyway, the last and only time England hosted the World Cup, and the only time they won it. The best they did in the European Championships was a third-place finish in 1968. England can always make it past the group stage, but not much further.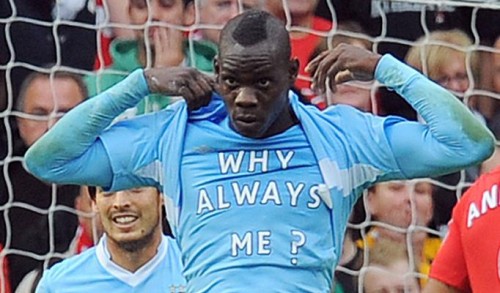 Italy, on the other hand, a football superpower, has been my least favorite team in history: their style of ultra-defensive play can make for very, very dull games, their presumptions, entering every match, every competition as if they own it and are entitled to win it, can get old fast, and the ninniness of their players, who seem to be the most operatic, most likely to dive, quickest to act like little girls the second their shirt is tugged, slows games down and gives the sport a bad name.
All that, of course, has changed. I now love Italy. I am nuts for that team. For one reason only.
World Cup 2014
---
Goals So far: 150

Matches: 55

Average: 2.78 (2010: 2.27)
Brazil 1, Chile 1 (Brazil on PKs) | USA 0, Germany 1: Small Loss for a Big Win | USA 2, Portugal 2 | USA 2, Ghana 1 | France 3, Honduras 0 | England 1, Italy 2 | Costa Rica 3, Uruguay 1 | Colombia 3, Greece 0 | Chile 3, Australia 1 | Spain 1, Netherlands 5 | Mexico 1, Cameroon 0| Brazil 3, Croatia 1

Mario Balotelli. Why-always-me Balotelli. The undisciplined, unpredictable, mercurial, fascinating, intimidating, captivating Mario Balotelli. He is the only player whose extreme showmanship–and he's all about showmanship–is as wonderful to watch as his ability to score goals like wizards make walls disappear. And he will be in the lineup in today's marquee match. So while England will field old hands like Steven Gerard (30 years old), Wayne Rooney (28), Daniel Sturridge (24) and the rest of them, and Italy will field yet again the ancient Andrea Pirlo, who at 35 seems to have been in every World Cup since the 1930s, my eyes, as your eyes should be, will be glued on Balotelli.
Both these teams will be happy to settle for a tie, thinking they can take on the other two in this group–Uruguay and Costa Rica–which could result in a more defensive, duller game than this should be, and the first scoreless dud of the tournament. But maybe they can keep the streak alive. World Cup 2014 has been a festival of surprises. Difficult to imagine it shouldn't continue to be.
This competition just gets better and better. 1-1 at the half, there could have been a few more, and each of these goals was exquisitely executed, starting with Claudio Marchisio's missile strike from the top of the box after getting a pass and a fake:
England kept on going. Rooney had been quiet until then. He materialized just in time, sending the most lethally accurate cross from left down to Daniel Sturridge around the 6-7 yard line, who just as accurately stamped the ball to the perfect address:
The Italians ended the half with fireworks, and an almost-goal by Balotelli who, hung up on tbe left, chipped a ball above everyone at an impossible angle. It was heading in. The keeper was nowhere in sight. But a defender got there just in time to head the ball out. Moments later midfielder Antonio Candreva hit the post. Then it was half time. Good to see these teams out to win, despite the oppressive heat. They're in the Amazon rainforest, though it's not an impossible evening: 82, with humidity at 70 percent. That's unusually dry for that are.
And of course it was Balotelli who sealed it for Italy at the 50th minute, as England seemed incapable of even kicking the ball right in the later part of the second half, starting with a Rooney corner kick that was reminiscent of Bob Gibson's homerun, beyond the walls of the stadium, but in the wrong direction. Italy with a lead is as impenetrable as Immanuel Kant any time. England tried, but couldnl;t se past that Mediterranean blue. Here's the Balotelli goal:
And the whole highlight reel: