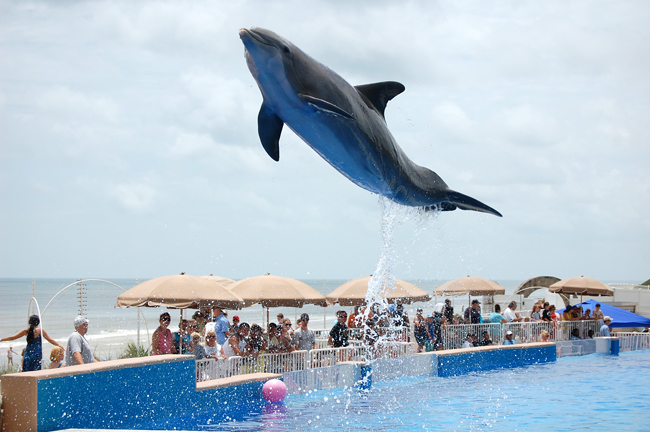 Twice in two years—in 2000 and 2001—then-Gov. Jeb Bush vetoed a $3.5 million proposal for a University of Florida marine animal hospital and research facility at Whitney Lab in Marineland. The facility would have been ground zero for manatees, dolphins, sea turtles and other marine life injured by natural or man-made cataclysms: There is no such facility in Florida.
The vetoes' short-sightedness now looms large over the increasingly likely cataclysm about to hit marine life in Florida as a result of the largest oil spill in American history. Florida has no contingency plan in case large fish begin to wash ashore coated in oil or showing signs of oil contamination.
"This is a wake-up call," says Jim Jacoby, owner of Marineland's Dolphin Conservation center and a far-flung entrepreneur and developer. His projects sprawl from brownfields rebirthed as town centers and giant, decommissioned auto factories literally recycled into  mixed-use suburban villages to alternative-energy innovations that evoke science fiction. He now wants to leverage the soil-spill disaster into a call to action.
---
Video: Jim Jacoby Talks About Marineland, the Oil Spill and the Future[media id=53 width=250 height=250]
On Sunday in Marineland, Jacoby outlined it. For starters, Marineland and the Georgia Aquarium, on whose board he sits, are making their staff, expertise and equipment available to federal officials to assist in any capacity as needs arise from the BP oil spill in the Gulf of Mexico. The facilities have rescue equipment and facilities as well as staffers and veterinarians who've worked with animals, including sea turtles, affected by oil spills around the world. (The BP oil spill is the largest in U.S. history. It would still not crack the top-10 list of the largest spills on the planet.) The University of Florida's Whitney Lab at Marineland, Florida Atlantic University, the University of Miami, Nova University, and the Georgia Aquarium are all involved.
That's the immediate plan. And it has its limitations. The center can transport animals and do necropsies (the equivalent of autopsies). That's it. "We have no facility if an animal does strand to take it to," Jacoby said. "There's small facilities that can take one or two dolphins at Harbor Branch, and it's not fully operational," along with one or two other such places. "But if there's mass strandings, there's no place."
As Bush's veto show, Jacoby has a different sort of long-term clean-up in mind: Putting in place what should have been here already—a research facility equipped to deal with the short and long-term effects of oil's and the oil industry's impact on the local and regional ecology.
---
Video: John Hankinson, Florida Audubon's Board Chairman, On the Oil Spill[media id=55 width=250 height=250]
"BP doesn't want to talk about the effects of the plume going down 1,500 feet. And what's the effect of that on the food chain? There's just so many unknowns," Jacoby says. "That's why a lot of this research needs to be done. I'm the guy who just likes to bring the cavalry in. But the reality is, we need to do the research and see that we don't make things worse. With the University of Florida here, building a center for marine animal health, which is in the long term plans, we could have a place where we could do research on the effects of oil spills or even for the dolphins, on the effects of offshore drilling, how does the sounds affect the dolphins and the whales and so forth. So there's a lot of unanswered questions."
The research center and hospital's original aims would have worked to cure marine animal diseases and explore new technologies while drawing in, because of its uniqueness, millions in research funding—as Whitney Labs do now. The oil spill, whose impact will unravel over Florida's marine ecology over decades, would make such a research facility an ideal field station for researchers looking to understand yet unstudied consequences.
The question, as always, is funding. Jacoby has general ideas. He will talk to oil companies as partners. "That funding could be from private," he said. "It could be from the oil companies on a mitigation basis to have a place where they could do the research or assist the university and do the research on the effects of offshore drilling on marine animals. We hadn't looked at the spill situation until recently, but what is the long-term effects of this spill on the food chain, on dolphins, manatees, turtles, birds? We're not just talking about animals that are going to die shortly. We're talking about long-term breeding grounds, food sources, plankton."
---
Video: Marineland Mayor Jim Netherton[media id=54 width=250 height=250]
There should also be renewed interest from the Florida Legislature, especially if the animal hospital and research center turns into the kind of private-public partnership that makes Jacoby tick. And yes, there is an element of the convert in Jacoby, whose emphasis on development and green energy dominates his latter two decades, after making his mark as a developer of strip malls, supermarkets and some 40 Walmart stores across the South. Now he's into building wind turbines offshore (in Virginia, not Florida) and turning garbage into energy. He bought Marineland in 2001 for $1.9 million, a place he used to visit as a child when it was part of a movie studio and marine attraction before Disney and I-95 whipped off traffic and interest. By 2001, Marineland as an attraction and a town was a decrepit shell of its former glory. Jacoby demolished two blighted beachfront hotels, recycled them into dunes and a boardwalk that doubles up as dune protection and interpretive trek, and joined with Centex Corp., the mega-developer—much to locals' anxieties—to re-build Marineland as a self-contained town of about 250 people modeled after his other non-urban reinventions. That was before the housing bubble went bust, taking Centex down with it, and out of the Marineland deal. Those plans are on hold, but still in Jacoby's and Marineland Mayor Jim Netherton's scope.
"If the economy ever turns around and money becomes available for work to be done then we'll start in on this I expect. But generally we want to build a sustainable community with 100 to 250 permanent residents to make us fit right into the mainstream of small-town Florida, and have the amenities in the town so as Jim says you don't have to get in the car to drive 20 minutes two or three times a day just to get something." There's no question that the imagined center for animal health would, along with what already adds up to a marine-science campus, be one of the driving forces behind the hoped-for revival. The town itself has just six or 7 permanent residents who vote, but about 200 people who work there.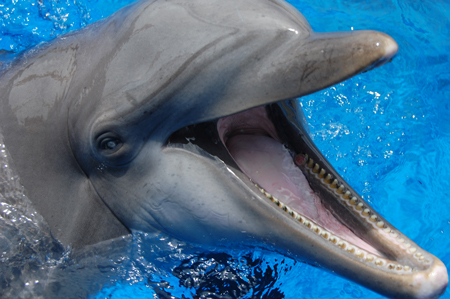 On Sunday, Jacoby was joined by Netherton and John Hankinson Jr., chairman of the Florida Audubon Society board and Bill Clinton's former Environmental Protection Agency administrator for the Southeast. Audubon's northeast Florida office recently opened under the same roof as Marineland's Center for Coastal Policy. Hankinson met Jacoby in the 1990s when Jacoby and the EPA collaborated on the transformation of a dead steel mill in the heart of Atlanta into Atlantic Station, "probably," in Hankinson's words, "the most nationally important clean-up, brownfields clean-up and restoration, into a sustainable community that's ever occurred." The trio spoke together of the mobilizing efforts in response to the spill.
"We've got a strategy to try to deal with the bird impact," Hankinson said. "Those are heart-wrenching. I'm sure you've seen pictures of pelicans covered in oil. It's not just the immediate impact, it's the long-term impact on the birds. One of the things that we're focusing on is where we have the ability to maintain healthy populations of birds—sea birds, shore birds primarily—is we're trying to strengthen those populations so that provides a way to rebuild those populations in the Gulf that are going to get decimated."
They spoke as Marineland was filling up with what would turn into a people plume of a few thousand taking advantage of the center's annual "Family Fun Day." (Instead of $8.50 to get in for adults, it was $2, and free for children 12 and under. Half the proceeds went to the center's Dolphin Conservation Field Station in Marineland.)
A final note: Marineland the town is trying to get away from being uniquely identified with Marineland the attraction—which no longer goes by that name. It's now the Dolphin Conservation Center. Marineland, in a sense, wants its name back. But it'll have a hard time getting over being a synonym for the attraction's iconic hold on Floridian's memory.