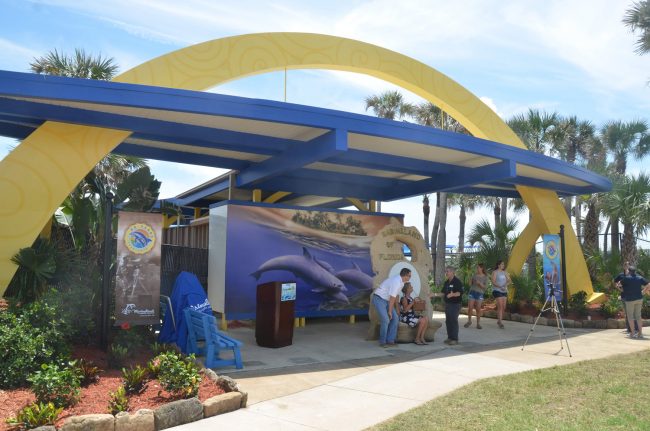 It was all about the arches. That's how people visiting Marineland in the old days remember it: the arch over State Road A1A at the north end of town, the one at the south end of town at the south end of town, such as this tiny town was, the arch at the entrance to what was once Marine Studios before it was Marineland of Florida, long before its more recent incarnations as the Dolphin Conservation center and then, since 2011, Marineland Dolphin Adventure.
It's still about the arches.
Around noon today, under a baking sun and to the cheers of perhaps 100 people—arrayed in an arch of their own between the sidewalk and parts of A1A—the entrance arch was reopened after many years with a ribbon-cutting meant to signify yet another re0-launch of sorts for Marineland Dolphin Adventure, and more revelations to come in the months ahead.
"I have the old arches, so we'd like to bring those back too, 'Welcome to Marineland,'" says Jim Jacoby, the developer, a former owner of the Marineland attraction until 2010, when it was sold to the Georgia Aquarium, and still its champion: Jacobi is a founding board member of the aquarium and still serves there.
"This is not just an arch," said Gary Inks, vice president and general manager at Marineland Dolphin Adventure right after the ribbon-cutting. "This is an iconic arch that represents history in this part of Florida that stretches over the past 80 years. Not just filmmaking, but millions of tourists, hundreds of thousands of young children and their educational programs come here to learn more about our oceans and our dolphins. It is more than the arch. But the arch represents all that history."
Cornelius Vanderbilt "Sonny" Whitney announced on Nov. 22, 1937, that by February the following year he'd open "two of the largest aquaria ever built and the world's only specially designed underwater studio." The announcement was important enough for the New York Times to report it, albeit in a brief story at the bottom of page 25 in the next day's edition. It described Whitney's project as "oceans in miniature," a description that still resonates today, with "sharks and barracuda and giant rays" to be presented in conditions simulating their natural habitat.
There was no word about arches then, but what became Marineland lore was in the works. Those arches have since played a role similar to that weird arch or near-circle in the original Star Trek which would take Captain Kirk and Spock and Bones back through time when they'd jump through it. The Marineland arch had the same effect at today's celebration as it seemed to open the way to cascades of memories.
County Commissioner Charlie Ericksen grew up in Connecticut with his parents and his sister. "Every Christmas holiday from school up there my parents would take the two of us down to Florida to Haulover Beach in Miami," Ericksen recalled. "There was no I-95 then, there was no I-75, so the route down through Florida was on Route 301 in the north part of the state, and you'd come to come to the east part of the state and take Route 1 down to Miami. Every year we'd stop in Marineland and walk through the arches that were reopened today for the first time in many years." That was in the early Eisenhower years, when has was 15, 16 cents a gallon, Ericksen remembers.
Jacoby beats him by a few years: his first memory of Marineland was from 1949, when he was 6 and Truman was still president. He was a Miami native. His family did the opposite trip from Ericksen's: they'd drive up to Massachusetts on holidays—and stop in Marineland. "I remember when I use to come here years ago we had arches at each end and the lights going at night," Jacoby sais. "It's hey, you've made it, you've arrived at Marineland, and I think this is an arrival. This is the beginning of the restoration."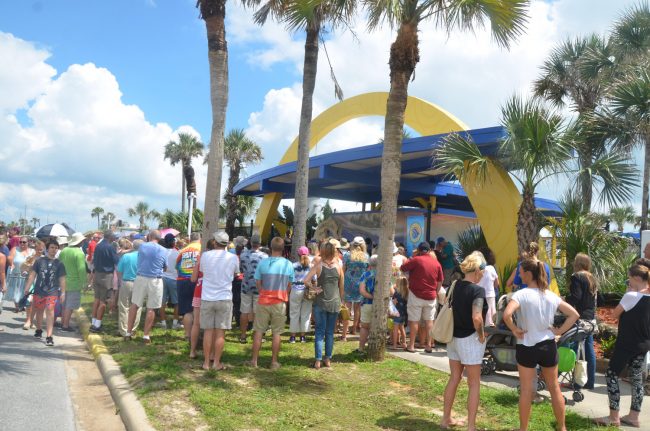 The arrival he was referring to today was the rededication. "We have a lot of ideas on things we're working on, on ocean issues and so forth, the research that we want to be doing here," Jacoby says. "You're going to see redevelopment things going on here, you're going to see new housing opportunities," including restaurants and artisan yards. There's also a third phase of development at the Marineland Marina. And maybe the resurrection of those other arches that now sit in storage in Jacksonville.
Flagler Beach mayor Linda Provencehr and her family used to drive in from Orlando, pre-Disney era. "There was a lot more to do here through the years," she says, "they had a penguin show and had a dolphin show, they had a 3-D movie theater across the street, they also had a restaurant, and at the bat they had this ship and they turned it on and this ship moved back and forth like this."
The ongoing renewal, Provencher says, will also benefit Flagler Beach. "It's our sister city, I like to see them succeed up here, I have a close relationship with Leslie and the other mayors," Provencher said, referring to Leslie Babonis, mayor of Marineland, "we try and support each other, so I think it's exiting that this is reopening the way it is, and I'm also glad that they hold strong and remain their own city so they can preserve what they have up here."
Georgia Aquarium has been making a "significant" investment in Marineland, Inks says. The museum has doubled in size, there's a twice-daily meet-the-trainer program, where guests can interact with the trainers, who demonstrate their work with dolphins. The attraction is taking a lead in ocean protection by working toward a no-plastics environment by next year. And by October or November, the attraction will have a special local residents' discount of "a minimum of 20 percent off. All programs," Inks said.
"There's really a message here that goes far beyond an attraction," he said. "There's a conservation message here. We've been working with the town of Marineland, and the point we want to make now is very simple: we need to cry out for the world, we need to save our world oceans, and that's our message."