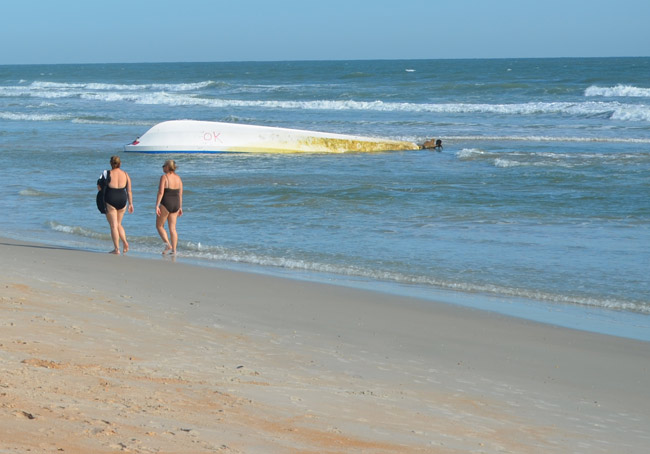 A 25-foot motorized boat that had capsized days or weeks ago–long enough for algae to build up on its stern–washed up on the shore of Beverly Beach near the Flagler By the Sea campsite Sunday. It was empty of people, but nevertheless bearing gifts: the boat shed many large bricks of marijuana, what one beachside resident described as "square grouper."
A Florida Fish and Wildlife officer said the Flagler County Sheriff's Office had picked up some 150 pounds of pot. Such speedboats have become a means of choice for smugglers of drugs or human traffickers in recent years.
Cops were at the scene Sunday and early Monday morning, though by 9:30 this morning the beach was again almost deserted. The boat was beached upside down in the shallows. Some boat debris had been dragged up the sands past the high-tide mark, so it wouldn't wash back down to sea.  But all searches for additional marijuana were fruitless.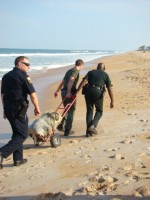 Ron Lane, who lives on the beach nearby, said the boat had appeared Sunday. "It floated out there within sight all morning," Lane said, got stuck on one sandbar, then washed closer in. "One guy was out there yesterday, he kept swimming up and pulling up bags of marijuana," Lane said, describing the swimmer as a civilian. Lane said it appeared that the marijuana bricks had been in a compartment. The doors to that compartment may have broken off, freeing the stash.
There were no identifiable official markings on the boat, other than those made by the Coast Guard on Sept. 2, 2012, then the Coast Guard presumably found the boat at sea. A red sign that states: "OK U.S. COAST GUARD," with a date of "2 Sep 2012," was sealed to the bow of the boat. The letters OK were spray-painted on either side of the boat. Two curious marks, which may be bullet impacts, appear on the port or left side of the bow.
On Sunday afternoon and evening, according to witnesses, nine sheriff's deputies, most of them in uniform, stood watching the boat, unable to do much about it. Three deputies then arrived in scuba gear, but they, too, were largely powerless to move the boat or safely look beneath it. They were then joined by the Coast Guard, so that at one point the beach swarmed with law enforcement and other officials.
The Coast Guard is in the habit of setting some drug boats on fire, depending on where they are seized, and letting them sink at sea once it interdicts them and removes what smugglers and drugs may be on board. It does not go to great expense to tow drug boats. Last weekend, the Coast Guard in the Caribbean interdicted more than $2 million worth of pot that had been stashed aboard a speedboat very similar in look and size to the one that washed up at Beverly Beach. That speedboat had been on a drug run between Haiti and Cuba, according to the Coast Guard.
The Coast Guard was criticized by environmentalists for setting the boat on fire. It then issued the following statement, which sheds some light on why the Coast Guard identified and tagged the speedboat that washed up on Flagler's shore, but did not do anything further with it: "Though it is a good idea to simply salvage a vessel and profit from its sale, there are other factors that may make that idea less attainable or worthwhile. For instance, the distance from shore means the trip with the aforementioned boat in tow would take about a week.  The cost to the U.S. taxpayer of having this law enforcement and search and rescue platform unavailable while on a scheduled patrol would not be a good use of time or money. In addition to taking our Coast Guard cutter and crew away from their duties, it would actually cost more to tow the boat that distance and sell it than to dispose of it — which keeps it from being used for future illegal purposes or being a hazard to navigation. There are other situations that would warrant towing a vessel back."
With a less porous border with Mexico, using speedboats has become a transportation means of choice from drug smugglers and human traffickers, according to the office of U.S. Customs and Border Protection. The southern California coast has been the scene of several such boat seizures or boats washing up on shore. The Coast Guard in southern California has seized 50 tons of marijuana in the past year.