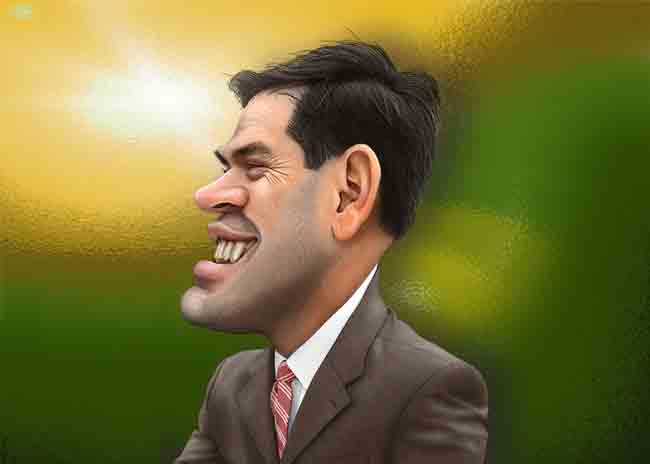 By Rhonda Swan
If Marco Rubio is the savior of the Republican Party, members of the GOP should start looking for their lifeboats.
The performance by Florida's junior senator following President Barack Obama's State of the Union on Tuesday was an epic failure. Republicans were betting the party on his success.
Sadly, success was easily obtainable. All Rubio had to do was say something new. Tell women, minorities and young people what the GOP has to offer that Democrats don't. That is, after all, the reason Republicans picked the young, handsome, Hispanic senator to deliver the State of the Union Republican response.
He's supposed to help them widen their tent by enticing the groups the GOP failed to win in the last two national elections. Instead, Rubio gave them the same tired lines that Mitt Romney wore out during his failed presidential campaign.

And to make matters worse, he delivered those lines sweaty and nervously.
Author Terry McMillan tweeted, "He is not ready for prime time."
Rubio is normally a good orator. But then he's usually speaking to a friendly audience. Perhaps our expectations of him on the national stage were too high.
The GOP, though, shares the blame. Where were the bold ideas? The unveiling of the new GOP brand? The party certainly didn't give its new anointed one much to work with.
"Instead of wasting more taxpayer money on so-called 'clean energy' companies like Solyndra," Rubio said, "let's open up more federal lands for safe and responsible exploration."
Drill, baby, drill and Solyndra. Really?
As usual Rubio touted the values of a "free economy" and limited government.
"This idea – that our problems were caused by a government that was too small – it's just not true," he said. "In fact, a major cause of our recent downturn was a housing crisis created by reckless government policies."
Right. Wall Street and its credit default swaps had nothing to do with it.
And it wouldn't be a Republican speech without the obligatory attack on the Affordable Care Act.
"Obamacare created expensive requirements for companies…now many of these businesses aren't hiring," Rubio said. "Not only that, they're being forced to lay people off and switch from full-time employees to part-time workers."
They aren't being forced. In fact, the owner of Olive Garden and Red Lobster decided not to bump any of its full-time workers to part-time after announcing they would do so to limit health care costs resulted in a public relations nightmare that affected their bottom line.
They put profits over people and it cost them.
The GOP has put party over people and it's cost them, too.
Rubio had a chance to tell Americans how that was going to change. Instead of points of light, he gave us talking points.
For his part, the president could have put a best-hits recording of his campaign speeches on the podium, hit play and left the room. It was déjà vu for most of his hour-long speech – yawningly so – except for the parts about increasing the minimum wage to $9 an hour, working with states on universal preschool programs and gun control.
But he's already got the office that Republicans want. The GOP can't afford to put us to sleep.
It says something when an awkward and desperate lunge for a water bottle is the most memorable moment of the biggest political speech of your life. And what it says isn't good.
A Broward County Republican who takes issue with almost everything I write about her party called me the day after the State of the Union address to tell me that Rubio's speech had doomed the GOP.
"It's through. It's over for Republicans," she said. "Republicans don't have a message. They're not going to make it."
She's given to hyperbole but she no doubt expresses the frustration that many conservatives must be feeling. "I'm not going to vote Republican next time. I might stay home," she said. "When they do this kind of dumb stuff, we either stay home or do protest votes in the other party."
So much for the idea that one man could right this sinking ship.

Rhonda Swan is an editorial writer for The Palm Beach Post and author of Dancing to the Rhythm of My Soul: A Sister's Guide for Transforming Madness into Gladness. She can be reached at [email protected]