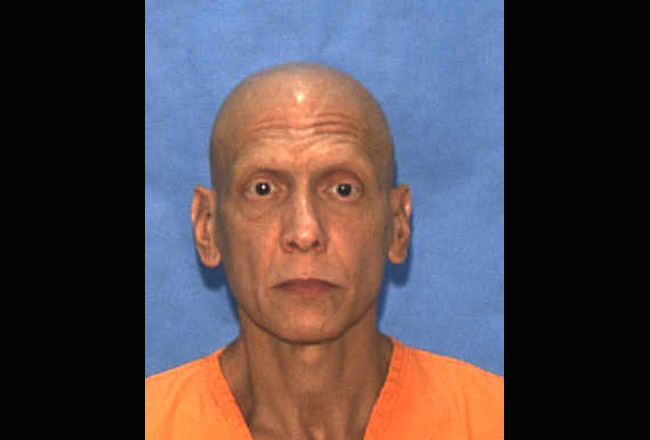 December 6 update: The Florida Supreme Court denied Manuel Pardo's motion for postconviction relief, essentially his last attempt at staying his execution, scheduled for Dec. 11. Pardo's attempt to stay his execution through a federal court also failed. Among his claims: that Florida's lethal injection protocol is unconstitutional, that the circuit court erred in denying him public records, and that he was incompetent to stand trial. The Supreme Court rejected all claims. He also claims that 24 years on death row was cruel and unusual punishment. "No rehearing will be entertained by this Court. The mandate shall issue immediately," the court ruled in a decision issued Dec. 4. The decision was unanimous. It is available here.

Gov. Scott Signs 5th Death Warrant, for Manuel Pardo, a Cop Turned Executioner
November 1–Gov. Rick Scott Tuesday (Oct. 30) ordered the execution of Manuel Pardo Jr., a former Sweetwater police officer convicted in the execution-style murders of nine people between January and April 1986.
Pardo, 56, is scheduled to die Dec. 11 at Florida State Prison in Starke. Pardo was convicted in 1988 after taking the stand and admitting to all nine murders. He said he should avoid culpability because he believed all the victims to be drug dealers who he said "have no right to live," according to court records. A jury found him guilty and recommended the death penalty in each case, by votes ranging from eight-to-four to ten-to-two. Florida is among the few states that does not require a unanimous verdict for a death sentence.
The sentencing judge found that each murder was carried out in a cold, calculated, and premeditated manner without a moral or legal justification. The judge also found that one purported drug informant was killed to hinder or disrupt the exercise of a governmental function and that another killing was committed for monetary gain.
The prosecution during Pardo's trial cited the murderer's diary, which detailed the killings, and cited Nazi memorabilia collected from Pardo's home, including evidence of his anti-Semitism, his admiration for Hitler, and his belief that Jews and blacks should be exterminated.
Among the victims were alleged drug dealers, a confidential informant and two women who allegedly owed Pardo money, prosecutors claimed. Against his lawyer's advice, Pardo took the stand, saying he was not after money but instead wanted to rid the world of drug dealers and their accomplices.
The individuals Pardo murdered were: Mario Amador, Roberto Alfonso, Luis Robledo, Ulpiano Ledo, Sara Musa, Fara Quintero, Ramon Alvero, Daisy Ricard and Michael Millot.
Scott announced the death warrant Tuesday evening. If carried out, Pardo would be the fifth condemned prisoner to be executed since Scott took office in January 2011.
Earlier this month, the U.S. Supreme Court postponed the execution of John Ferguson following a series of last minute appeals. During his 1988 trial, prosecutors painted Pardo as a former highway patrolman and suburban Miami police officer who became a drug dealer.
At one point, according to press accounts, "Pardo had $3,530 in his prison canteen account, affording him Cuban espresso coffee, a radio with headphones, shampoo, potato chips, candy bars and shorts, among other things," Barbara Ford, a woman who had been scammed while he was in prison said.
As of today, Pardo is one of 405 inmates on death row in Florida. All but five are men. They include from Flagler County: Louis Gaskin, David Snelgrove, Cornelius Baker and William Gregory.
Two inmates have been executed in 2012–David Alan Gore and Robert Waterhouse. Two were executed last year–Oba Chandler and Manuel Valle. The full list of Florida's 73 executions since 1976 is here.