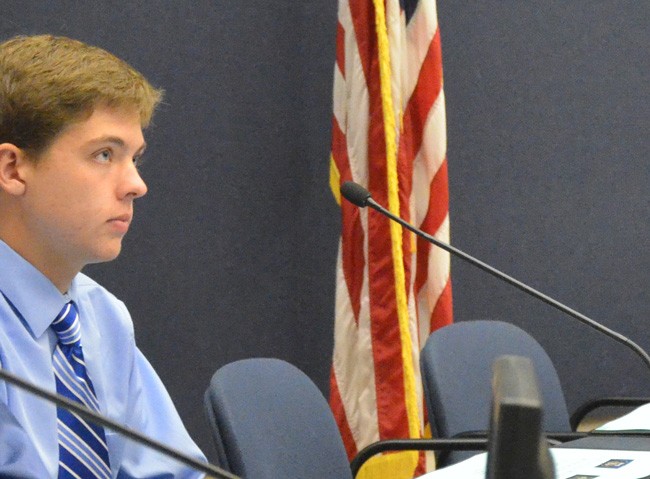 The Flagler County School Board has no evidence that the stricter dress code it implemented three years ago after debates more agonizing and divisive than any academic issue since has improved "school culture," the terms used at the time by supporters of the change. What hard evidence it does have does not argue for the change: the district's overall grade is down to a B after four successive years as an A before the dress code change. SAT scores fell to a 10-year low in 2014. And out-of-school suspensions are significantly up this year.
For the past nine weeks Michael Manning, a Matanzas High School senior and the most substantively engaged student representative on the school board since Ryan McDermott five years ago, has been pushing the board to loosen the dress policy by broadening the "spirit day" allowance to every day of the week. On Fridays—the current spirit day—students are allowed to wear their school logo t-shirt, school team jerseys or school club shirts. But only on Fridays.
Board members have been resisting Manning's proposal, asking for data to back up the proposal. And more data. And more data, as they did again at a board workshop Tuesday, after Manning made his latest pitch with a survey of 100 students from Flagler Palm Coast High School.
Manning, never shy about directly challenging board members or administrators, also got a lesson in political and bureaucratic logic. Namely, that there often isn't any, especially when it has no evidence to stand on.
"Why can I wear that on Friday but I can't wear that any other day?" Manning asked.
"Because that's the policy," Board Chairwoman Colleen Conklin said.
"Oh, yeah, but what's the reasoning behind the policy?" Manning asked.
"The reasoning is so you would have that Friday to dress whatever way in spirit that you would like to wear," Conklin replied.
Manning challenged  the perception that the dress code has had a beneficial effect on discipline. "FPC is on pace to have the highest amounts of out-of-school suspensions in the last four years," he said. And when Katrina Townsend, the director of student services, reported anecdotal evidence that parents were liking the policy because they could, among other benefits, hand down the clothes to their younger children, saving money, Manning didn't buy it. "I don't think a large majority of our students are in that position at this time," he said, saying the policy hasn't been around long enough for much hand-me downs. "Also, you can pass down a spirit shirt in the same way."
Manning's central point is that the majority of students, with football players' exception, don't play sports on Fridays, and therefore wouldn't necessarily wear their team jerseys on Fridays, as football players can. That's created resentment. That makes all those students very mad at the other students, because they don't get to wear their jerseys, because it's a pride thing."
---
A policy never justified by data finds itself entrenched by the lack of it as the school board fears a return to divisive debates.
---
Manning produced a survey of some 100 students at FPC who, by an 84 percent margin, were very or somewhat dissatisfied with the dress code policy, with 61 percent seeing favoritism to football players and 66 percent favoring the expansion of spirit day to all days of the week. As one student commented in the survey, "Only allowing spirit shirts to be worn on Fridays is an entirely arbitrary decision. There is no reason not to allow it on other days."
Manning claims dress code violations would drop while morale and the number of community service hours would go up, if his proposal was adopted, "because you can get a free shirt through community service and through participation in those activities."
As always with dress-code matters, data was scant: some numbers are readily available, but they're raw and lack the sort of depth that would enable analyses worthy of reliable correlations
For example, the district's data shows that while in the first year that the dress code was implemented, hundreds of students got a one-time offense, those numbers have fallen since, with violations now centered on individuals who just don't want to comply. One student has 12 dress code offenses so far this year. But there's no indication on whether the drop in overall violations is related to more compliance or less enforcement, for example, while the district's discipline team, Townsend acknowledges, has itself  taken a less punishing approach in general to reduce out of school suspensions (an approach with some numbers showing that it hasn't necessarily worked.)
"Anecdotally," Townsend said, "as we went through that three year process of implementation, the teachers reported a couple of different things. First of all, the dress code was more difficult for them to monitor when it was less specific. So the more specific the dress code got, the more easily they were able to determine when it was an infraction. In fact, that might account for that spike in monitoring and actually being able to write up a notice on it. Also anecdotally in the first year of implementation, my phone rang a lot with parents who were concerned during that implementation process. But anecdotally, in this last year, not this school year—I've had no calls either way on it this school year—but last year into that year of implementation the community comments that I got were more along the parent line that they've been able to hand their uniforms down child to child," or that it was simpler to dress children in the morning.
The board was divided three years ago when it adopted the new policy, with Andy Dance and Trevor Tucker opposed and Conklin, Sue Dickinson and John Fischer in favor. Fischer had made it his signature issue. Fischer is no longer on the board. He was replaced by Janet McDonald, who's so far absorbed the discussions rather than staked out a position. Dickinson and Conklin, clearly, are not thrilled about revisiting one of the most alienating issue they've contended with in the last four years.
"I'm going to be really honest with you guys," Dickinson told her fellow board members (Tucker was absent). "I haven't thought about this and all of the above, and I know what Michael is presenting, and I know he's not presenting us to take away the dress code, I know he's presenting us to make Spirit Day every day as opposed to just on Friday. But if you remember, those of us that were here when we did this, and we implemented the dress code to start off with, this room was full of students that were not happy with us, and I'm concerned about being negative at this point, even though I am negative, because I'm against the idea. I'm concerned to voice that opinion. There's a lot of kids out there that are going to be unhappy if we choose not to go with the change. There's retaliation out there. We're talking teen-agers."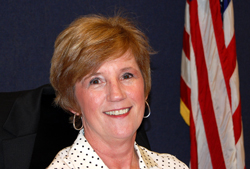 Dickinson feared personal retaliation. "We went through so much to get it here, why are we backing it off?" she continued.
Manning then challenged Dickinson's perception that the district would be backing off the policy.
"You said that you don't want to go back before we implement this because you guys fought for it," Manning said. "And we're not changing that. We're not going back. We're not turning the clock back. We're adding to it. We don't want to fix it because it's broken. We want to fix it to make it better."
"If we're going to talk jerseys, let's talk jerseys, let's not talk the whole student population," Dickinson said. "I think I can handle that conversation a little bit better than an outright—forget it, and put us all in school t-shirts and all of the above." To Dickinson, it's a matter of bending the rules that will tax enforcers of the policy too much. "I'm sorry, but if they were totally implementing our policy, these numbers should be going down, not back up again," Dickinson said of out of school suspensions.
Dance, weighing in at the end of the discussion, said that expanding spirit day to different days of the week would not create an enforcement problem since teachers and staff already deal with it. "Whatever works on Fridays would work on the other days," Dance said. But he was curious about data showing infractions on Fridays compared to other days of the week.
And so the decision was pushed to another day and another workshop, when the administration would present that additional data.
Conklin cautioned that if the board were to stick with its current policy, without changes, "that presents itself with challenges. So whatever we do do decide, if we decide to move forward in any way, I think that we need to be exceptionally purposeful in that."