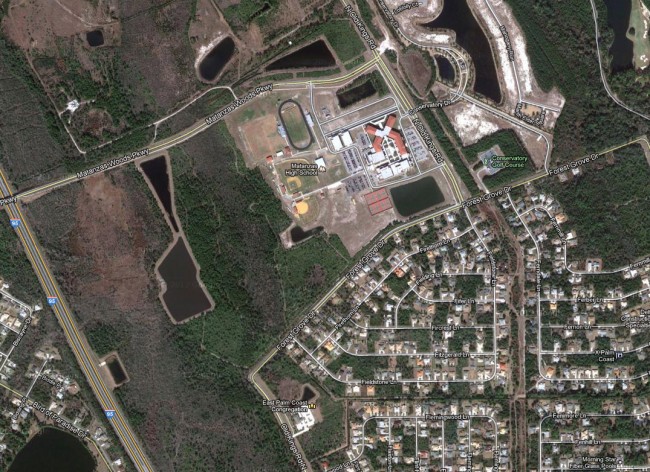 Last Updated: 9:50 p.m.
9:15 p.m. Update: Code Red was cancelled, and the man deputies have been searching for since 6:30 p.m. was found just after 9 p.m., according to Flagler County Sheriff's Spokesman Bob Weber.
"He is in custody at this point," Weber said. "We were unable to locate a weapon on him." A K-9 unit was going to search the surrounding woods to locate a weapon, if he was indeed carrying one. The man knew he was being searched for, and had laid down in the woods. He will be Baker Acted, once his debriefing with sheriff's investigators, which was ongoing at 9:15 p.m., is over.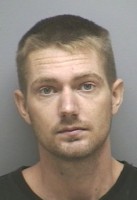 The man is Aaron James Dorris, 29.
"I don't know if we're going to have charges on him at this time," Weber said.
Tonight, after an intense manhunt that left Palm Coast's F Section on a knife's edge, Dorris was located in the area of Fitzgerald and Fieldstone Lanes, several streets southeast from the crisis-point of origin at 18 Forest Grove Lane, and he surrendered peacefully.
There was a remarkable twist, or pre-twist, to the story: earlier in the day, sheriff's deputies had been dispatched to I-95, where they picked up Dorris, who had been sleeping on the side of the highway. They brought him home, Weber said.
"It was successful in that no one got injured, the suspect didn't, nor did any of our deputies. It was good teamwork," Undersherrif Rick Staly said. "We established a good perimeter and with the support of Volusia County Sheriff's Air One helicopter, they were able to spot him."
Air One's FLIR system played a key role in the operation. The acronym stands for Forward-Looking Infra-Red, which allows the electronic eye to look for heat sources. That gave Dorris away.
The operation was under the command of Commander Paul Bovino, newly elevated to head the sheriff's office's patrol division, with Staly arriving at the scene after he left a gathering with retired cops. Bovino also heads the department's 23-member SWAT team, which was in action this evening. Working in the operation's favor was the coincidental timing of the first call, which occurred around the time when shifts change. So Bovino was able to hold on to deputies from the previous shift in addition to the new shift's deputies, adding to manpower.
Bovino, Staly said, did an "Outstanding job. Our entire SWAT team and our deputies did a phenomenal job. This is what they train for, and they saw that their training pays off." He added: "You train for this hoping you'll never have to use it. But this is why you train."
A baseball game at Matanzas High School had to be cancelled because of the incident, which unfolded within sight of campus.

Earlier: The Flagler County Sheriff's Office launched a significant and urgent manhunt at 6:30 p.m. in Palm Coast's F Section, around Forest Grove Drive, after reports that an armed, mentally ill man began circulating. The man, later identified as Aaron James Dorris, was believed to be hiding in the woods behind 18 Forest Grove.
The man is described as a white male, 30, wearing gray jeans, no shirt, with some tattoos. In a reverse-911 call, residents of the area were urged to stay indoors in a so-called "Code Red" situation, their doors locked. The man is carrying a semi-automatic pistol, Undersheriff Rick Staly said.
Flagler County Fire Flight, the county's emergency helicopter, is involved in the search, which is taking place around Forest Grove and in the woods north of that street, toward Matanzas Woods Parkway. Law enforcement and Flagler County Fire Rescue unit have set up a major staging area at the school, where a command post is also set up.
"At this point we're trying to contain the area," Staly said. "We're activating our negotiating team to come out and try to communicate with him." As of 7:30 p.m., there was no contact with the man, whose identity is being withheld as the case may turn into a Baker Act situation, when the individual is apprehended and sent to a mental health facility in Daytona Beach.
There are fears, however, that the man intends to harm others and himself. That triggered the reverse-911 call. "It's an awareness call just that this is an ongoing situation," Staly said. He added that the man was not in a house at last report, but either hiding in the woods or, possibly, beyond those woods by now.
If anyone sees anything, "anybody who looks suspicious," Staly said, they should immediately call 911, and not intervene.
Evacuations are possible in the immediate area of where the man is believed to be, but haven't been confirmed. "If there are nearby houses to where he is at, then that would be something that we would normally do," Staly said. "The last update that we had we think he's in the woods behind that house," at 18 Forest Grove.
A sheriff's office news release issued at 8:04 p.m. states that "Initial reports received by the Sheriff's Office indicated the man may be suicidal and may have stolen a relative's gun."
Some roads have been closed, but those are primarily residential, secondary roads, Staly said, though Palm Harbor Drive and Forest Grove are affected, as is the approach to Matanzas Woods from Old Kings Road. At 7:45 p.m., the Palm Coast Fire Police was dispatched to control and reroute traffic in those areas.
At 8 p.m., Volusia County's Air One helicopter relieved Fire Flight, whose crew had been on since 8 a.m., flying several missions on firefighting missions. The Flagler County Sheriff's SWAT team was also involved.
Flagler County's emergency crews had their hands full Monday evening: aside from the Forest Grove situation and the Route 11 fire, which had occupied half a dozen units over the weekend and into Monday, along with Fire Flight, a vehicle fire on I-95 south (at mile marker 296) charred a car there at 8:15 p.m., requiring the response of fire units and fire police personnel. That fire was brought under control at 8:29 p.m., with no reported injuries.