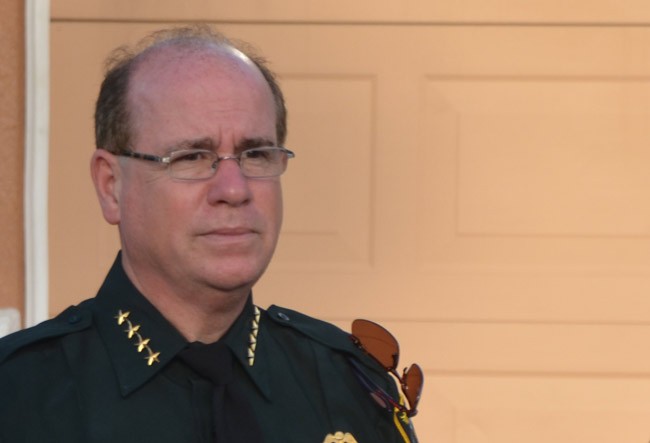 Last Updated: 6:06 p.m.
Meeting in Tallahassee this morning, the Florida Ethics Commission voted 6-1 to find probable cause that Flagler County Sheriff Jim Manfre violated the state's ethics laws on three counts.
The three counts relate to issues early in Manfre's tenure: several trips out of state in Sheriff's Office vehicles, accepting and not reporting a gift of more than $100 in value, when he stayed at a time-share type of accommodation in Tennessee owned by then-Undersheriff Rick Staly, and Manfre's use of a Sheriff's Office credit card for personal purchases.
The commission advocate had recommended finding probable cause on all three counts (no probable cause was found on a fourth count). Today's action by the commission ratifies that decision.
Manfre doubled down: he disputes all charges, has rethought the wisdom of having at one point agreed to a settlement that would have reduced the charges to just one, and now intends to fight the charges all the way to a court of appeal if necessary, saying he violated no laws, no rules and no procedures.
"As your sheriff I do take full responsibilities for my all my actions and do acknowledge that I could have made better choices," Manfre said at a news conference this afternoon, reading from a statement and at times sounding more emboldened than chastised by the commission's findings. "However, I never violated any law, internal sheriff's policy or practice. Let me reiterate: I have not violated any policy, practice, procedure or law. I'm sorry and apologetic for the distractions that this has caused the community and the sheriff's office."
Though he apologized three times, the apology was not about his conduct, but about "this process," and the distraction it was causing–an apology that in essence amounts to a different form of blame for whoever triggered the process in the first place.
Manfre said the issues took place early in his tenure, following which he directed his staff to prevent the issues from occurring in the future. "Had best practices been in place at the time I took office, none of this would have happened," he said, opening a line of reasoning that would again and again shift what blame there is for the missteps, or perceived missteps, on his staff or the office's previous occupant: the former sheriff, Manfre's finance director, his undersheriff, his director of policies and procedures, all of whom are no longer at the office. One was arrested soon after Manfre took office (the director of policies and procedures). One filed the ethics charge and a federal lawsuit against him (Linda Bolante, the finance director). And one is likely to run for sheriff against him (ex-Undersheriff Rick Staly). Ex-sheriff Fleming has already announced that he is running.
"These were practices," he said, placing the responsibility on the previous administration for "not having proper, written procedures in that I could have then looked at and then acted on." Fleming said he wasn't ready to comment today, but noted that what procedures were in place in his tenure had been inherited from Manfre's before him–in other words, that Manfre was acting on his own first tenure's procedures.
For all his defiance–and his sense of assurance that he will be vindicated–the issue makes Manfre's efforts to win another term in 2016 more difficult. He had campaigned in 2012 primarily on an ethics platform, organized and attended two mandatory ethics training sessions for all agency personnel, and launched an acronym to define his tenure at the agency: AIR, which stands for Accountability, Integrity and Respect. The acronym appears on many sheriff's documents, including the daily commanders' reports. The sheriff's drive for ethics was inspired by his predecessor's issues with the ethics commission, as Fleming, too, had been the subject of an ethics investigation that resulted in a $500 fine, though that matter, involving just one count, was less serious than the charges Manfre now faces.
There will be no jury trial in the ethics matter at hand.
"The next step is to determine whether or not a violation of law has occurred," Kerrie Stillman, the commission's spokesperson, said in an email. "The Sheriff can choose to enter into a settlement agreement with the Commission Advocate that would then be considered by the Commission at a later date; or, he can request a public (full evidentiary) hearing before an Administrative Law Judge (ALJ) at the Division of Administrative Hearings (DOAH) where the ALJ's Recommended Order will be considered by the Commission at a later date.
"Ultimately, if he is found in violation of the law(s) he would be subject to a range of penalties that can include: public censure and reprimand, suspension, and removal from office, impeachment, suspension from office, forfeiture of no more than one-third of his or her salary per month for no more than 12 months, restitution, or a civil penalty not to exceed $10,000. The most common penalty recommended by the Commission is a civil penalty. If there is a public hearing before the ALJ and a violation is found by the Commission, the Sheriff can appeal that decision to the District Court of Appeal."
The commission advocate last year had recommended a settlement, eliminating two of the three charges, and recommending a fine of $1,500 against Manfre. Manfre himself agreed to that settlement even as he disputed its merits. But when the recommendation went before the full ethics commission last December, commissioners were displeased with the settlement, finding it improper, if in fact the violations, including the dismissed violations, had taken place. The commission asked for a renewed and more detailed investigation.
The result of that investigation led to the original conclusion: that Manfre appeared to have violated ethics laws on three counts. The advocate this time submitted a recommendation of three violations, without settlement.
Today, one commissioner argued that it wasn't the place of the commission to second-guess Flagler County's voters. Other commissioners countered that the commission was not delving into Manfre's future, but addressing only matters relating to ethics issues.
Manfre today maintained, even regarding the credit card use, that in every case, he was on official business, and he was following what he thought were procedures in place at the time. He said his finance chief at the time, Linda Bolante, had never told him that what he was doing was irregular.
"And at the end of the day we're talking about $200 over four different official visits," Manfre said. "And by the way, that procedure that I am talking about is utilized by the city of Palm Coast and the city of Daytona Shores, that exact procedure, where employees are allowed to use their credit card for personal expenses, and those personal expenses are then deducted from their per diem. So this is not an unusual procedure. Is there a better practice? Absolutely, and as soon as the auditors indicated to me that they had a problem with this procedure, we changed the procedure."
Manfre was not correct about Palm Coast's policies. "Palm Coast does not allow personal expenditures on the City purchasing card," Cindi Lane, the city's chief spokesperson, said this afternoon. "The purchasing card can be used for approved business expenditures only."
A commissioner today said that Manfre was essentially asking his underlings to police him. "I'm not asking them to police me, I'm asking them to tell me what the law is," Manfre said. "I do not know every single practice and procedure that goes on in this place. It's impossible. We have 1,200 pages of policies and procedures. But before we do anything I check to see what is the policy and procedure. I asked Ms. Bolante, what is the policy on the credit cards. She said to me very clearly–and where would I come up with this in any other venue–she said, take your credit card, we'll deduct your personal expenses from the per diem. It seemed reasonable to me, it didn't seem illegal, it didn't seem fantastic."
But as he'd say several times in the same sentence, he'd speak of taking responsibility while simultaneously shifting responsibility to his subordinates. Even in matters of "common sense," raised by the ethics commission's investigation and the advocate's findings, Manfre said there's no law that refers to these common-sense practices. "I used the practice that was in place at the time, calling the ethics charges against him "a complete made up position that the ethics commission has taken, and that's why we're going to prevail before the administrative law judge, and if not there at the DCA, the district court of appeals, because there's no legal basis for these charges."
Then Manfre said something that would stun a rookie deputy: "Reasonable notice requires that I need to know that what I was doing is inconsistent with law. It is different from the public where you're assumed to know the vehicle traffic laws, you're assumed to know the criminal traffic code. It is different when it comes to ethics commission violations. You have to prove that the person had knowledge or reasonable notice of what he was doing was wrong. That's the standard."
Manfre was saying that ignorance of the law is a defense–a claim the investigative report, the commission's conclusions and a history of innumerable fines and penalties levied for ethics-law violations all dispute.
One of the charges relate to Manfre's alleged failure to file a gift report after staying at a cabin owned by Staly. Manfre says it isn't true that Staly had cautioned him against using the cabin without considering it a gift that must be handled in accordance with ethics rules. Manfre says he and Staly found out that it was such a gift at an ethics training session, following which he filed a gift report that showed he stayed for three days for just under $100. The actual cost of the venue was larger than that, running higher than $100 a day. "The value of it is something I do disagree with the commission about," Manfre said.
The news conference lasted 25 minutes. The longer it wore on, the harsher Manfre's characterizations of former employees became. He called Bolante "very hostile" to him from day one, characterizing her as an ardent supporter of the former sheriff and revealing the depth of disdain he says he encountered when he took over: "I made that call, I should have let her go, because hostility was prevalent throughout the agency toward this administration," Manfre said. "I thought I could turn her around. I obviously was wrong."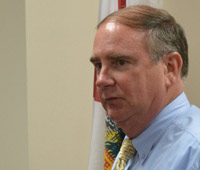 But he reserved his harshest words for Staly, a man he'd previously characterized as a trusted colleague and fellow-Rotarian. Staly, speaking to the News-Journal's Tony Holt this morning, said Manfre has "a history of financial problems, I think that's why he makes bad decisions, like a criminal does."
"Well," Manfre responded, "Mr. Staly has a history, and again I take responsibility for hiring him here, Mr. Staly has a history of undermining the sheriffs that he worked for. He did exactly the same thing to Kevin Barry in Orange County, and then ran against him as a Democrat. There isn't anything that Rick and I disagreed on, on any of these issues." The investigative reports paint a different story, however, positioning Staly in opposition to some of the sheriff's decisions, and Staly himself in an email contradicted the sheriff regarding the credit card usage, of which he had no knowledge "until Linda Balante brought one to my attention about improper purchases and then we told him he couldn't do that and had to pay it back and he wanted Bolante to take the blame."
Manfre continued: "Rick used my friendship with him to garner a position in this agency and then spent two years undermining me to further his ambitions of running for sheriff. So his credibility is pretty low. I do not have any financial difficulties at this time and he should be ashamed of himself. He really should."
Before boarding a plane this morning on his way to New York, Staly anticipated the news conference and expected to be criticized. He did not hold back himself. "He's an attorney and attorneys are trained that when there's no defense, they attack the witnesses," Staly said of Manfre. "Hopefully I'm wrong and when he does this press release he doesn't attack Linda Bolante and myself." Of the commission's findings, Staly said: "The ethics commission did their job, they got it right based on the investigation and I think the investigation stands on its own merit. It's disappointing for the agency and the citizens of Flagler County that again we have a sheriff that has ethical issues."
The attorney costs for the case so far have been underwritten by the sheriff's office larger insurance policy. But from this point forward, Jim Troiano, the sheriff's spokesman said, all legal costs will be assumed by Manfre personally.