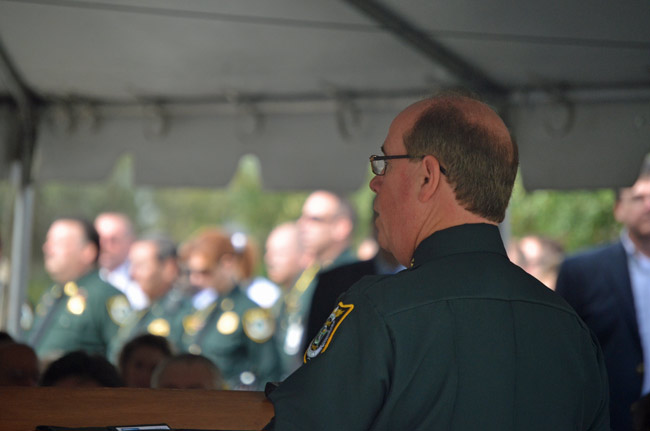 Flagler County Sheriff Jim Manfre issued the following statement this afternoon (May 20) in support of the June 7 tax referendum proposing to increase property taxes to support programs in the school district. See the box below for links to details and other perspectives for and against the referendum.

"Liberty without learning is always in peril, and learning without liberty is always in vain." So said John F. Kennedy. It is without question the great innovation of the American experiment that all
children are to receive a publicly supported education. This concept has kept our country on the forefront of technological advances for two centuries. It is even of greater import today when we are
faced with determined competition from abroad in the areas of technological innovation. The country that wins this battle will be the next superpower.
It is obvious for our community to continue to compete in a local and global marketplace that we must attract good, clean businesses to our county. We must be able to provide potential companies with the educational resources and the educational system to attract them to our beautiful surroundings.
The June 7 referendum is a chance for the community to once again express its intention to provide a world class educational system to its children. As one parent, my children have benefited greatly from our educational system with my daughter now attending the University of Virginia Masters in Business Administration program and my son who just recently graduated from Georgia Tech, starting his own high tech company.
There is also a law enforcement component to this referendum. First, adding back 45 minutes to the classroom means that students would be released closer to 3:30 each afternoon rather than being released in our community at 2:30 p.m., hours before most parents are home. Second, keeping Everest, the alternative school for at-risk students, open is imperative. Without this alternative, these young adults would most likely end up on our streets with the potential to commit additional crime and without the educational and mentoring opportunities that may prevent recidivist acts of crime.
Third, the passing of the referendum would ensure that as sheriff I am able to provide resource deputies to the elementary schools. This would ensure the safety of our most vulnerable students while giving them opportunities to receive anti-bullying, drug and alcohol messages from the resource deputies.
It is my hope that as Sheriff and as a parent of a 16-year-old who is receiving a terrific education that will prepare him to compete globally, that you will carefully consider all the views on this issue
and cast your vote for the future of this community.