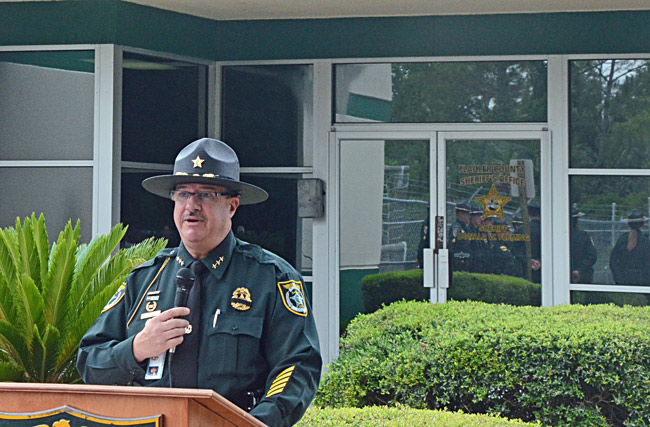 Last Updated: 6:11 p.m.
Flagler County Sheriff Jim Manfre this morning fired David O'Brien, his senior commander and the sheriff's office's former chief deputy.
It was a stunning turnaround for O'Brien, 49, who was appointed Manfre's chief deputy during Manfre's first tenure as Flagler County Sheriff a decade ago–a position he again rose to under ex-Sheriff Don Fleming, after he was exiled to the county's west side–and who was one of two candidates Manfre had short-listed in December to be his undersheriff. Until then, Manfre spoke of O'Brien in glowing terms. O'Brien had also helped Manfre through the transition before and after the election. Manfre finally opted to name fellow-Rotarian Rick Staly as his undersheriff.
O'Brien's firing is the latest shock to roil the agency since Manfre took over: within hours of his first day, he had fired two long-standing senior officers (then-Majors Steve Clair and John Plummer), demoted a slew of others and shuffled yet others to different jobs, some of which were not demotions but felt like it, because of the nature of the job. (An administrative grievance Clair filed to contest the firing was recently dismissed. But other grievances have been filed, including by deputies Gerald Ditolla and Jamie Roster).
"We haven't fired him yet," Manfre said this afternoon of O'Brien. "He's on administrative leave at this point, and he's making a decision that he has to make." But in effect, O'Brien was fired: he is determining whether to accept retirement, as was the case with Plummer's firing, or to go the route of being fired outright. Plummer was older, and his career in its sunset. O'Brien's career is in its prime. He could not be reached Wednesday afternoon.
[March 8 update: O'Brien opted for the retirement option, sending in his retirement letter to the sheriff's office Friday morning. The letter read, in part: "It is with a heavy heart that I have made the decision to retire from the Flagler County Sherriff's office effective Friday March 8, 2013." See the full letter below.]
Manfre was asked what prompted the swift turn-around of his opinion of O'Brien. "During the transition period we'd gotten a lot of feedback from inside the agency that David was not effective as a leader," Manfre said. "The mitigating factor was that he'd worked for me before and I gave him an opportunity to show me that those criticisms of him were incorrect. What I found out was that those criticisms were spot on."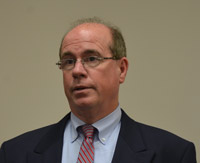 Manfre cited one specific, immediate example that he said was "the final straw." On Tuesday, sheriff's deputies served a warrant between 3:30 and 4 p.m. in western Flagler County on a key drug case, after holding a briefing at 3 p.m. At 1 p.m. O'Brien left a message on Staly's phone. The two men spoke at 2 p.m., when O'Brien, according to the sheriff, said he was going home, for being tired.
The incident, Manfre said, summed up administrative shortcomings that were detailed in two memos, totaling seven pages of single-spaced type, by Rick Staly, outlining numerous issues with O'Brien's performance dating back to the transition period, before Jan. 8. One is a Feb. 15 performance review addressed to O'Brien. The other is a March 5 memo to Manfre that recommends his firing.
O'Brien, in a brief interview late this afternoon, spoke only graciously of his years with the sheriff's office and his colleagues there, and pointedly declined to criticize Manfre or discuss the firing or the two memos.
"It's been an honor, a great honor for me to be able to protect the people of Flagler County for the last 29 years," O'Brien said. "I look forward to the next chapter in my career, and whatever that holds, public service is something I admire and I respect." He said he hopes to remain in the county as a public servant in one capacity or another.
O'Brien added: "I've served under four sheriffs, and I understand that those who are in my industry are always subject to the political arena. I admire the people that I've worked for and with for 29 years. I formed great relationships with men and women within the Flagler County Sheriff's Office, and I will continue to be friends with them."
By late afternoon, the sheriff's office was releasing copies of the two memos to all local media. Absent an examination of O'Brien's personnel file covering the last 29 years (the file has been requested but won't likely be available until Thursday), the Feb. 15 and March 5 memos were sharper reflections of the new administration's philosophy, management style and expectations rather than a judgment on that career. As such, they may well reflect the sheriff's and Staly's distinctly more severe, and less compromising, approach than under the previous sheriff.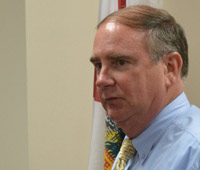 "While Sr. Cmdr. O'Brien has shown some improvement in some areas such as notifications and response," Staly wrote in the March 5 memo, "he continues to miss deadlines and does not seem to comprehend the urgency of assignments and agency needs and expectations. The quality of his work product is substandard and unacceptable and does not meet expectations of individuals at the executive staff level."
Staly concludes: "I have directly supervised Cmdr. O'Brien for almost sixty days and it has become obvious that he is either incapable or unwilling to perform at the executive level. As such, I recommend his appointed position as Sr. Commander is revoked immediately. I further recommend that the Sr. Commander position be eliminated and replaced with a commander position."
Lt. Paul Bovino was appointed interim commander at the head of the patrol division. Bovino, formerly a captain, was among the individuals demoted a few weeks ago. He commands the SWAT team. "He is just someone who is talented and who is a rising star," Manfre said. "We'll see how he performs as the interim, then we'll make a decision."
Manfre insisted that there was nothing political about the firing, and pointed to Bovino's appointment, saying Bovino had not supported him during the recent election (Bovino remains neutral in political races).
Staly's memos are nevertheless at odds with at least one aspect of O'Brien's tenure: his previous rise under Manfre. Why the contradiction? "I guess eight years under the former sheriff," Manfre said.
Staly's issues with O'Brien focused on managerial matters, which suggests that O'Brien could have been returned to a non-managerial position, as is often the practice with employees who fall short of a new management team's expectations. That was, in fact, briefly considered. But Manfre finally ruled against it. "The higher up you go, there is really no turning back," Manfre said. "He'd been the chief deputy and the senior commander. To demote him to another position at this point would have been counter-productive for the agency." Manfre went on to personalize the firing: "It's not only difficult because I had a relationship with David but because I had a relationship with his wife as well," he said, referring to Milissa Holland, the former county commissioner. "This is certainly not a political move. This is a performance move."