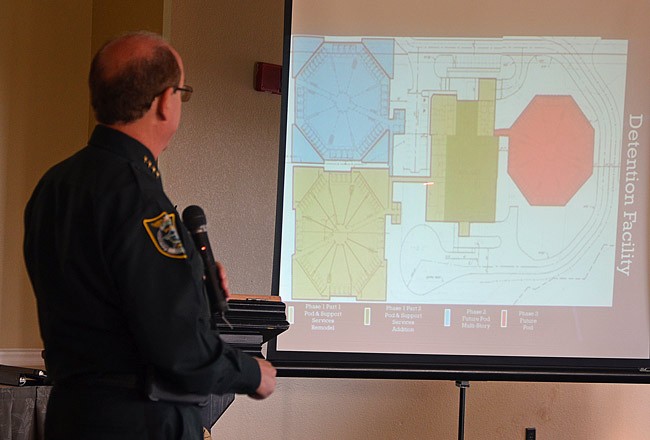 It's an odd paradox. Crime is down in Flagler County, and significantly so: it's gone down 20 percent in 2013 and 2014, and another 6 percent in the first quarter of the year, according to Sheriff Jim Manfre, who addressed a breakfast group convened by the Flagler Chamber of Commerce this morning in Grand Haven. Relatively new diversionary programs are also working, keeping some minor offenders out of jail when they can't afford bail, or diverting others to mental health programs.
Yet jail bookings are not down, and the 130-bed county jail, whose average daily population is closer to 160, by year's end will be replaced with a 400-bed jail. Many of those additional beds are not expected to remain empty, though Manfre says it won't be his intention to fill them. But the Flagler County Sheriff's Office will be needing additional corrections deputies. The sheriff says he hasn't yet worked out the numbers.
"We're going through our budget right now," he said in an interview after his presentation. "It's really a matter of do we need more people in the front end, not the back end. Because of the way the new jail is set up, it should be pretty much neutral as far as what we need, but again we haven't increased our manpower in five years." He stressed: "That would occur whether we built a new jail or not."
So what explains the significantly lower crime rate—and lower crime tallies overall—and the need for more manpower? "It's a paradox, but the fact is the stats are the stats: we have more people coming through the facility, but the crimes are decreasing," Manfre said.
With additional manpower will come additional costs. The $20 million jail being built right now, adjacent to the older jail—which was built in 1992—will have 270 new cells. The existing jail's 130 beds will be converted into a female-only block, finally enabling the separation of serious and minor offenders. Construction costs are covered by revenue from the county's sales tax supplement. That revenue may not be used to run the jail. Those costs must come out of general revenue, which is driven by property taxes. The current sheriff's budget does not have room for additional manpower. It'll have to increase when the sheriff makes his request for additional deputies later this spring. That means tax revenue will almost certainly have to increase to cover the additional cost. That cost factor was not part of the discussions two years ago, during the planning stages for the new jail.
---
Flagler is about to nearly triple the size of its jail even as crime continues to fall steeply.
---
(The new budget year begins in September. Construction of the new jail should be almost complete by then, but the move-in date is not until around January. The sheriff will be moving into the department's new operations center in Downtown Bunnell by early September, however.)
"Right now the expansion of the jail will not require additional manpower," Manfre said. "The simple reason is that it's more efficient than what we have now." The jail design is such that the octagon-shaped cell block will enable better control mechanism without requiring more deputies. The visitation area, such as it is today, will be eliminated and replaced by video-linked visits only, which will reduce the need for some manpower. The new booking area will also be more efficient.
"The issue is not increasing detention deputies because of the expansion. I don't see that at all," Manfre said. "We've gone through the numbers, we're pretty certain we can keep that. The problem is our prison population is increasing. We haven't increased the amount of detention deputies in five years. So we need to increase detention deputies just because we have more prisoners. We haven't determined how many new detention deputies we're going to need. But right now the prison population is increasing just because the population has gone up by 6,000 people."
Yet the average prison population, the sheriff also acknowledged, has hovered around 160 for the past four years or so, even as the county's population has increased by several thousands, past the 100,000 mark—and crime has fallen.
"We're arresting people quicker before they commit more crimes. It's a small group of people who commit the preponderance of the crimes," the sheriff said.
Manfre's 40-minute presentation to the chamber's Breakfast and Issues audience of about 40 people provided an overview of what the new jail and the new operations center will look like when finished. The operations center, he said, will finally give the Sheriff's Office an autonomous Crime Scene Investigation area. The 12-member detective bureau will have 16 work stations, providing room for growth. The evidence room will abandon its 19th century look and move into space five or six times larger, with refrigeration capability for some of the evidence, what Manfre termed "a great leap forward" (surely without meaning to make a connection to Mao's massive modernization campaign of the same name, which proved deadly.)
Another key improvement in the new operations center and the way it interacts with local agencies will enable the office to treat domestic violence victims with more privacy and care, ensuring more willingness among victims to then cooperate and testify in the subsequent cases. That's being enabled with cooperation from the Family Life Center, the county's domestic violence shelter, and a dedicated room, with a separate entrance for sexual assault victims, at Florida Hospital Flagler. (The Florida Hospital Foundation authorized funding for that facility.)
Manfre focused especially on the lower crime rate. "Especially for attracting businesses, this is something that we really need to promote," Manfre said. "Flagler County is one of the safest counties in the state of Florida. It's not because Jim Manfre is telling you that, the statistics show that."
The average crime per 100,000 in the United States is 367, in Florida it's 476. In Flagler County, it's 294.
"One crime is too many," he said, "but my point is we're living in a very safe place. I'm not telling crime don't go on, and the media reports it, as they should, but people tend to see some things that happen and think that it's out of control. Actually our crime has gone down over 20 percent in my first two years, and in this first quarter it went down another 6 percent. So we live in a safe community. We should broadcast that when we're trying to attract people to our community."
It was a quiet audience: the only question the sheriff got from the floor, other than a reporter's question, was about the future of the Palm Coast Precinct, at City Market Place. Last week, Palm Coast City Manager Jim Landon spoke unflatteringly the new owner of City Marketplace, Palm Beach Gardens-based-John C. Bills Properties, which he said has driven out a lot of tenants with higher costs and heavy-handed measures. Manfre was no more flattering: the Sheriff's Office, he said, is still in litigation with the property owner, refusing to pay those additional costs, which jumped 212 percent.
"I'd like to stay there, but I'm not going to be held up by some South Florida developer," Manfre said this morning. "So he's either going to agree and be reasonable, or we'll find another place to go."