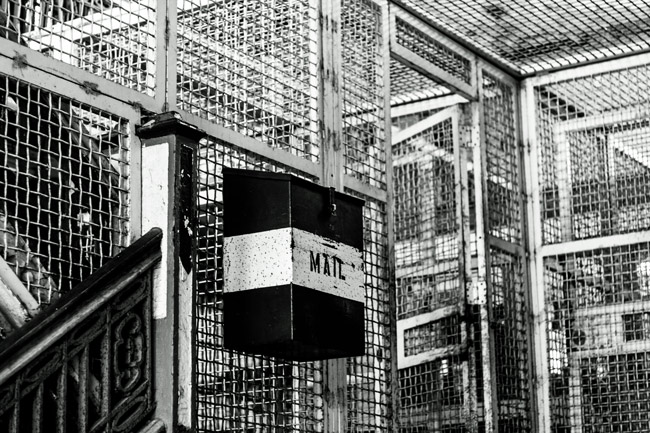 Responding to a lawsuit filed by the Florida ACLU, Flagler County Sheriff Jim Manfre has rescinded a policy that for the last two years prohibited inmates at the county jail from receiving letters at all, or writing letters longer than two pages.
The ACLU cited Manfre in its lawsuit. But the restrictive policy was instituted in January 2011 by then-Sheriff Don Fleming, who claimed it was needed because guards were having to spend too much time reading mail before clearing it to its destination. Few prisons and jails, however (including Florida's state prisons), have any such restrictive policies, and judges have routinely—and harshly—struck down restrictions on inmate mail, including inmates' freedom to use obscenities (another prohibition under the Fleming regime).
In effect, Manfre returned to his own mail policy, as it was implemented when he was sheriff between 2001 and 2004. That policy allows inmates to write and receive letters, in envelopes, of unlimited length. It allows inmates and their correspondents to express themselves freely, up to and including the use of obscenities, which are not unusual for incarcerated inmates who have few other avenues to express their frustrations. Most of the inmates have not been sentenced, and are presumed innocent until then. (Read the ACLU lawsuit here.)
The restrictive policy was rescinded "within a day we found out there was an issue," Sid Nowell, the sheriff's office's attorney, said this morning. "We didn't even know there was an issue." The ACLU filed the lawsuit without having direct communication with Manfre. "They courtesy-copied me a copy of the complaint but we've never officially been served," Nowell said, "and once the sheriff became aware of it he immediately had a couple of us have a look at it and concluded it was problematic."
The sheriff's office since Manfre took over has been taking a top-down look at all its policies and procedures, rewriting many, amending others. The jail mail policy is being rewritten as well, though Nowell said the ACLU suggestions and current practices are not far apart. One bone of contention: the ACLU is wanting no prohibitions on the use of obscenities inside or outside envelopes. The sheriff's office, for now, is drawing the line at envelopes: it does not want obscenities written on the outside. "We felt this was a little bit too much at this point in time," Nowell said.
There is also a question over who should pay the costs of the litigation the ACLU started, and whether Manfre should sign a consent decree settling the matter. "It's a consent decree which is essentially an agreement that's court-ordered and contains terms and conditions," Nowell said. "It sounds ominous, but it really is a sort of standard operating procedure on this sort of class action procedures, but what our concern was is that it would appear that Sheriff Manfre had done something wrong," which is not the case. "They want to be able to prevent future sheriffs from re-implementing some sort of policy that might be constitutionally protected."
As for the court costs, the sheriff's office and the ACLU are negotiating a waiver.
Meanwhile, mail can still be read by jail authorities, and they do have the discretion to censor content, "but that has to be exercised very carefully in light of first amendment issues," Nowell said. There will be more demand for man-hours to once again read the mail, though a jail with 150 revolving inmates doesn't produce a flood of daily mail.