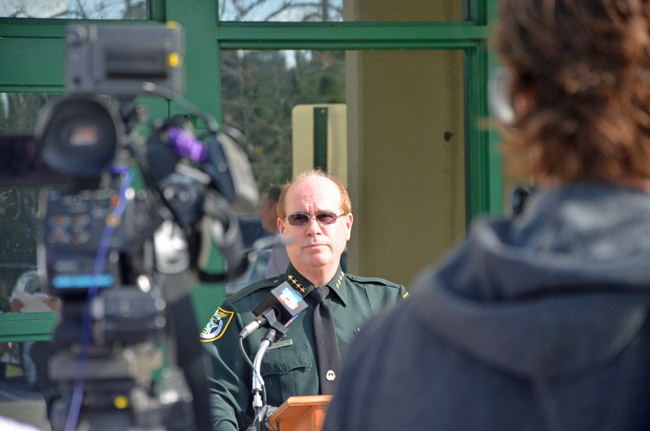 On Thursday the News-Journal's Tony Holt reported that Flagler County Sheriff Jim Manfre has not secured his law enforcement firearms qualification well into the second year of his four-year tenure–though a sheriff is not required to have the qualification. (The story is behind a paywall.)
By noon Friday, Manfre had secured his qualification, passing two tests with two weapons, with Jim Troiano, director of operational support at the sheriff's office, signing off on the tests.
Manfre had attended a week-long training session in mid-July. There are conflicting reports about whether Manfre sought his qualification there. Sheriff's Spokesman Bob Weber told the News-Journal that the sheriff did not seek the qualification at that training session, that he was there merely to get some shooting practice. Others familiar with the day's events say he took and failed the test.
That contention, Manfre said Friday, is "a salacious accusation." When he spent a week training, as all deputies were required to do, "It was not my intent to go out there to qualify. If it was I would have spent the week before practicing for the qualifying protocol."
Gun issues have been somewhat of a sore point around Manfre, whose own troops, some of them since fired or laid off, have criticized him for wearing a uniform and carrying a firearm without a qualification. He is the only sheriff in Florida not to have been a sworn law enforcement officer before taking office in January 2013, though being an officer is not a requirement for the job anymore than a certain IQ is a requirement for other elected positions. When he was sheriff between 2001 and 2004, Manfre did have his qualification. Flagler County Sheriff's deputies are required to renew their qualification every two years.
The dissemination of information from the training session had its intended effect, embarrassing the sheriff. Manfre refused to speak to Holt about the matter, directing him to Weber, but by Friday morning, when the sheriff appeared on WNZF's Free For All Friday with host David Ayres, he was willing to address the matter.
"Looks like you're dressed for some outdoor duty today, what's with that, what's going on with you, what's your schedule today?" Ayres asked him.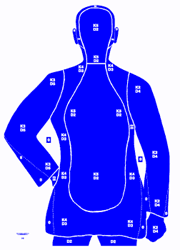 "Well," Manfre answered, "obviously there's been an issue come up about my qualifications at the gun range. I'll tell you I grew up with a gun in my hands, my dad is a hunter, so I'm very comfortable around guns. In my first term I qualified both times. The law simply does not require constitutional sheriffs to have to require–to qualify, but I think it's important that I'm proficient at a weapon and I intend to go out and qualify today. I have a two-year period to do that, so this opportunity today at the gun range was available, and I'm going to go out and do that." (Manfre was overstating the case of his youth with guns: he grew up in New York, where, unlike youths in the rural South, youths' access to guns and opportunity to shoot them are limited.)
In an interview later today, Manfre said that even though the constitution does not require him to have the qualification, "the public should require, and I need to have an obligation, to be proficient in the weapon that I carry. It's what we tell everyone who carries a weapon, whether it's a deputy or a resident." And, he added, "I'm comfortable with the weapon. If I felt I needed more practice I would have done it sooner."
Manfre took the shooting test today at the Flagler County Gun and Archery Club. "I did everything today that I would have with a normal deputy sheriff," Troiano said. "I told him right up front this is going to be a qualification course. As a matter of fact, we had a practice round, and he said can I count that, and I said no."
One course was with the standard issue Glock 22, the 40-caliber weapon issued front-line deputies. The second course was with the Glock 27, a more compact version of the weapon that's issued to commanders, detectives and undercover cops. "It's a smaller handgun, the one you normally see him wearing on his belt," Troiano said.
Manfre had to shoot 80 percent or better in both courses. In the first course, he scored 34 out of 42 rounds fired, shooting at a blue silhouette from certain distances: Six rounds in four seconds at a target two yards away (shooting two rounds, pausing, two more rounds, and so on). Then six rounds from the three-yard line, then six rounds from the seven-yard line, and again six rounds in two five-second increments. He then had to shoot 12 rounds in 45 seconds before ending the sequence with six rounds in 30 seconds from the 15-yard line.
The second course was similar, with fewer rounds. He shot 18 times, had to hot the target 14 times. "All we'd want him to do is obtain that threshold," Troiano said. The gun has to be reloaded as the course went on. The sheriff had to be proficient with fixing malfunctions, safety issues and compliance with the department's use-of-force protocol. "We were out there for several hours, and as a certified firearms instructor," Troiano said, speaking of his 18 years' experience, Manfre "passed without an issue." Manfre's documentation will only signal that he passed. It will not reflect his score, Troiano said.
In his first term as sheriff, the range master during Manfre's qualification was Greg Weston, Holt noted in the News-Journal article. Manfre laid off Weston early in his second tenure. Weston has since been openly critical of the sheriff, and told Holt that, while acknowledging he had a grudge, Manfre "has 'no business' carrying a gun and described him as uncoordinated and careless with the weapon." Weston claims he signed off on the qualification at the time "under a level of duress."
This morning on WNZF Bunnell Police Chief Tom Foster offered to give Manfre a little training before the course.
"Sheriff, I'm going to barter with you right now, since we're in a financial crisis," Foster said, referring to Bunnell's budget deficit, which forced Foster to reduce his department's expenses by 40 percent through lay-offs and the cut-back of administrative staff's hours. "I will take you out there, I will give you one-on-one training. If I can get my daughters to shoot the way they shoot, I can get anybody to shoot. However there's a catch. I'm going to need a thousand rounds."
"We'll talk about that," Manfre said.