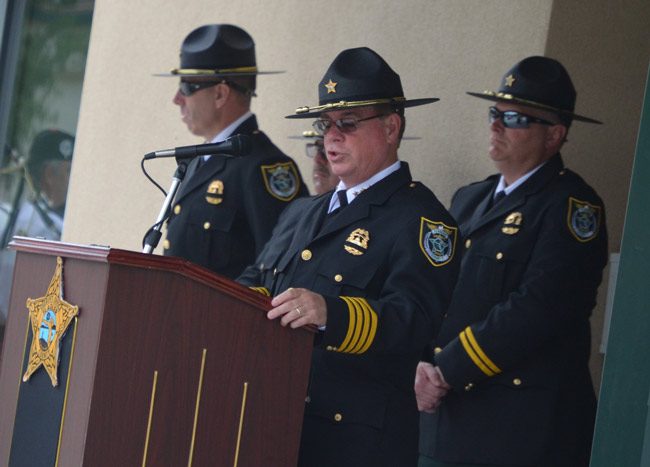 Flagler County Sheriff Jim Manfre has not appealed the Florida Ethics Commission's latest judgment against him after all: that deadline passed on Friday. That means Manfre will concede to a $6,200 fine and a public reprimand and censure that the ethics commission approved on April 15.
"We'll be issuing a statement later today," Manfre said early this afternoon when asked about his lack of appeal. He would not go further until the statement was to issued at 4:25 p.m.
"I have given the ethics matter a great deal of thought and have finally decided not to appeal the decision, one I would like to put behind me once and for all. I have made this very difficult decision on advice provided to me by my family and close personal supporters," the statement, issued through the sheriff's office's public information office, read. "I believe strongly that based on the circumstances in this case, ones that have been unfair, unjust and far-reaching, that I would have prevailed at the district court of appeals. Although it is in my nature to fight against injustice, there is also wisdom in knowing when to move on."
It is the latest in a series of reversals surrounding the ethics matter, which itself dates back to 2014 and has gone through many different versions. The case was brought against Manfre by his former finance director, Linda Bolante, who claimed the sheriff had misused department vehicles for personal travel, misused department-issued credit cards for meals, had not properly reported a gift when he stayed at a cabin owned by Rick Staly, Manfre's ex-Undersheriff and now one of six Republican rivals in the race for sheriff, and had improperly asked for a date change on a paycheck. That last charge never stuck.
The April 15 ruling follows a recommendation by an administrative law judge to find Manfre in violation on two of the three charges remaining–the credit cards and the gift. The personal travel charge was dropped.
Twice before Manfre had said he was willing to settle with the commission in one way or another. In December 2014 he'd agreed to a settlement on one of the three charges against him–the one regarding his personal travel ouyt of state in a department vehicle. He was willing to pay a $1,500 fine and end the matter. But the ethics commission voted to reject the settlement–in an unusual move–and request a second investigation. That restored the two charges that had previously been leveled against the sheriff. The commission in 2015 then voted to find probable cause that Manfre had violated ethics laws on all three charges.
Manfre appealed to an administrative judge. When last February the judge handed down a decision that spoke harshly of Manfre's conduct and rationales, Manfre said he would not appeal. "As long as the ethics commission follows the ALJ's current recommendation," he said, referring to the Administrative Law Judge, "I have no intention of appealing this decision as it is now time to put this behind us and refocus on keeping our community safe and secure for all who live, work and vacation in Flagler County." That was on February 16.
By early March, he'd changed his mind. He said he'd fight, and he opted to introduce an entirely new line of argument: that the punishment against him was way out of proportion with the punishment meted out to former Flagler Sheriff Don Fleming after Fleming had been found in violation of ethics laws for accepting lavish gifts at the Hammock Beach Resort. Fleming was eventually fined $500 for that violation in a case that also marred his re-election campaign and likely played a large role in his defeat.
On April 22, Manfre took to the local radio airwaves and called the case against him a form of "terrorism" that was politically motivated by a Republican establishment against one of the rare Democrats in his position in Florida. He said he'd be fighting the ethics case all the way to the Florida Supreme Court if necessary.
But now he won't. All along, Manfre has maintained that he never violated either state law or department policy, asserting that there were no written policies that barred him from doing whatever he was accused of doing–and that it was Bolante, his finance director, who had not properly enlightened him regarding what he could and could not do. (Today's statement indicates Manfre has not changed position on that score.) Bolante, though her attorney, has rejected that argument, at one point saying that Manfre–an attorney–should have known better.
Throughout the controversy Manfre has balanced his own desire to fight the case with his political fortunes, which have progressively dimmed the longer the case has lingered. When he explained his reversal in April, he said he was opting to fight the case after all because his personal reputation mattered to him more than winning the election. But even then, the fact that he had been twice before willing to settle with the ethics commission blurred the image he was portraying of a public official wronged from the start, since he himself had conceded to settlements.

The remaining part of Sheriff Manfre's statement reads as follows:
I ask the citizens of Flagler County to look at my ethics experience and understand that at no time did I ever violate any agency policy or state law. In fact, when I was notified of the issues, I immediately enacted strong internal regulations to prevent this from happening to others in the future. As for the violations, one was for $300 spent on sanctioned meals over four events, over six months, three years ago that was immediately reimbursed when the accounting error was discovered. The other was my brief stay at my former undersheriff's cabin. In this case, I was the one who realized there was an issue and self-reported the matter to authorities. I later based my decision to pay the cost of the stay on guidance I received from my attorney. As your Sheriff, I do take full responsibility for all of my actions.
I also ask people to look at the stark differences between what I experienced and what others have experienced with the Florida Commission on Ethics. In my case, the commission gave me a $6,200 fine and a public censure. Remember, this was a proposed fine that began at $1,500 and rose as high as $19,000 during the commission process. Former Flagler County Sheriff Don Fleming was fined only $500 after he obtained a benefit of over $40,000 from a local resort and the current attorney general who did not answer questions of an investigator from the ethics commission. This was a 16-month investigation which was subsequently dismissed without her making time in her busy schedule to provide any testimony. Where is the fairness?
It is my humble request that we move past this matter and collectively focus on the positive accomplishments that have been made over the past three and a half years to keep our community safe and secure for all who live, work and vacation in Flagler County.