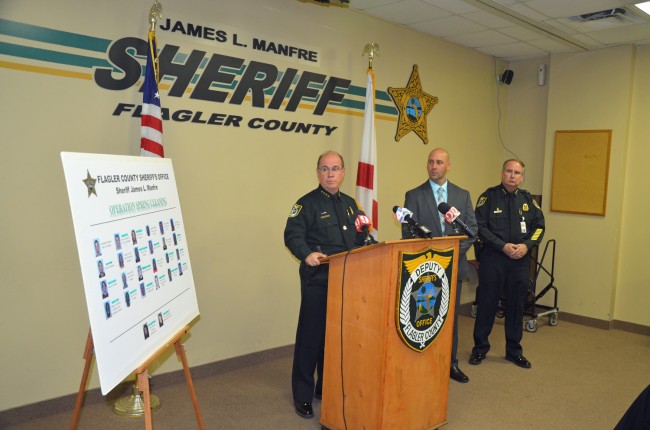 Don't expect Flagler County Sheriff's drones in local skies over the next four years. Nor will Flagler County Sheriff Jim Manfre look to buy police drones, as other Florida police agencies have been doing (especially in South Florida), in the next four years.
"I will not," Manfre said, in direct response to a question about his intentions before the county commission, describing himself as "not thrilled about the use of drones" as the Florida Senate prepares this week to approve a bill that would put severe restrictions on drones' use in civilian areas. "That's not something that I believe this community would be in favor of. I understand the visceral reactions to that, and to be honest with you, as I said before, I think there are better techniques that are tried and true and have worked over the years and will continue to work in the future."
What Manfre had said moments before is that he still believes that "ultimately it is good policing work, surveillance work, intelligence, that ultimately will make a good case. I think drones have their place potentially for homeland security purposes, but in terms of good investigative work, I don't think any technology is superior to that."
Manfre was making the remarks in the context of a brief news conference he called on Tuesday afternoon to announce the results of the latest drug sweep across the county. Sheriff after sheriff has conducted such sweeps—and generally followed them up with news conferences, to highlight them and garner a little publicity—for decades, even as the recurrence of the sweeps and their attendant theater underscores the endurance of a problem neither police nor courts have done more than contain.
Still, the sweeps can at least shed light on local trends: what drugs are in the ascendant, what drugs are on the wane. Tuesday's sweep, dubbed "Operation Spring Cleaning," netted 16 arrests from 26 felony warrants, involving suspects from every part of the county, following tips tendered by residents about their neighbors, or activity they reported from their neighborhoods. The sweep involved 25 cops, including school resource deputies (who are off from their normal school duties this week, for spring break, but are still on the job) and Bunnell police.
The sweep revealed two distinct trends: judging from the charges against those arrested, the use of prescription pills is down. The use of crack cocaine is up. Of the 26 warrants, 14 involved sale of crack, six involved prescription pill or morphine. The sheriff did not give a cause for the changing trends, except to suggest that as the state crackdown on pills and pill mills went into effect last year, drug sellers and users followed the rules of supply and demand.
"We intend to do these sweeps on a regular basis to try to impress upon the users in this community that we are ever vigilant about the usage of these types of narcotics in the neighborhoods," Manfre said, But he acknowledged the limits of enforcement, and the revolving-door nature of such arrests.
Several of the individuals arrested Tuesday had already been freed by the time of the news conference, on bond. Jan Casiano, 21, of Fieldstone Lane in Palm Coast, was arrested on a marijuana sale charge. He'd already posted $1,500 bond. And he'd been booked at the jail just last June on a misdemeanor failure-to-appear charge.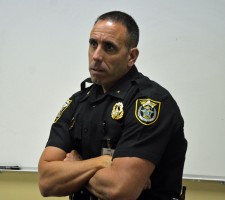 Lance Lohman, 22, made his fifth trip to the jail Tuesday on a cocktail of charges (marijuana sale, oxycodone trafficking, possession of a controlled substance without prescription), but the Flagler Beach resident had posted bond and was out by early afternoon. His previous arrests were for similar charges, except for a battery charge in 2011. Patrick Cadet, 34, of Bren Mar Lane in palm Coast, was arrested on a marijuana possession charge (under 20 grams) and an evidence tampering charge, his first arrest in Flagler. He posted $5,000 bond and was released. Joseph Bourke, 25, had been booked at the county jail 10 times since 2008, mostly on minor charges, but also on a DUI. His 11th booking took place today, on a probation violation charge and selling a controlled substance within 1,000 feet of a school. He remained in jail this afternoon, his bond set at $10,0000.
And so on. (See the full list of suspects below.)
"What you're doing is you're not only building a case in this particular instance, but you're building a case over years of time," Manfre said. "What judges respond to is not only the seriousness of these crimes but the amount of times they've violated those specific terms. So each time they've violated, each time they go through the system, the court will give them more and more sentencing, and that is what ultimately, hopefully, deters them from committing crimes in the future. A lot of time you just get out of state prison and start all over again. In fact we talked about it today, there's some people who we arrested when I was a sheriff eight years ago. So this is an imperfect system, but this is the best tool we have."
Paul Bovino, commander of the patrol division and a veteran of many of these sweeps, said of suspects swept up in such arrests: "They still take it seriously. A lot of these people may be habitual, or offenders that are out on probation, and by them getting arrested again, a lot of them could go back for a long period of time. They could go to prison, or extend their stays. Many of these people have been repeat offenders, so once you're picked up again, you're looking at more jail time or some prison time."
Manfre defended the sweeps as means of preserving quality of life. "If you're living next to someone who's dealing marijuana, pills, cocaine, whatever it is, what that normally means, regardless of what it is they're selling, is increase activity of some unsavory people, coming into your neighborhood," he said. "That frightens people who live in our neighborhoods, frightens parents who have young kids. It also leads to increased crime in those particular neighborhoods. A lot of time they're coming in for drugs, a crime is a matter of opportunity, if they see an opportunity to burglarize a home or a car to get the revenue to make that purchase, it's more likely to happen in those neighborhoods."
The sheriff is emphasizing the value of tips from the public, all of which are investigated to one degree or another. "We tend not to want to harass people," Lt. Chris Seppe, an investigator, said. "There's things we can do without making direct contact through investigative measures, surveillance and other things that I'm not necessarily going to mention. But not face to face contacts. So we know the scope of the law, we know what we can and cannot do. We tend not to be in the business of harassing people."