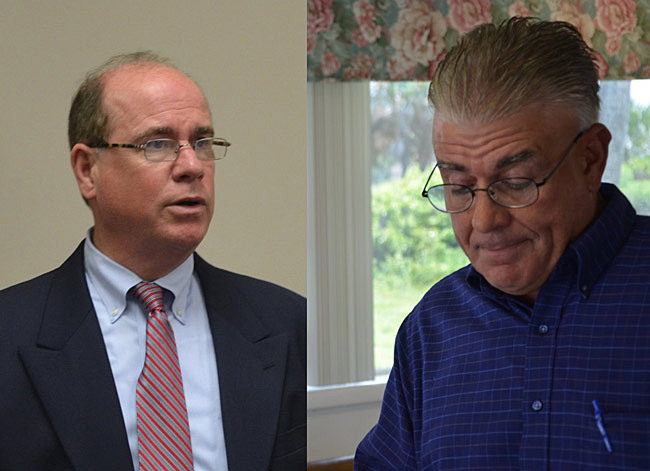 At a daylong budget workshop earlier this month, Flagler Beach City Manager Bruce Campbell proposed eliminating the positions of police and fire chiefs and replacing them with captains.
As Campbell explained his rationale, he cited Bunnell City Manager Armando Martinez and Flagler County Sheriff Jim Manfre as authorities that had "no problem" with his approach. Campbell cited Martinez on two occasions, and Manfre on one, saying he'd had two conversations with Martinez about the changes, and one with Manfre.
"I leaned on Armando Martinez quite a bit he being an ex-police chief, when we started thinking about this," Campbell said, "I did talk to Sheriff Manfre about it as well, and he didn't have any heartburn over it as well as our attorney."
Both Martinez and Manfre have since disputed the way Campbell conveyed the issue to his city commissioners.
The disagreement is significant not just because two of the county's top officials are disputing each other's veracity—or, at least, each other's memories—but because a significant change in the way Flagler Beach runs its police and fire departments hinges in part on the credibility of that change. Campbell sought to build some of that credibility by conveying the endorsement of the county's sheriff and one of its former police chiefs and current city managers. If both now are retreating from the way Campbell characterized their reactions, the proposed change will likely be rethought, and, fairly or not, Campbell's own credibility may be harmed.
Manfre on Thursday said outright that he never had a conversation about the matter with Campbell. "That conversation never happened," the sheriff said. "I never talked to Bruce Campbell about anything that happened in the Flagler Beach Police Department and I never will. Ever." Manfre said he's had three or four conversations with Campbell, and when they've involved city issues, they've been about the matter involving a sheriff's deputy selling home-made alcohol to two members of the Flagler Beach Fire Department who have since been fired. Manfre said he would not get involved in matters involving city police and policies.
"That's not true. That's not true," Campbell said this afternoon. "I did speak to him about a couple of different things, not only the proposed change but even another possible change when we did that."
"I'm appalled that he doesn't remember that. But anyway," Campbell said. "He obviously doesn't remember I'm telling you the god's truth."
Manfre said that had he had a conversation about the elimination of the police chief, he would have termed it "a dumb idea" that "makes no sense."
Martinez did not dispute that he'd had conversations with Campbell about the changes, but Martinez said he did not characterize his reaction as having "no problem with it." Martinez said he called the idea "unorthodox," and that it wouldn't make a difference in the end, since the head of a police or fire agency is always considered its chief whatever the official title.
Campbell says it's true that Martinez called the idea "unorthodox," and that, while Campbell did not use that word when describing Martinez's reaction to city commissioners, it was still along the lines of Martinez not having a problem with it.
And Campbell, who took exception to Manfre's suggestion that he was lying to his commissioners, was adamant about the conversation he had with the sheriff about two months ago: a 10-minute conversation, on Manfre's cell phone, about two issues: the police chief designation, and another matter that Campbell at first would not specify, because it did not come to pass. (As it turned out, the other matter was the elimination of Flagler Beach Police Detective Liz Williams's job, and the county picking up investigative services for the city. Campbell, after being pressed about the nature of the idea, said it was shelved.)
Specifically, here's what Campbell said to the commission last week, as transcribed from a video of the meeting:
"There's nothing that says we have to have a fire chief. There's nothing that says we have to have a police chief. There are a couple of cities in Florida—I talked to Armando about it, Armando used to be a police chief down in Brevard or Broward County I think it was, I conferred with him on a couple of occasions about this change, he sees no problem, there's nothing from a statute standpoint. I talked to Drew about it, that mandates that you have to have a fire chief, you have to have a police chief, it's our choosing for what fits our need and our design and our approach."
About 30 minutes later during the same meeting, Campbell said: "Like I said I leaned on Armando Martinez quite a bit he being an ex-police chief, when we start thinking about this, I did talk to Sheriff Manfre about it as well, and he didn't have any heartburn over it as well as our attorney. So I think it's a good concept…"
Thursday afternoon, Manfre contacted FlaglerLive to say that he had never addressed that issue with Campbell, who was "making a conversation up," and that "damage is being done" under the assumption that he had endorsed the idea. "Dan is a little bit upset, and I can understand why," the sheriff said, referring to Dan Cody, the police chief, whose $70,000 job would be eliminated under the Campbell plan and replaced with a $58,000 captain's position, for which Cody would have to apply if he wanted it. Last week, Cody said he had not made up his mind whether he would apply or retire.
Campbell's move, which will not save money—the police department's budget is going up slightly, as personnel is in line for a 3 percent raise—can be interpreted as a maneuver to get rid of Cody, without having to fire him outright.
But Campbell was just as struck with Manfre's assertions that the conversation had not taken place. After a brief interview, Campbell spoke with Manfre, and relayed, after that conversation, that Manfre was now conceding that the call had, in fact, taken place—but that he was remembering only half the conversation: the portion about the detective issue, not the police chief title.
"The call happened," Campbell said. "I did call him and I have talked to him and he remembers us talking but he doesn't remember one half of the conversation."
In an interview after Manfre had talked with Campbell this afternoon, Manfre said: "He did remind me we did have conversation regarding the detective decision, and it was  months ago, and I said sure, whatever you need," but nothing on the police chief's job. Had he been asked about the idea for his comments to be conveyed to the city commissioners, Manfre said, that should have been specified as well.
"What's the matter what Jim Manfre says as sheriff anyway? Or Armando for that matter. It only matters what his board says," Manfre said.
"If he wants my comment now I don't think it's a good idea." The title, the sheriff said, has "import" for the community and the employees. "I would have a problem with that change. I don't understand it."
Manfre said he would not have discussed internal matters at the police department because he doesn't want to be accused of making a grab for either the Flagler Beach or the Bunnell police departments, both of which, he says, he respects and are doing a good job, as far as he is concerned.
The disagreement left both Campbell and Manfre perplexed, to put it kindly. Both said their conversation this afternoon was cordial.
"To the extent that he keeps insisting that I said something I didn't say, it was a cordial conversation," Manfre said.
"This has got me," Campbell said. "I don't know where he's coming from. Maybe he doesn't want to get involved in this." He said he'll take to his grave his assertions that the conversation took place, and that it involved the police chief's position.