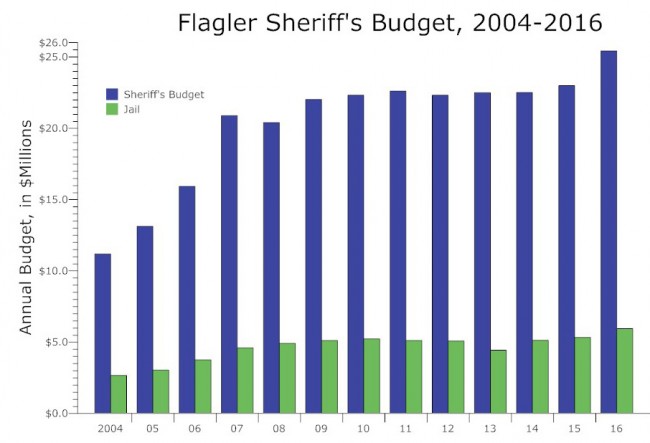 Flagler County Sheriff Jim Manfre's budget request for the coming year is $2.5 million larger than this year, with additional staffing at the new jail, money for 10 new patrol vehicles, a 5 percent across-the-board raise and state-required retirement contributions accounting for the bulk of the increase.
After nine years of relatively flat budgets in the wake of the Great Recession, the 10 percent increase is the largest year-over-year jump since former Sheriff Don Fleming requested—and got—a 31 percent increase in 2007, at the end of three budget years that doubled the sheriff's budget—from $11 million in 2004—and raised deputies' salaries significantly over three years. But that was the last time deputies got more than a nominal raise.
The request was submitted to the Flagler County Commission, which must approve it.
"There's probably going to be an increase, I'm not sure it's going to be $2.5 million," Commission Chairman Frank Meeker said Monday. "I know there's negotiations going on between the county administrator and the sheriff." Meeker said those negotiations will continue, along with the commission, until the budget is approved in September. The county is considering a 2.5 percent increase for county employees, including sheriff's employees and those of other constitutional officers, such as the tax collector's and the property appraiser's.
"As I told the county administrator, we'll make our pitch and whatever the county commission decides, we'll live with," Manfre said. "But we're still three positions below the amount that's been authorized. Our population has increased."
"We're asking for a 5 percent increase, not a 2.5 percent increase," Manfre said. "We're trying to establish a step plan which has a longevity component to motivate deputies to remain in the agency. We're losing people because we've only given them 2 percent over the past six years. When we lose a deputy it takes us six months to replace him, we lose all that knowledge and experience. That's what we're negotiating with the union right now."
---
Salaries and benefits alone would add $1.6 million to the budget, with a new jail and operations center generating their own new costs.
---
In earlier negotiations with the union, Manfre asked that raises be delayed until this year, while also pledging that he would make a step plan a priority for the agency's road and corrections deputies. A step plan means that every year an employee's salary increases in line with experience. The teachers' union and the school district's service employee union employees have just such a step plan. It kicks in when budgets are not strained. Under Manfre's budget request, salaries would increase by $726,000, benefits would increase $830,000, driven largely by an increase in the sheriff's required contribution to the state retirement system.
The jail's budget would increase by $614,000, to $5.94 million (more than double its budget 10 years ago), as a new, much larger jail begins operations next year. In an interview in August, Manfre said the expansion would not require new detention deputies, but that additional detention deputies were needed regardless. "The issue is not increasing detention deputies because of the expansion. I don't see that at all," Manfre said at the time. "We've gone through the numbers, we're pretty certain we can keep that. The problem is our prison population is increasing. We haven't increased the amount of detention deputies in five years. So we need to increase detention deputies just because we have more prisoners. We haven't determined how many new detention deputies we're going to need. But right now the prison population is increasing just because the population has gone up by 6,000 people."
In his request to the county, Manfre is asking for four additional corrections deputies and two additional road patrol deputies.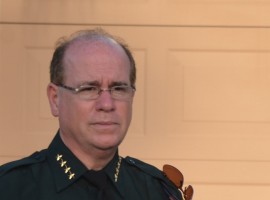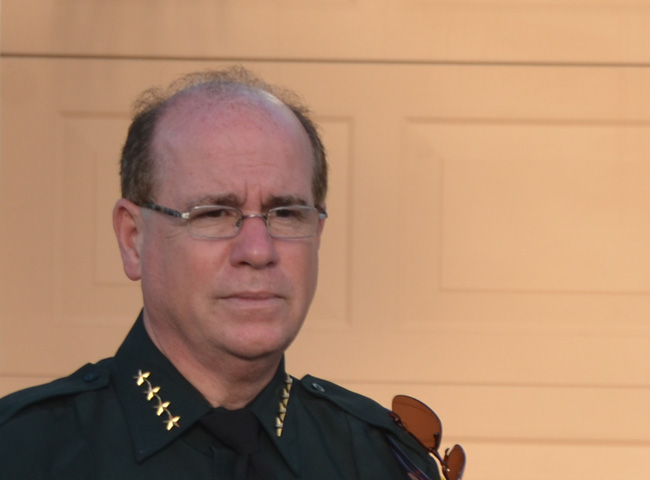 "What I said was, we need more front end, not more back end" deputies, Manfre said in an interview last week. "And you have to remember, we have three buildings now. We're going from one inmate facility to a brand new facility, plus an operations center. So what we need is more front end people because as we talked about, we are making more arrests. It doesn't necessarily always mean that we have a higher inmate population, because a lot of those people bond out quickly, but the essence of community policing is making more misdemeanor arrests or quality of life arrests so you keep them from offending more serious crimes."
Manfre is also asking for three part-time positions to be made full-time, and requesting 10 new patrol vehicles because, he said, "The former sheriff did not keep up with vehicle purchasing." There will be a saving of $80,000 from reduced rentals or leases of space elsewhere as the new Sheriff's Operations Center opens in downtown Bunnell. On the other hand, utility services alone, at the new jail, will add $58,000 in costs.
"If it's justified, it's justified," Meeker said. "I've got two new buildings and a bunch of vehicles." But he still expects "a lot of give and take."
The larger budget is a reflection of an entire government structure finally exhaling from years of tight budgets. Last week the property appraiser released figures showing that property values have risen roughly 7 percent in the county, alleviating some pressure on next year's budgets as tax revenue grows. But all government agencies are submitting larger budgets, including those the commission oversees.
But no showdowns are expected. "I'm not going to threaten to go to the governor, I'm not doing that," Manfre said. "We'll make our best presentation to them, they are the stewards of the money that they give us, but I would not be doing my duty if I did not point out to them our needs for our manpower and also to create a step plan that keeps our experienced deputies and employee sin the agency longer."