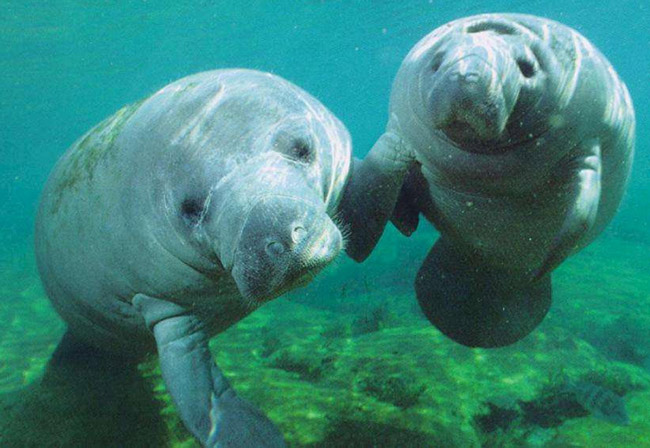 A cold-related die-off of manatees in early 2011 set the stage for a third straight year with high numbers of deaths for the species. Biologists with the research arm of the Florida Fish and Wildlife Conservation Commission documented 453 manatee carcasses in state waters in 2011.
There were no recorded manatee deaths in Flagler waters, however. There were 34 in Volusia County. Manatees' better fortunes locally may buttress Flagler County officials' efforts to stave off speed zones in the county's portion of the Intracoastal Waterway.
During the past three years, biologists documented the highest levels of cold-related manatee deaths, with the "cold stress" category accounting for 112 in 2011, 282 in 2010 and 56 in 2009. In the previous five years, cold stress accounted for an average of 30 manatee deaths per year.
The total number of reported manatee deaths in 2011 was the second-highest on record. Biologists documented a record 766 manatee deaths in 2010 and recorded the third-highest total of 429 in 2009.
"We are concerned about the number of manatee deaths the past three years, including those resulting from exposure to cold weather," said Gil McRae, director of the FWC's Fish and Wildlife Research Institute. "Over the next few years, we will use data from monitoring programs to better understand any long-term implications for the population. We will continue to work with our partners to enhance the availability of natural warm-water sites, which are important habitats for the species' survival," McRae said.
FWC researchers, managers and law enforcement staff work closely together to evaluate mortality data and identify necessary actions. Managers focus on actions that can reduce risks to manatees and protect foraging and warm-water habitats. The FWC's Division of Law Enforcement, in cooperation with partner agencies, uses knowledge of local boating habits, well-posted speed zones and up-to-date manatee information as part of its on-the-water enforcement operations. Informing boaters about manatee conservation and enforcing manatee-protection zones are priorities for the FWC.
The county-by-county 2011 preliminary mortality numbers are posted below.

Florida residents can help manatees by purchasing the manatee specialty license plate, available at county tax collectors' offices. The funds collected for these plates go directly to manatee research and conservation. To learn more about manatee conservation, go to MyFWC.com/Manatee. To report a dead or distressed manatee, call the FWC's Wildlife Alert Hotline at 888/404-3922.