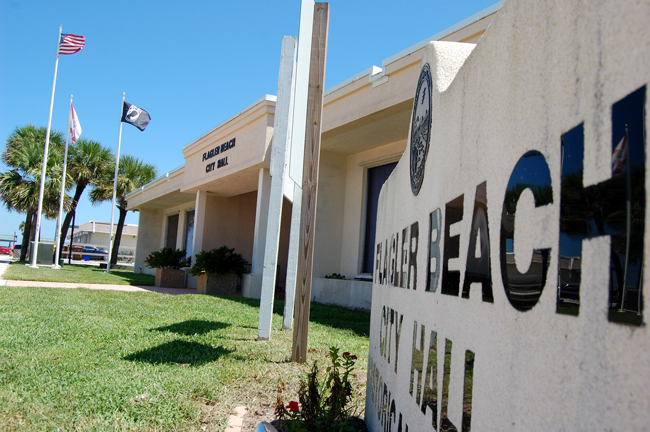 Like March Madness, except in summer, the list of candidates vying to be Flagler Beach's next city manager is down to the final eight, from 140. The Baptist minister, the auto parts clerk, a couple of truck drivers and more than three dozen unemployed candidates (some of them with excellent credentials) have been cut, leaving a field of Florida-only candidates, three of whom either live or work in Flagler Beach, two of whom work for the city. Just one woman made the cut.
The three local candidates are Bruce Campbell, who works for the city as a building maintenance worker but was previously the president of an armrest manufacturing company in Lorain, Ohio; Michael Evans, who works at the Florida Agricultural Museum as a historical interpreter and operations director; and Caryn Miller, Flagler Beach's community redevelopment director since 2006.
All three are on Thursday's interviewing schedule.
The fourth candidate on Thursday's schedule is James Gallagher, who last held a job as tow manager in Dundee, from 2004 to 2006. Dundee, in east Polk County, is a town of about 3,000 people.
Interviews begin Thursday at 1:30 p.m, then again on Sept. 8 at 1 p.m., and possibly on Sept. 9 at 1:30 p.m. When that schedule was set late last month, 12 candidates were still in the running. Four have since either been offered jobs elsewhere or dropped out.
The commission will interview each candidate for 45 minutes. The interview sessions are open to the public, but barring an unlikely change at the meeting, the public will not be allowed to ask questions. (Elected commissions aren't required to give the public a chance to speak at such meetings.) Thursday's interviews begin at 1:30 p.m. in the commission chambers on 2nd Street. The line-up is as follows:
1:30 to 2:15, Caryn Miller (James P. Gallagher, originally scheduled for the time slot, withdrew).
2:30 to 3:15, Michael Evans (if he's willing to move up his time from the originally scheduled 3:30 time slot).
3:30 to 4:15, recess (unless Evans interview takes place at that time).
4:30 to 5:15, Bruce Campbell
It's not clear whether Commissioner John Vath, who has all but vanished from his public duties, will participate in the interviews. He said he may do so by phone.
Below is a chart of the eight candidates, their resumes as they submitted them (click on the name for a pdf of the resume), and how each fared on commissioners' short lists.
The Managers, Their Resumes and Their Fans
| Candidate & Resume | Current Home | Commissioners' Pick |
| --- | --- | --- |
| James Bursick | Vero Beach | Feind, Vath* |
| Bruce Campbell | Flagler Beach | McGrew, Settle, Vath* |
| Michael Evans | Flagler Beach | Mealy, McGrew, Settle |
| James P. Gallagher | Winter Haven | Mealy, McGrew, Settle |
| William S. Janke | Tarpon Springs | Feind, Mealy |
| Caryn Miller | DeLand/Flagler Beach | McGrew, Settle, Vath* |
| Joseph Miranti | Saint Cloud | McGrew, Settle |
| Gary Word | Surfside | Feind, Mealy, McGrew |
(*) Commissioner Ron Vath has absented himself from the commission indefinitely, without explanation. It's not clear whether he will participate in the interviewing process by phone.