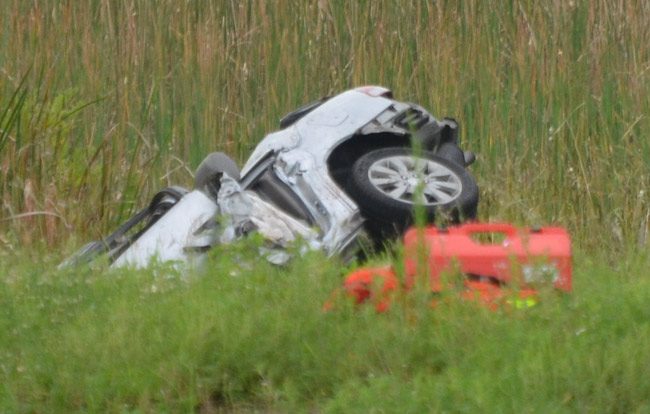 A man was killed early Saturday morning when his car veered off I-95, crashed through the guardrail, and rolled into a ditch between the southbound and northbound lanes.
The man, whose identity has not yet been released, was traveling south in a four-door silver Honda Civic. Around mile marker 280, a mile or so south of the I-95 intersection with State Road 100 in Palm Coast, he lost control of the car and crashed through the guard rail.
According to a witness who was driving south, and who called 911, the victim was coming up behind the witness at a high rate of speed, went around the witness, then fishtailed. The witness didn't see the car strike the guard rail, but saw smoke. The crash took place at 5:45 a.m.
Initially authorities could not find the car, but shortly thereafter found it about halfway in the large median area that stretches between the two sides of the highway at that point. The car from a distance looked mostly buried in a cavity. There was no debris in the roadway, just a pair of abrupt tire marks veering toward the guardrails for about 20 feet.
The Flagler County Sheriff's Office was first at the scene, which was then turned over to the Florida Highway Patrol. FHP is usually cooperative with reporters at the scenes of crashes. It was only minimally cooperative in this case and prevented further independent observations or documentation of the crash scene. The Palm Coast Fire Department and Flagler county Fire Rescue also responded, and the Palm Coast Fire Police conducted traffic control, shutting down one of the three lanes of I-95 southbound. The medical examiner had removed the body by around 8 a.m.
A brief FHP report issued late this morning stated the Honda left the road "for an unknown reason," and sought help locating any witnesses. FHP provided a number to call: 904/301-3700. The Traffic Homicide investigator on the case is Cpl. S. Coppola.
The victim is from Florida, but not from Flagler County, an FHP trooper said. His would be the 22nd death on Flagler County roads so far this year.