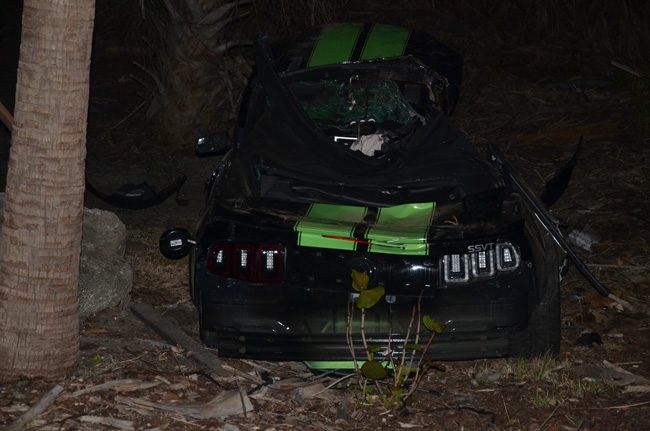 Gary Robert St. Peter, a 67-year-old Palm Coast resident, was killed and David Zlokas, 64, was injured when their car careened off State Road A1A, within a few feet of the Surf Club condominiums, at 10 p.m. tonight.
Zlokas suffered non-life-threatening injuries, according to authorities at the scene, and was taken to a local hospital.
Zlokas told firefighters that that the two had been at a bar across from Captain D's, further south on A1A, and were heading home. Zlokas was walking around at the scene after the wreck. Both victims are Flagler County residents, with next-of-kin notification in at least one case made to the wife of one of the victims at Surf Side.
The two men were in a Ford Mustang, driving north on A1A when, for reasons that haven't been determined, Zlokas failed to negotiate the pronounced westward curve at that point and instead kept driving straight, judging from the point at which he left the road and the straight line the vehicle then marked in the grassy shoulder from that point on–until the Mustang struck and uprooted a palm tree and rolled several times as it fell down a slope toward the southernmost part of Surf Side.
The car ended up on its wheels, ultimately stopped by a pair of palm trees.
Traffic was not impeded on A1A, which is four-laned at that segment, and the fire police was not called in since the crash scene was entirely off the road (and not visible from the road, though residents of Surf Side periodically wandered to the stairwell's lookouts, from where they had an unimpeded view of the wreck but for the darkness. The medical examiner, who alone could retrieve the body, was not expected from St. Augustine until later tonight or early Friday morning. (The body was covered.)
Flagler County Fire Rescue and the Flagler County Sheriff's Office were first at the scene. The investigation was turned over to the Florida Highway Patrol.