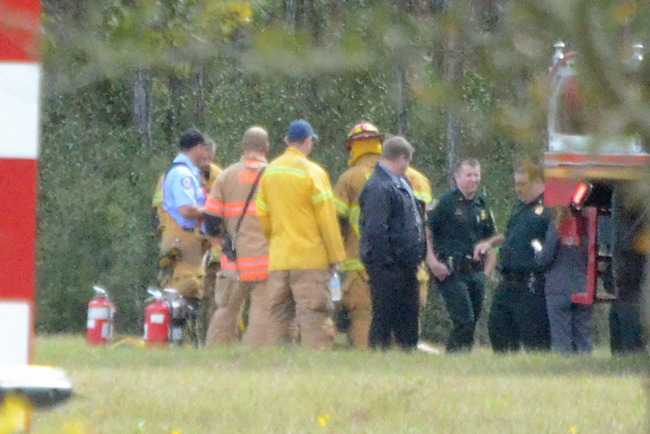 Last Updated: 6:40 p.m.
The Flagler County Sheriff's Office and the Florida Highway Patrol spent the afternoon investigating the death of a man found in a burning car at 11:30 this morning (Feb. 27) in the heart of Palm Coast's Town Center, not far from the Epic movie theater. Town Center access was closed going west at the intersection of Town Center Boulevard and Central Avenue, and going east at Central Avenue and Brookhaven Way.
The investigation revealed that Henry Cornish, a 71-year-old resident of Palm Coast, was traveling westbound on Central Avenue after leaving a medical appointment when he "suffered an apparent medical episode," according to a Florida Highway Patrol release. He then traveled onto the south shoulder of Central Avenue and into the woodline.
Cornish was driving a 1998 V70 Volvo, a station wagon. The undercarriage of the car struck a tree stump and the car caught fire. An earlier report had mis-identified the car as a green Dodge Caravan.
The Volvo drove the distance of almost a football field across the empty, grassy expanse adjoining Central Avenue to the south before striking the woods.
The car reportedly had New Jersey license plates, the Sheriff's Office's Bob Weber said earlier in the day. Authorities in New Jersey had been contacted, but had not yet responded with information tying the vehicle to an owner in mid-afternoon. Cornish had, in fact, been living in Clifton, N.J.
Cornish was in the passenger side of the vehicle when found, though authorities say it's possible that if the vehicle struck a tree, the victim could have been thrown to the side. Coornish was not wearing a seat belt, FHP reports.
At first reports of smoke and a fire from that wooded area prompted authorities to think it was a brush fire.
"One of our deputies was stopped by somebody who saw the fire," Weber said. "The entire of the vehicle was engulfed," with flames rising eight feet.
Flagler County Fire Rescue's Station 92 responded from the airport as did the Palm Coast Fire Department, and Flagler County Fire Flight was put on alert. But when firefighters got there, they went to work extinguishing the car fire–and discovered the body of a man inside.
The Sheriff's Crime Scene Investigation unit, along with sheriff's detectives, are assisting FHP, which is in control of the scene.
The initial call came into 911 at 10:44 a.m.