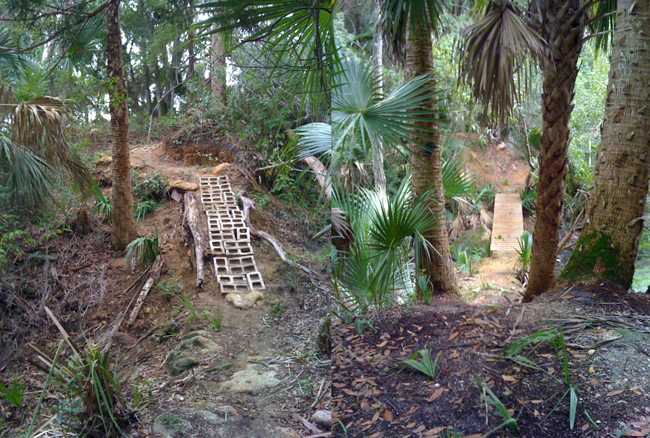 The Malacompra mountain biking trail in the Hammock has been around so long that it has its own name in the genre's subculture: The Hobo Trail. But it's on land owned by Flagler County. It parallels private property. And in the past year or so, it's been torn up and remade in bikers' image, down to the building of bridges, embankments, bumps and other features that turn mountain biking from a stroll to a thrill. All without county authorization—at least not official authorization: the extent of the remaking of the trail is such that the county's tacit silence may have played at least a part in enabling the reformation of Malacompra.
When the newly formed Flagler Chapter of the Southern Off-Road Bicycle Association (SORBA) proposed to take over the policing of the trail, at least informally, county commissioners had a dilemma. Bikers are the ones who took liberties they shouldn't have on public land. Now they're asking to be the land's stewards. But the association says it doesn't associate with the hoodlums who tear things up. It represents responsible bikers who enjoy the trail for what it is—or at least what it has become: Responsible bikers have the luxury of zooming down others' reconstructive surgeries while keeping to the high road.
On Monday, the Flagler County Commission agreed to just such an arrangement. The association, which says it grew from a small group to one numbering some 200 bikers, won't have any formal authority. But it will be delegated to maintain the trail, keep it trash free, inspect it, and lend a hand should they be needed in tourism development, such as marketing the trail. Not that it isn't marketed already: off-road biking sites. Here's one trail review from singletracks.com: "The beginning and end are a bit uneventful, however, the middle is packed full of fun. Great little technical climbs with some short sweet descents/drops, a few bridges, and a really great ridge line section and all hardpack."
County commissioners agreed to the arrangement—a so-called "memorandum of understanding, in governmentspeak—unanimously, but with conditions.
"I am very strongly supportive of ecotourism efforts in our county. I think it's going to be a tremendous economic driver as we continue to build upon this," County Commissioner Milissa Holland said. "But a couple of concerns I do have moving forward, and it's still kind of bothersome to me, this idea of people going out there, modifying these trails. I know we're never going to get to the bottom of it. I've resolved that in my mind. But I want to make sure moving forward that we don't give the impression to the public that in any way, shape or form, that this was OK, because it wasn't, and for anybody that was out there on a public parcel or a property modifying our public property, I believe strongly that we need to send a message that this cannot happen in our community."
---
Ride the Complete Malacompra Trail
Holland wants the Scenic A1A Pride Committee to have some oversight on "major" changes that take place along the trail. The committee itself had reservations about—in the words of Committee President Anne Wilson—a proposal that "covers an extensive part of the Greenway in that location for the sole benefit of one recreational group." But it endorsed the idea as long as it was involved in planning walking trails in relationship to the bike trails. Holland in November herself had written Anthony Libretti of the Flagler Area Cycling Enthusiasts of her :"strong support" for a bike trail, a project that fits in well "with the county's ongoing effort to 'brand' the county for this lifestyle choice." On Monday, however, Holland was keen on not sounding as if she was writing the biking interests' pitch.
"I know during the workshop we stated it would not have to come back to this board for approval for modification, but I didn't want to also give carte blanche to Mr. Coffey to modify the trail dramatically," she said, referring to County Administrator Craig Coffey, who did not like the suggestion that he was doing things unilaterally. Holland added: "Mr. Coffey I'm not insinuating anything from that standpoint, but moving forward there's been a lot that's gone on that we still can't identify of how that happened."
Commissioner Barbara Revels's concerns were literally more down to earth: "I'm concerned that a number of the structures that have been built have not been built with lumber that's going to last," Revels said. "Obviously there are logs and things that have been put out on the trail that are going to rot. Those are features that are going to be used for the biking experience but when they go, when that log rots, what's the biker going to expect it to be replaced with? Again some of the wood structures that are built there are just with spruce or pine, they're not pressure-treated, and it's not going to last. We've got a block structure there that looks like somebody is trying to turn that into some sort of jump and I think those walls are unstable and could come down at any given time, it's going to create a liability problem for the county."
None of those structures, of course, were permitted by the county. "It's really important that we find a way through videography or cameras of documenting what those trails consist of today so we can know that nothing else is going to happen there without permission," Revels said.
Then the public had its say, beginning with Frank Corelli, president of the Hammock Conservation Coalition and a member of the A1A group. "As I sit here I'm getting madder and madder of what I'm hearing coming up. First of all we were never included in the negotiations with this bike path, We were never told about it. All we were told is it had been approved. He didn't ask for our inputs on this trail. Nobody in the Hammock is against the bike path, one person I believe is against the bike path. We're against this total destruction that's going to take place when you have hundreds of bikers coming in there on a weekend." Corelli opposed signs going up there, comparing them to "a written invitation" to teens to try the trails. He added: "I can see those bridges that have been made. And I have seen people destroying brush, I've seen them also planting, and I've seen the bike members come to our A1A meetings, but nobody admits that they did any improvements to this trail. It had to be the Martians came in and did it."
Alma Nemrava, a member of the Hammock Conservation Coalition, read a set of requests and concerns to the commission from her steering committee. "We think you're as disappointed as we are that an illegal bike trail produced by brazen vandalism was not investigated and remedial measures not taken to dismantle the obstructions when reported to the county about six months ago. We hope the county staff and SORBA will be able to perform as they have promised to prevent this from ever happening again."
Nemrava also echoed Corelli's issue with an apparent lack of transparency on the county's part. So did Carol McLearly, who remembered an A1A meeting where the county was speaking of building a trail, "then it had been done." No invitation to the A1A group to be involved. "I do not for the life of me understand how we can look so dumb about what, who built that bruidge, because that was not done by two men sneaking in with a chainsaw. That was done by an organized and planned fashion, and it required a fairly substantial workgroup, and it bothers me that we don't seem to know who it is."
It was left up to Libretti, the member of SORBA and owner of The Bicycle Doctor in Bunnell, to speak for the trails. He spoke of going to numerous A1A meetings, accused its members of not being interested in working with him. "They more or less wanted to pushed me aside," he said. "I've been to numerous ones asking advice. It's never gotten anywhere. Now, if we did something about it a year ago, we wouldn't be at this point. That place is a trail that we have ridden, been threatened by bums, there's somebody that's living in a tree, garbage everywhere—you all know what it's been for the last 20-something years. There were dirt bikers, people growing marijuana out there, numerous gas cans I guess they were using just to move water from one places to feed their crops. Now as you all have walked it, it's safe, it's quiet, my wife can ride it safely, not be in fear, I'd never have let her out there before. And I understand there were things that were done before, people built things that they shouldn't have, and I agree that we need to stop that—proper signage, a kiosk saying it's a park that is controlled by the club and the county will help protect that. Before it was just kind of random woods that people for years just went in and do what they want. Now we have a chance to stop that, work with the momentum that we have with all the excitement about this trail, people coming into town, renting bikes from me to ride there from out of town. I don't think we should hurt that. I just think we need to police it properly."