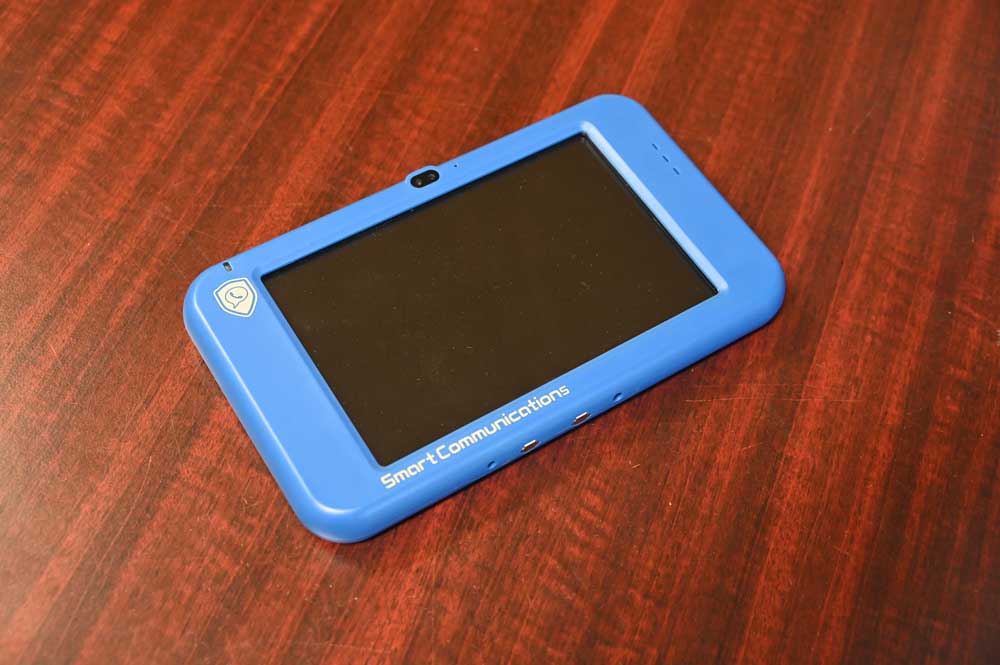 On Dec. 19, all hard-copy mail delivery to the Flagler County jail's 225-some inmates stopped. It was replaced by scans of mail that inmate can look up on screen, at kiosks in their housing units or through computer tablets they may borrow.
It is part of a sweeping change in the handling of inmate mail across the state at least 14 other states as prisons and jails cut down on incoming materials. The Florida prison system, third largest in the country, started adopting the scan-only approach 14 months ago. Fifteen other county jail systems in the state have adopted it. Flagler is the 16th. The switch has drawn sharp criticism nationally from prisoner advocates, for various reasons, including in Florida, and equally strong support by those implementing it, as in Flagler.
The change is contracted through a company called Mail Guard. It is intended to battle contraband and drugs such as fentanyl–though the overwhelming majority of contraband is introduced into penal facilities by guards and employees, not by mail–and to reduce sifting, sorting, and distribution labor on detention staff. While it limits costs in some regards, it can also be costly in others, and sometimes very costly. It is also a reflection of the vastly changed nature of communications in the age of cell phones, social media and email: most inmates just aren't writing long-hand anymore.
"In my career anyway, which spans 33 years," the Flagler County Sheriff's Daniel Engert, chief of court and detention services, says, "I've seen a tremendous decrease in the amount of actual hardcopy mail that comes into the facility versus messaging and visitation capabilities. It's just part of societal norms now. Less people are sending out hardcopy Christmas cards and I think it's just cell phones and social media just kind of changed the way people communicate, frankly."




The Flagler County Sheriff's Office announced the switch in December, with a focus on safety and battling contraband. "We've already had two cases [in 2022] where we intercepted drugs in packages addressed to inmates," Sheriff Rick Staly was quoted as saying in a release announcing the change late last year. "There's always the possibility that someone tries to send a weapon or some other contraband or even a secret  communication into the jail through the mail. This system will make it very difficult for any of that contraband to get into the jail and will make the jail safer for inmates and Detention staff."
Friends and family of inmates may still write letters in long hand, draw pictures, send in snap shots. But they are now required to send their mail to a Seminole County post office box that routes the mail through Mail Guard, a private company that then scans it and sends the files to the Flagler County jail. That process is free to the sender, beyond the cost of postage to mail in the letter.
At the receiving end, Flagler County jail staff reviews the communications to ensure that it doesn't contain anything objectionable (it almost never does), then makes it available to the intended inmate, who may then open the file by entering his or her pin number through a Mail Guard account.
Engert required the vendor to install a stand-alone kiosk in each housing unit of the jail, which allows the inmate to access mail, communicate with his or her own pin number or the commissary and use other available apps. Inmates can also use the more mobile tablets available to them. They sit on chargers, or can be taken back to cells by the inmates.
"My views on electronic mail has shifted a bit," Engert said, "in the sense that we largely view a lot of our correspondence now through electronic means, whether it's text messaging, reading email and so forth, that it's become more and more common for us to communicate and to review information from family and from businesses through electronic means."




That has raised concerns among inmate advocates and families that the inmates could no longer touch the letters, photographs or other mementos sent in from home, materials they would normally hand on the wall like art work. Engert, an affable chief who projects accessibility from the get-go–his office and its open door immediately greet the visitor to the jail's administration building even before the visitor reaches the desk clerk–says the jail will make provisions for that.
"They will have the ability to print mail that comes in, I'm still looking into that because that is a concern," Engert said. "We do want individuals to have the ability to access if they choose to, and so we're going to implement a system where there will be an option available so that those letters can be printed. They'll actually have a hardcopy available to them in their cell."
Inmates can still write letters, stamp the envelope and turn it in. That won't change. (Staff screens that mail as well). "There won't be any limits moving forward," Engert said. "They can write a letter, they can draw a picture, many of them will draw artwork and send it to their children, they're able to do that in the same manner as they've always been able to do."
But inmates can also use the Mail Guard system's Smart Communications to send messages or even chat live–at 50 cents a message. Even before Dec. 19, inmates were using electronic messaging to communicate with family and friends, through the tablets and messaging apps. That system will also be implemented with Mail Guard, though it could get pricey fast.




Mail Guard's messaging allows for up to 30,000 characters per message, which is the equivalent of anywhere from 4,200 to 7,500 words, or longer than the average magazine article. But inmates are limited to two such free messages per week. Beyond that, they have to pay 50 cents per message. If the inmate is engaged in a conversation with a loved one and the messages start flying back and forth, as in the usual chats or text exchanges, so will the accumulated charges. The person outside the jail can shoulder the cost of the exchanges. It depends on how the account is set up.
Jail staff held a few training sessions for inmates, counseling them to use the messaging app judiciously.
The system is not necessarily new to many inmates. Inevitably, many of them have cycled in and out of jail and prison systems in the state or in Volusia County, where they have become familiar with Mail Guard. "So they're very familiar with it, and so there wasn't any issues at all. They actually appreciated when we went through and gave them some tips on," Engert said. "So we had no issues with that. And they were very appreciative that the training was actually done. Many of them said they've never had training on something like that accessibility to them."
The tablets are like mini iPads or oversize phones, wrapped in high-resistance rubber. Engert says the jail has not had an issue with the tablets being used for any other purpose than as tablets. Inmates take care of them, knowing it's their lifeline to the outside world, and confiscation is always one infraction away. They might get thrown out of frustration from time to time, but that's been the extent of it.




Cost can be a barrier or a burden. "The cost of everyday communication is arguably the worst price-gouging that people behind bars and their loved ones face," the Prison Policy Initiative, a non-profit that advocates for criminal justice reform, found in a report issued in December. "We sound the alarm that prison phone companies are evolving their services to evade existing regulations, specifically by creating and emphasizing other technologies like video calls and messaging, which inevitably come with hefty price tags."
The system can be a boon to inmates and families–if used carefully. Otherwise, it's a boon to the company and, in part, to the Sheriff's Office.
For families and friends conferencing by video with an inmate at the Flagler jail, they can do it two ways. There's an entirely free option, though it's not especially convenient. The public can go to the jail administration building and have a free video conference with an inmate for up to two hours per week (two 60-minute segments), Monday through Friday from 9 to 11 a.m., or from 1 to 4 p.m. Children may participate as long as they are accompanied by an adult. There are no in-person visits, and the visitors must submit to searches and restrictions.
Alternately, families can sign up for an account enabling them to have video contact with an inmate from their phone, from home, from anywhere, through Securus Technologies. But it's $12.99 for a 20 minute segment.  (In state prison, it's $2.95 for a 15-minute segment). And phone calls are still costly, even though the cost of such communications for those who provide it has fallen to near zero. Ten states have enacted laws capping phone call costs from prisons or jails, but not in Florida.
The tablets make educational material available to inmates at no cost, along with a library of books with numerous classics. But streaming movies, music and games do cost money, as do more best-seller type recent book titles.
The cost for streaming music or movies is a penny per minute, so listening to an album might cost 40 cents, watching a two-hour movie would cost $1.20.
Revenue generated from usage will be shared 50-50 between the company and the Sheriff's Office. Engert did not yet have any revenue numbers to share, since the arrangement was new.




Until Dec. 19, there used to be a ratio of one tablet for eight inmates. Engert changed that to one tablet for every four. If they usage reaches a certain level, the contract calls for the ratio to go to one-to-one, ironically replicating the one-to-one ratio of free computers or computer tablets for each student in Flagler County schools.
"That's ultimately my goal is to provide the ability for the inmates to use the system enough to allow me to enforce that clause, and to have one tablet for every inmate in the facility," Engert said. "And that would be ideal because everyone would have full functionality of viewing their messages, they can stream movies, listen to music."
The revenue goes into an "inmate welfare fund" which Engert says is used to provide classes and programming for inmates "to reduce recidivism here," to provide treatment for those struggling with addiction, and to provide certification programs. "The goal of having a healthy inmate welfare fund gives us access to opportunities to benefit inmate populations here by providing good programming for them and access to reading materials, counseling materials and all of those materials that counselors use to teach courses, to have counseling session journaling."
Mail Guard is a private company, so materials run through its systems don't fall under Florida's Sunshine law, but nor does inmate mail or communications in general, regardless. On the other hand, jail administrators and staff have unlimited access to all incoming mail and materials, aside from attorney-client mail. They can analyze the scans, search them, review a history of records. The system will build an archive for every inmate.
The vast majority of communications are routinely approved. Communications that would be stopped include any coordination of criminal activity, anything that could facilitate an escape, or providing information that reveals interior security systems, plus a certain level of indecency. Jail staff would not block an entire letter over such infractions, but more likely redact the necessary passages. Indecency has to rise to quite a threshhold to be redacted: salacious exchanges between boyfriend and girlfriend or between spouses are permitted, as long as it doesn't devolve into criminally suggestive writing.




But overall, censoring mail is extremely rare. "I can't even recall in the three years I've been here, specifically any correspondence that has been rejected for some penological interests that we would have, it just doesn't happen very often," Engert said. Mail Guard itself will not do any censoring.
Lawyer-client communications will not change from pre-Mail Guard days. Privileged mail that comes in from a lawyer to his or her client is still scanned for contraband, but it's opened in front of the inmate. Aaron Delgado, the criminal defense lawyer who represents numerous clients in Volusia and Flagler, has experienced the system at the Volusia Branch jail, but had not yet experienced it in Flagler. He was concerned about a y limits there would be on the volume of mail lawyers could send their client. That volume can grow large when it entails reviewing depositions and other court files. But Engert said there will be no limits on mail from lawyers.
Reader Interactions