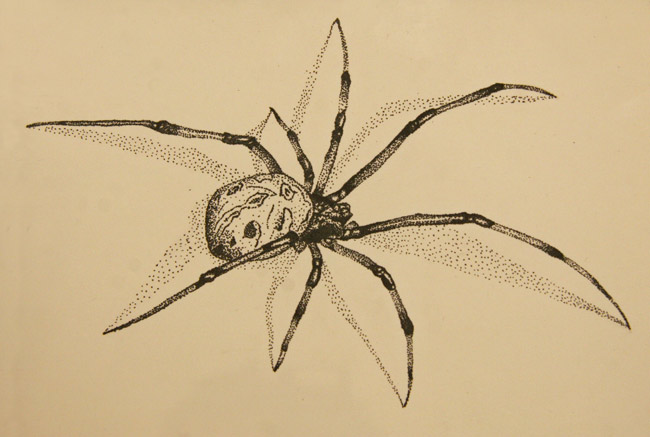 Note: This being Second Saturday, the monthly show opening inaugurated by Hollingsworth Gallery at City Market Place, Hollingsworth would also have a show. Not this time: Hollingsworth is getting ready for the end of the world, and naturally, that show cannot open until Dec. 21, when the world will, in fact, end (at least according to an email we got from a Maya friend who claims to be descended from one of James Ussher's torrid liaisons with the known unknown). Stay tuned.

The Flagler County Art League's Magnificent Minis are back. The exhibition, opening this evening with a free reception at 6, features exquisitely detailed, small pieces, including one painting done on a feather, and will be shown simultaneously with a Flagler Palm Coast High School student art show.
"Mag Minis started a few years ago when we had a major retrospective of Win Jones work (the popular St. Augustine watercolorist) and wanted to give our members an opportunity to exhibit their work, too," says Ann Delucia, art league president. "At that time, many of our members were enjoying a class on miniature works which are quite popular in art leagues around the country, and there are societies devoted to this art form."
In this particular show of miniatures, Jones contributed a couple of "little gems," including a miniature landscape and one of his trademark Victorian women, an ethereal scene in a cemetery. Jones has a thing about the here and now that seems to be less than here and more about an an inexplicable then.
He paints on Yupo paper, which he says is almost like plastic—it's that non-absorbent. "It's difficult to control. It's an issue of freedom, because it dictates what you're going to do—you don't have control," Jones says. "Because of that, I probably keep one out of eight or ten paintings. The mortality rate is high."
Working small is all about the exercise and controlling the medium with little bits of "beautifully done passages of paint," he says.
According to Delucia, like Jones, almost 50 percent of the art league members in Flagler County work in watercolor. She credits art league member and watercolor teacher Jackie Ware, who was involved in many miniature shows back in New Jersey, for making this particular genre popular here.
"Most artists can work large, but few have the skill and discipline to work in miniature," Delucia says. Although Win Jones, the man whose art in many ways laid the foundation for this minis show, works in a very whimsical and surreal style, most minis are "realistic and extremely detailed," DeLucia says. "A miniature usually takes as long or longer to produce as a large piece of art due to the detail required. They're meant to be held in your hand and enjoyed up close."
One notable piece which looks like a painting is in fact a photograph by Tom Silvey, titled "Storm Clouds Over St. Augustine." There's nothing ambiguous about the meaning here. It's just what it says: Rain clouds and the rich wash of colors of the flagstone street and brick walls give the impression of a pending downpour so vivid that they that create an illusion of the paper looking damp and wavy.
The national standard for judged miniature society shows is no larger than 4.5 x 6 inches. It's not necessarily tiny. Especially compared to the work of  Willard Wigan, who's become known as the "micro sculptor." He paints figures like the Madonna cradling the dead Christ, using the hair of a dead fly. He sculpts them typically in the eye of a needle.
However, for this show, Bob Ammon, the art league gallery director, and his show committee, made a decision to allow work as large as 16 inches, "and that's big," says Delucia. "But many folks have still brought in some beautiful tiny work."
Prices could be mini as well, and art lovers might find some bargains.
The art league has always supported young artists at Flagler Palm Coast and Matanzas High School, featuring their work in open exhibits at least once a year. Running the student exhibit along with the popular minis event is a great opportunity to show off the students' fine work, which in part is due to FPC's great resources, says Ed Beckett, the digital photography and graphic design instructor and a the 2010 Flagler County Artist of the Year.
The high school's computer lab "is really comparable to one in a top-of-the line art college like Full Sail or an Art Institute or SCAD," Beckett says, referring to the Savannah College of Art and Design. He goes on to describe the technical wizardry at the tips of students' fingers, including "an Epson Stylus Pro 4880 17" wide-format professional photo printer, and what I call my "baby," an Epson Stylus Pro 9900 professional photo printer –a 44-inch-wide monster that is really the largest, top-of-the-line photo printer in the world."
Unlike "mag minis," the student show will be all over the map in terms of size and style. Beckett is showcasing around 50 pieces of photography and graphic design, while the other art teachers will display high-quality drawing, painting, colored pencil, scratchboard, and pen-and-ink work.
"I really think that our program is second to none," Beckett says.  "Two years ago we had three $35,000 scholarship winners from Full Sail. There were only 25 of those scholarships given out nationally: five in central Florida, and three of the five were from FPC.  My seniors earned over $230,000 in scholarships to art colleges that year.  That is an incredible number. " And nothing mini about it.