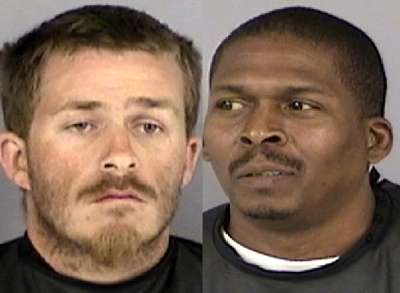 Thursday evening, Racina Massey went to her next-door neighbor's apartment in the Madison Green Circle apartment complex in Palm Coast's Town Center to ask him to stop slamming his front door. She warned him she would report him to management if he continued. Things went sour after that.
According to what she told police, the neighbor, James Davis, who's 29 and unemployed, reached for a machete with a wooden handle and said: "You're going to management, huh." Then he allegedly told her he would kill her and her husband–cut them both, according to another witness at the scene.
When Massey's husband, Thomas, 46, heard about the alleged threat, he went to Davis's apartment. As Davis's wife Melissa, 32, described it to police, he did so with a bat. A blue, metal baseball bat. He banged on the Davis apartment door. When Melissa Davis and her 21-year-old friend Tiffany answered the door, Thomas allegedly held the bat to the left side of Melissa's head and kept demanding to know where her husband was, and, according to Melissa, making threats against her life. The threats then allegedly extended to Tiffany and her young daughter. Tiffany accused him of pinning her against the wall until Melissa got in the way and freed her.
Flagler County Sheriff's deputies recovered a machete from Davis's apartment. They recovered the blue bat from the Masseys' car. And they placed both men under arrest, charging both with aggravated assault with a deadly weapon. Davis faces one count, and was held on $1,500 bond. Massey faces two, and was held on $3,000 bond, which he'd posted by Friday afternoon.